Vargas Breaks Franchise Record in Aces Victory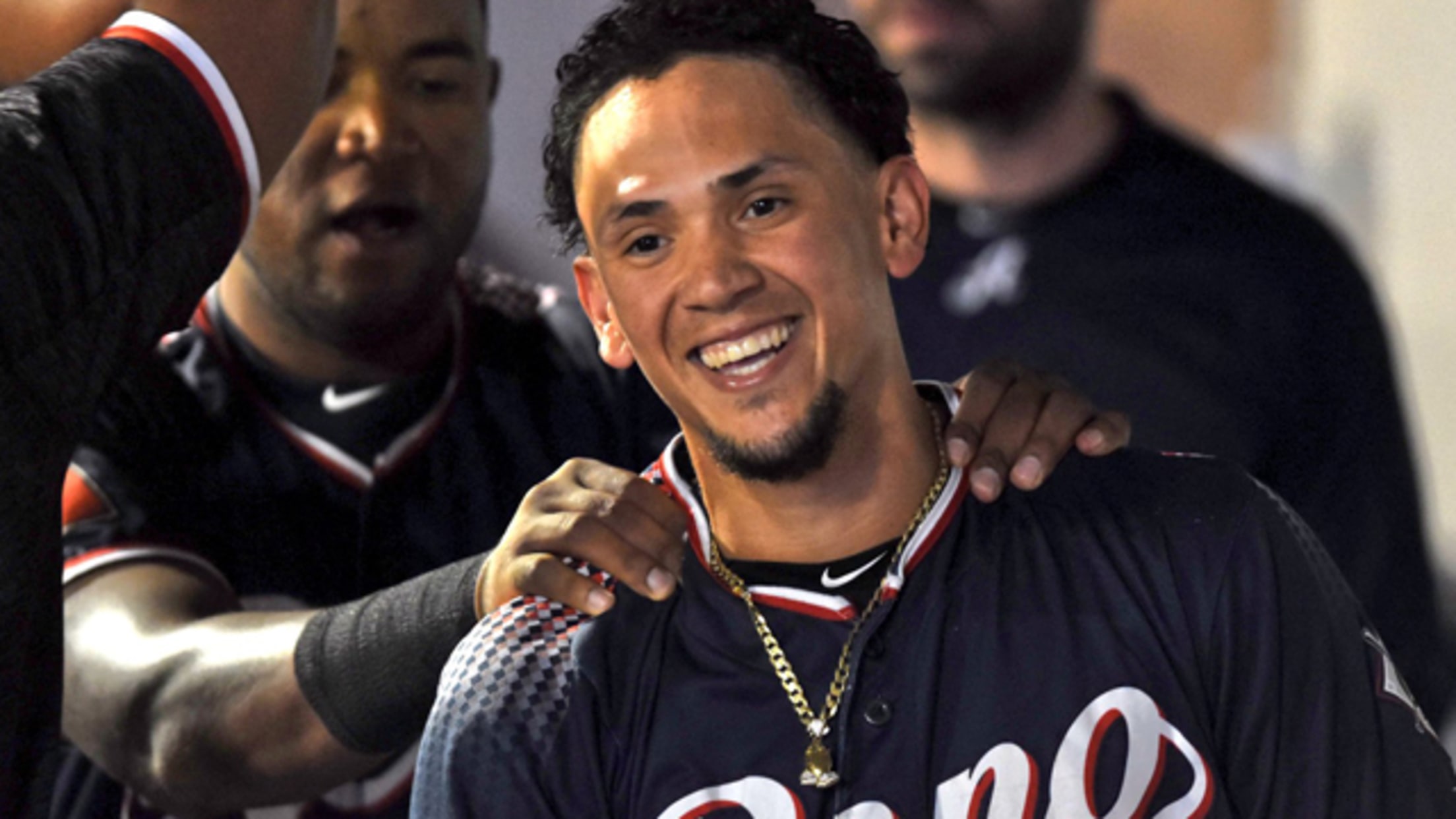 Reno, NEV. -Ildemaro Vargas stole the spotlight from rehabbing Hyun-Jin Ryu Tuesday night. The 27-year-old Venezuela native broke Jake Elmore's 31 consecutive game hitting streak to set a new franchise record. Vargas finished the night 1-for-5, but the Aces defeated the Oklahoma City Dodgers by a score of 8-2. Jamie
Reno, NEV. -Ildemaro Vargas stole the spotlight from rehabbing Hyun-Jin Ryu Tuesday night. The 27-year-old Venezuela native broke Jake Elmore's 31 consecutive game hitting streak to set a new franchise record. Vargas finished the night 1-for-5, but the Aces defeated the Oklahoma City Dodgers by a score of 8-2. Jamie Westbrook recorded his second Triple-A two-home run game and Reno totaled 12 hits. Westbrook went 2-for-4 with two home runs and two RBI. Starting pitcher Taylor Clarke went 7.0 strong innings and only allowed two runs on seven hits and struck out five Oklahoma City batters. Hyun-Jin Ryu made a rehab appearance for Oklahoma City tonight. Ryu, a Dodgers southpaw, went five innings, allowed five hits and allowed one run. The win improves the Aces to a record of 60-55 on the season, 6.0 games back of first place Fresno.
The Aces jumped out to the early lead Tuesday night when Christian Walker hit his 21st double of the season to deep center field to score Chris Owings and to give Reno the 1-0 lead. In the bottom of the sixth, Walker got the Aces started off with his third triple of the season and would later come around to score on a Kevin Cron sacrifice fly. One batter later, Jamie Westbrook crushed a 432-foot home run over the batters eye to extend the Aces lead to three. Oklahoma City plated two in the seventh to cut the Aces lead to 3-2. It wouldn't be enough as Reno blew the game wide open in the bottom of the inning when they scored four runs and the last one coming off Westbrooks second home run of the night to give the Aces the 7-2 lead. Yasmany Tomás pushed one run across in the eighth to give Reno the 8-2 victory and their second consecutive series win before heading on the road for a four-game set with in-state rival Las Vegas.
Top Performers - Reno Aces
• Jamie Westbrook (2-for-4, 2 HR, 2RBI)
• Christian Walker (2-for-4, 2B, 3B, RBI)
• Taylor Clarke (7.0 IP, 5 SO, 2 R)
Top Performers - Oklahoma City Dodgers
• Donovan Solano (2-for-4, 2B)
• Hyun-Jin Ryu (5.0 IP, 5 H, 1 R, 3 K)
• Andrew Toles (2-for-4, R)
Tomorrow's Matchup
Notes & Information
Streaking: Ildemaro Vargas has hit in 32 consecutive games, breaking the Aces franchise record previously held by Jake Elmore in 2012. During the streak, he is batting .378, (54-for-143), with 23 runs scored, 11 doubles, 14 RBI and an OBP of .426. There have only been five players in Aces history with streaks of 20+ games. Jake Elmore (31, 2012), Ildemaro Vargas (32, 2018), Tony Abreu (24, 2011), Chris Owings (23, 2013), and Ketel Marte (22, 2017). In 2017, Ketel Marte went 37-for-98, .378, with nine 2B, three 3B, one HR and 16 RBI from April 29 through May 22. The longest single‐season hitting streaks in PCL History are as follows: 1. Joe DiMaggio (61) 1933 - San Francisco 2. Jack Ness 49 (1915) - Oakland Oaks 3. Jim Oglesby 44 1933 - Los Angeles 4. Joey Cora 37 1989 - Las Vegas (Modern Era Record) 5. Frank Baumholtz 33 1950 - Los Angeles John Dickshot 33 1943 - Hollywood Stars 7. Ildemaro Vargas 32 2018 - Reno Aces, David Doster 32 2004 - Fresno Grizzlies 8. Jake Elmore 31 2012 - Reno Aces Pedro Guerrero 31 1979 - Albuquerque Dukes Kevin Hooper 31.