Vargas Extends Hit Streak to 12 in Aces Loss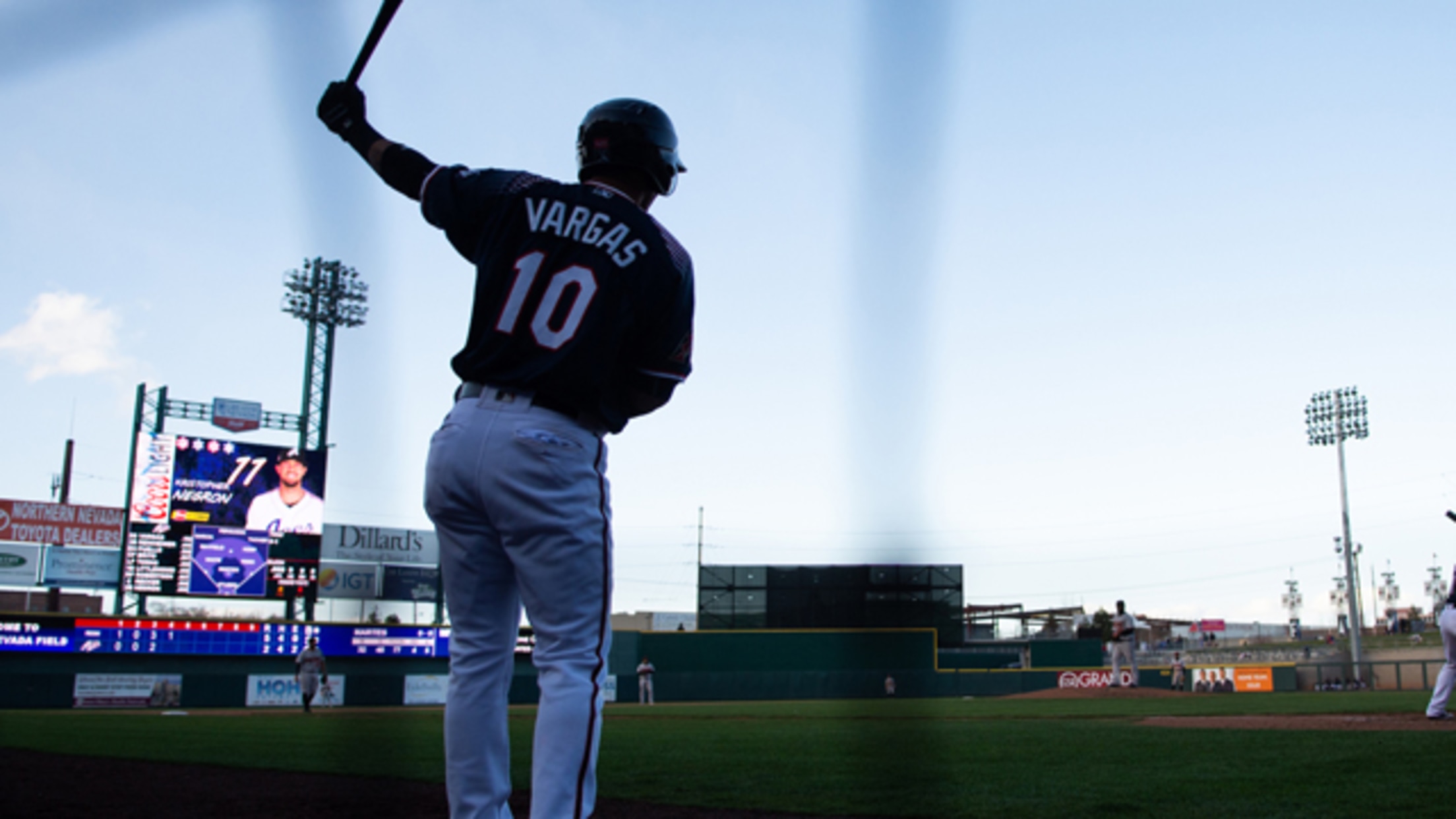 Reno, NEV. - Game three of the five-game series with Sacramento went in the favor of the River Cats. Sacramento handed the Aces their 49th loss of the season tonight by a score of 8-7. The Aces scored eight runs on nine hits and were led offensively by Kristopher Negrón
Reno, NEV. - Game three of the five-game series with Sacramento went in the favor of the River Cats. Sacramento handed the Aces their 49th loss of the season tonight by a score of 8-7. The Aces scored eight runs on nine hits and were led offensively by Kristopher Negrón who went 2-for-4 with a triple and an RBI. Ildemaro Vargas chipped in with a 2-for-5 performance, extending his hit streak to 12. Starting pitcher Taylor Clarke had his shortest start of the season, going 2.0 innings and allowing seven runs on eight hits. Reno used five pitchers tonight, including first baseman Cody Decker. Decker tossed one inning and allowed just one hit despite not throwing a single pitch harder than 53 miles per hour.
After a one, two, three first inning by Clarke, Sacramento plated six runs on seven hits in the top of the second inning. The final run came off an RBI-single from Giants farmhand Mac Williamson. The River Cats would tack another run in the third to give Sacramento a commanding 7-0 lead. In the bottom of the fifth, Negron roped his fifth triple of the season to center field, scoring Kevin Medrano, then on a throwing error, Negron spirited home to cut the Sacramento lead to 7-2. With the bases loaded in the top of the sixth inning, Jared Miller walked home Steven Duggar to make the score 8-2. Miller has allowed the third-most walks in the Pacific Coast League this season with 44. Reno attempted to mount a comeback in the seventh with an RBI triple by Ildemaro Vargas. Juniel Querecuto drove in Vargas with an RBI groundout and a Christian Walker RBI double narrowed Reno's deficit to three. The Aces would make things interesting by plating two in the bottom of the eighth but would come up short dropping their first game of the five-game series. Neftalí Feliz will toe the rubber tomorrow for Greg Gross' Aces. He'll be opposed by Sacramento right-hander Michael Connolly.
Top Performers - Reno
• Kristopher Negrón (2-for-4, 3B, RBI)
• Ildemaro Vargas (2-for-5, 3B, 2 RBI)
• Kevin Medrano (1-for-3, 2 R))
Top Performers - Sacramento
• Steven Duggar (1-for-3, 2 R)
• Trevor Brown (1-for-5, 1 RBI)
• Orlando Calixte (2-for-4, 2B, 1 RBI)
Tomorrow's Matchup
Notes & Information
Three Bagger: Kristopher Negron hit the 16th triple of his Aces career tonight of Sacramento pitcher Casey Kelly in the bottom of the fifth inning. Negron is fourth all-time on the Aces leaderboard in triples. Negron trails just Sócrates Brito (18), Mike Freeman (18) and Cole Gillespie (30). In 2017, Negron led the Aces with 11 triples and was tied for fourth in the Pacific Coast League.
Hey, Brito: Outfielder Socrates Brito was named the Arizona Diamondbacks organization Minor League Player of the Month for June this afternoon. Brito, 25, hit .415 (34-for-82)/.490 OBP/.902 SLG with 10 doubles, 10 home runs, 23 RBI, 11 walks and 27 runs scored in 22 games for the Aces in June. He was honored as the Pacific Coast League Player of the Month after he posted the highest slugging percentage and OPS (1.392) among full-season professional baseball players (Minor and Major Leagues) in June, while his 20 extra-base hits and 27 runs scored were the most in Minor League Baseball. He hit safely in his final 16 starts of the month from June 11-29, including 9 multi-hit performances. The 6-foot-2, 205-pounder will represent the PCL in the Triple-A All-Star Game on July 11.