Versatile talent highlights Giants' rising stars
Shaw, Howard among prospects honing skills at multiple positions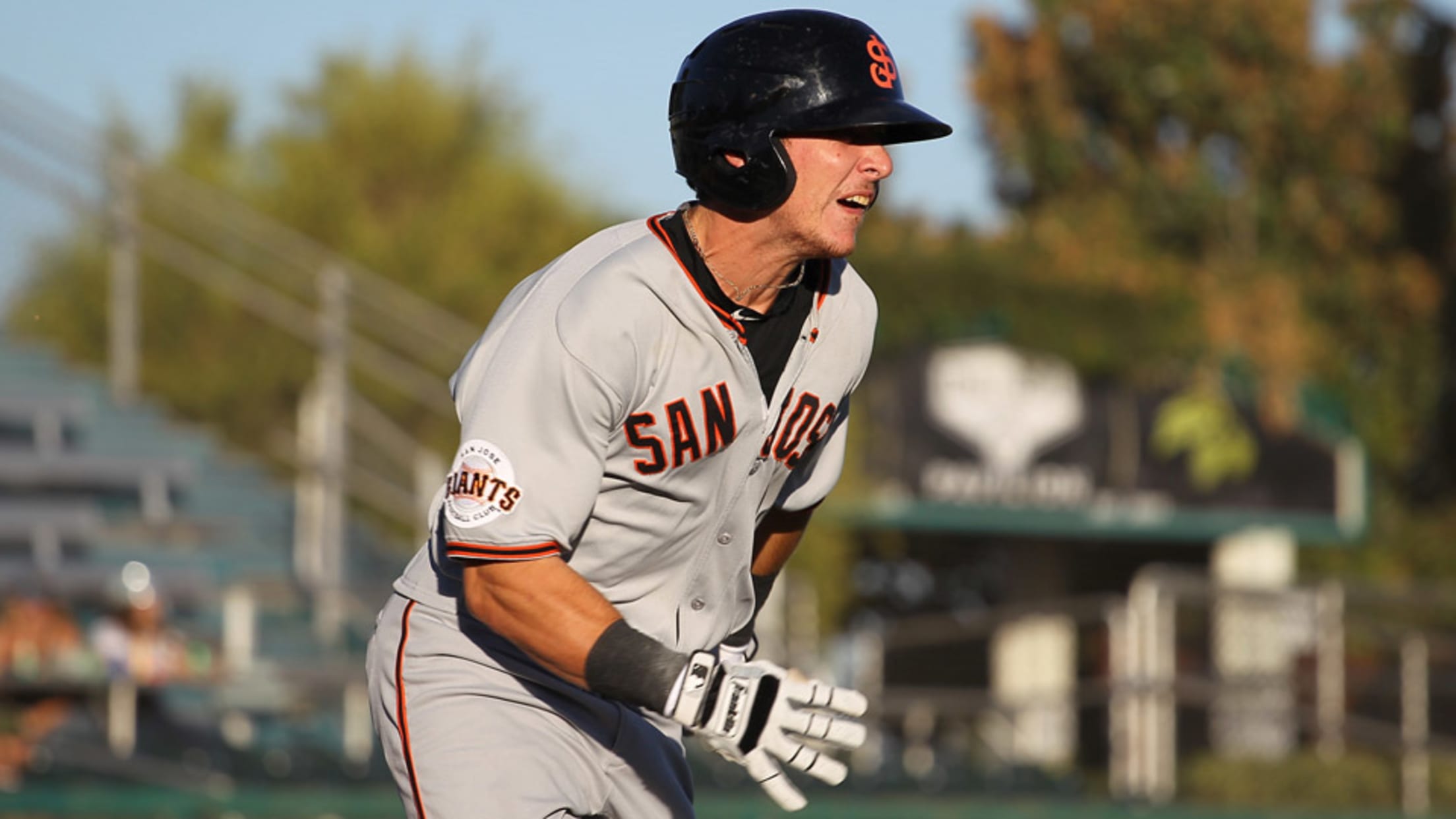 Ryan Howard held down third base before shifting to shortstop on the way to California League All-Star honors. (Ben Sandstrom/MiLB.com)
This offseason, MiLB.com is taking a look at the most outstanding campaigns by players in each system across Minor League Baseball and honoring the players -- regardless of age or prospect status -- who had the best seasons in their organization.Coming off their seemingly standard even-year postseason appearance, the Giants
This offseason, MiLB.com is taking a look at the most outstanding campaigns by players in each system across Minor League Baseball and honoring the players -- regardless of age or prospect status -- who had the best seasons in their organization.
Coming off their seemingly standard even-year postseason appearance, the Giants retooled for 2017, eyeing a deeper run by adding big league pieces like closer Mark Melancon. Things didn't turn out as planned, however.
San Francisco instead slumped to a last-place finish in the National League West, a full 40 games behind the division-champion Dodgers with an overall record of 64-98, the franchise's worst mark since 1985. Ace Madison Bumgarner missed nearly three months after sustaining injuries in a dirt bike accident, and 2016 Trade Deadline acquisition Matt Moore went 6-15 with a 5.52 ERA. Even top prospectChristian Arroyo wasn't immune, sustaining a hand injury in June that kept him out more than two weeks and then breaking the same hand on a hit by pitch in his first game back, ending his season.
Despite those challenges, the outlook isn't all bad for San Francisco. Led by 2017 first-rounder Heliot Ramos, the organization's Arizona League affiliate finished with a 34-22 record and fell one win short of a title in the AZL Finals. The bottom rungs of the system should only get richer in 2018 as the Giants have the No. 2 overall pick in the Draft and a sizable signing pool with which to add much-needed talent.

Giants Organization All-Stars
Catcher -- Aramis Garcia, San Jose (81 games), Richmond (22 games):
The Giants' top catching prospect and 2014 second-round pick reached Double-A for the first time in 2017, combining for a .274/.323/.485 line between two levels with 17 homers and 73 RBIs at the plate. Behind it, Garcia continued making progress on his defensive profile.
"He is a special kid," San Jose manager Nestor Rojas said. "Behind the plate, he has some tools. He has an arm. He's very smart behind the plate. He's an average guy behind the plate with an above-average arm. He can hit the ball. He showed this year and the past couple years that he can drive the ball to the other side of the fence. That makes him even more valuable."
All of Garcia's homers came at Class A Advanced San Jose -- the least hitter-friendly park in the California League -- and while in the crouch, the backstop posted a .989 fielding percentage and threw out nearly 30 percent of potential basestealers.
"I'm big on defense and on receiving the ball, blocking the ball, calling the right pitch in the right situation," Rojas said. "A lot of times we talked about game calling because he was receiving the ball really well.
"The most important part of the game is those fingers that you put down."
First baseman -- Ryder Jones, Sacramento (64 games), San Francisco (53 games): This selection may be cheating a bit since Jones played just 45 games at first base in 2017, but couple him with utility selection Chris Shaw (who played 100 games at first in 2016 and 15 there this year), and the Giants have versatility with corner infield-outfield hybrids.
Jones had never played first base professionally until last season, but after making his Major League debut on June 24 of this year, the 2013 second-round pick played there for 30 of his 53 games in "The Show." The 23-year-old batted .312/.396/.574 in the Pacific Coast League, hammering 13 homers and driving in 44 runs. Jones also handled corner-outfield duties in Triple-A and played third base in both Sacramento and San Francisco.
Second baseman -- Miguel Gómez, Richmond (78 games), San Francisco (22 games): A switch-hitter with promise from both sides of the plate, Gomez has played all over the field since debuting professionally. The 24-year-old started his career as a catcher, then tried the hot corner in 2015 in addition to getting action at first base and left field. This year, he settled at second for the Flying Squirrels, and his bat did what it's always done. The career .312 hitter posted a .305/363/.519 line in his first Double-A tour. Gomez's defensive side is still a work in progress -- he put up a .962 fielding percentage with 12 errors in 313 total chances at second base -- but his bat carried him to the big leagues in July.
Third baseman -- Jae-Gyun Hwang, Sacramento (98 games), San Francisco (18 games): Entering 2017, Hwang had spent his last seven seasons with the Giants -- the Lotte Giants of the Korea Baseball Organization. An unrestricted free agent, the Seoul native traded the black and orange of Busan, his South Korea team, for the same colors in San Francisco. Signed to a Minor League contract in January, the 29-year-old more than held his own at Triple-A. The corner infielder primarily worked at third and batted .285/.332/.453 with 10 homers and 55 RBIs. Hwang earned his first Major League call on June 28 and batted .154/.228/.231 in 18 contests.
Shortstop -- Ryan Howard, San Jose (127 games): A fifth-round selection out of Missouri in 2016, Howard endeared himself to his manager quickly in 2017.
"This kid is like a house on fire," Rojas said. "You know those guys -- they're super aggressive. They're a natural talent to play baseball. This kid has the ability to hit. When this kid goes to home plate, his confidence level is always up. He always believes in himself. He's special in that you can hear him talk, and you know he's going to get a hit when he gets to the plate. Sometimes he looks too young at the plate, he's over-aggressive, but his confidence, that takes him to a different level."
Howard conquered the California League, batting .306/.342/.397 while showcasing defensive versatility on the way to midseason and end-of-season All-Star accolades.
"The first half of the season, he was our third baseman," Rojas said. "Good hands, good arm, really decent footwork. He's a gamer, though. He doesn't care what it takes to win. He'll try to do it to win the game."
Outfield
Bryan Reynolds, San Jose (121 games): Reynolds went wire-to-wire in the California League and handled all three outfield positions for Rojas' team while posting a .312/.364/.462 line at the plate.
"Great kid, hard worker, gamer," Rojas said of the Vanderbilt product. "His tools to play baseball are really good, but his instincts, that's what separates him from the rest of the ballplayers. It was fun to watch this kid play. I like the way he swings the bat, both sides of the plate. He drives balls to all gaps. He'll compete every single day. We had some issues at the end of the year where, like a young kid, he got frustrated one game. We sat in the office and talked about it, and after that, he was a totally new guy. He learned."
Heliot Ramos, AZL Giants (35 games): The 19th overall pick in June's Draft, Ramos didn't disappoint in his professional debut. Over 35 Rookie-level games, the outfielder -- who was 17 for all of his first season -- batted .348/.404/.645 with six homers and 27 RBIs.
Logan Baldwin, Salem-Keizer (50 games): Taken 20 rounds after Ramos, Baldwin debuted with similar numbers one step higher in the organization. The Georgia Southern alumnus batted .342/.395/.473 for the Volcanoes, swiping 17 bases and scoring 38 runs while playing both corner outfield spots.
Utility -- Chris Shaw, Richmond (37 games), Sacramento (88 games): Like Jones, Shaw expanded his defensive horizons in 2017. Primarily a first baseman from 2015-16, the Boston College product played 18 games at first and 18 games in the outfield for Richmond before making the move to Sacramento, where he patrolled left field in 76 contests. Throughout, he continued to show the advanced hitting tools that made him the 31st overall selection in 2015. Shaw batted .292/.346/.525 with 24 home runs and 79 RBIs between his two levels.
Right-handed starter -- Stephen Woods Jr., Augusta (23 games/23 starts): Woods battled his command at times in 2017, walking 64 batters in 110 innings, but was tough to contend with otherwise. The former SUNY Albany hurler struck out 113 and recorded a .226 batting average against. In total, Woods compiled a 6-7 record with a 2.95 ERA, a mark that would've been seventh in the South Atlantic League had he pitched enough innings to qualify for the circuit leaderboard.


Left-handed starter -- Andrew Suárez, Richmond (11 games/11 starts), Sacramento (15 games/13 starts): Like Woods, Suarez proved durable in 2017 with 26 outings spread across two levels. Over 155 2/3 total innings, the southpaw went 10-10 with a 3.30 ERA, 135 Ks against 42 walks and a 1.34 WHIP. The 2015 second-round pick finished the season strong, going 2-1 with a 1.93 ERA in six August outings (five starts) for Sacramento.
Relief pitcher -- Dylan Rheault, San Jose (55 games): The only thing bigger than the 6-foot-9, 245-pound righty might be his personality.
"He has the right aspect to his personality to be a setup or closer guy," Rojas said. "I remember it like it was yesterday. Every single time I give him the ball, he tells his teammates, 'Hey guys, let's get it done. I got this, let's go. Back me up.' It's funny because he mentioned a couple times, 'I play baseball. I'm too big to play hockey, so I play baseball, but I'm a hockey player.'"
The Garson, Ontario native spent 2016 in independent ball but turned himself into one of San Jose's most dependable arms this year. In 60 innings, Rheault converted 21 of 24 save opportunities, struck out 46 against 22 walks, registered a 2.70 ERA and limited hitters to a .229 average.
"That fastball life is very good," Rojas said. "He's working on his breaking stuff. He got a split going later on in the season, and he's doing really, really well. This guy is made to pitch later in the game."
Tyler Maun is a contributor to MiLB.com. Follow him on Twitter @TylerMaun.