Vogelbach, Kennedy Power Tacoma Past Las Vegas, 6-1
Ross Detwiler delivers his third consecutive quality start during the Rainiers victory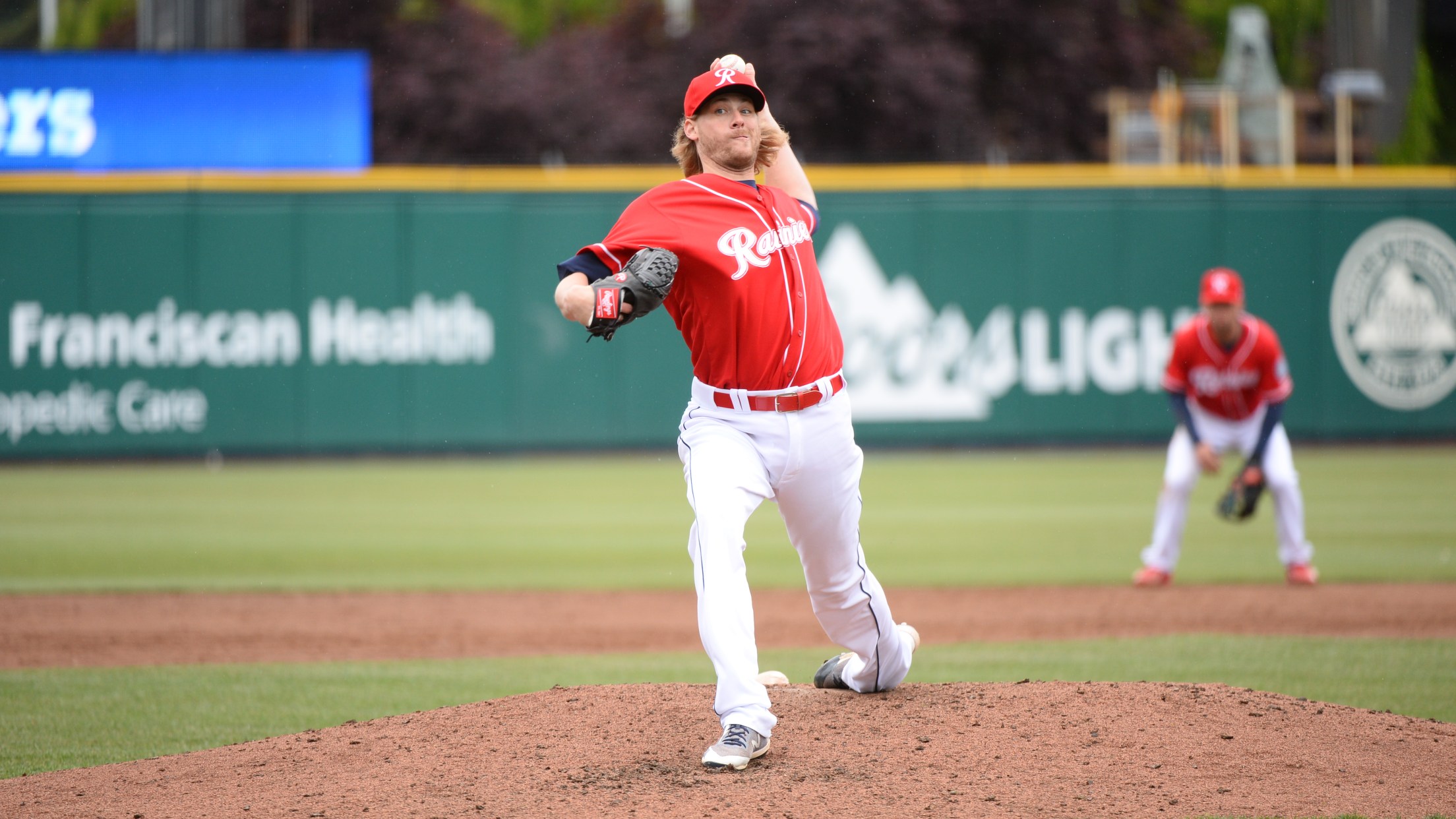 Rainiers starting pitcher Ross Detwiler. (Jeff Halstead)
TACOMA, Wash. - The Tacoma Rainiers (41-36) slugged a pair of home runs and received a spectacular start from Ross Detwiler to beat the Las Vegas 51s (33-44) by a final score of 6-1 on Monday night at Cheney Stadium.Detwiler (2-1) notched season-highs in both strikeouts (9) and innings pitched
TACOMA, Wash. - The Tacoma Rainiers (41-36) slugged a pair of home runs and received a spectacular start from Ross Detwiler to beat the Las Vegas 51s (33-44) by a final score of 6-1 on Monday night at Cheney Stadium.
Detwiler (2-1) notched season-highs in both strikeouts (9) and innings pitched (7.1) while tying a season-low in hits allowed (2) Monday night. He was credited with his second victory of the season.
First baseman Daniel Vogelbach (2x5, R, HR, 2 RBI, BB), catcher Garrett Kennedy (2x3, R, HR, 3 RBI) and center fielder Ian Miller (2x4, 2 R) led the way for the Rainiers offense as Tacoma improved to 8-2 in its last 10 contests.
Relievers Ryan Garton (0.1), Matt Tenuta (0.1) and Tucker Healy (1.0) cemented the Rainiers victory by shutting out the 51s across the final 1.2 innings.
Vogelbach got Tacoma on the board immediately during the bottom half of the first by clubbing a two-run, opposite-field home run to left to score Miller and move the score to 2-0.
Kennedy followed suit in the fourth with a three-run blast - his second of the season - that extended Tacoma's lead to 5-0.
An RBI-walk from third baseman Seth Mejias-Brean in the seventh further extended the Rainiers lead to 6-0.
Las Vegas pulled a run back in the eighth when Jeff McNeil singled to left field to score Johnny Monell and make it 6-1.
The Rainiers and 51s continue their series on Tuesday night at 6:05 p.m. PT. Tacoma has not yet named a starting pitcher, while Las Vegas will hand the ball to P.J. Conlon (2-5, 7.39).
All tickets, group outings, and suites packages for the 2018 season are available for purchase in person at the Cheney Stadium Box Office, online at TacomaRainiers.com, or over the phone at (253) 752-7707. The most up-to-date news and notes about the Rainiers throughout the season can be found by following the Rainiers on Twitter (@RainiersLand) or liking the team on Facebook.