Walk-off squeeze bunt gives Memphis a 2-1 series lead over Fresno
Kyle Tucker homers for second straight game; Grizzlies must win final two to take PCL crown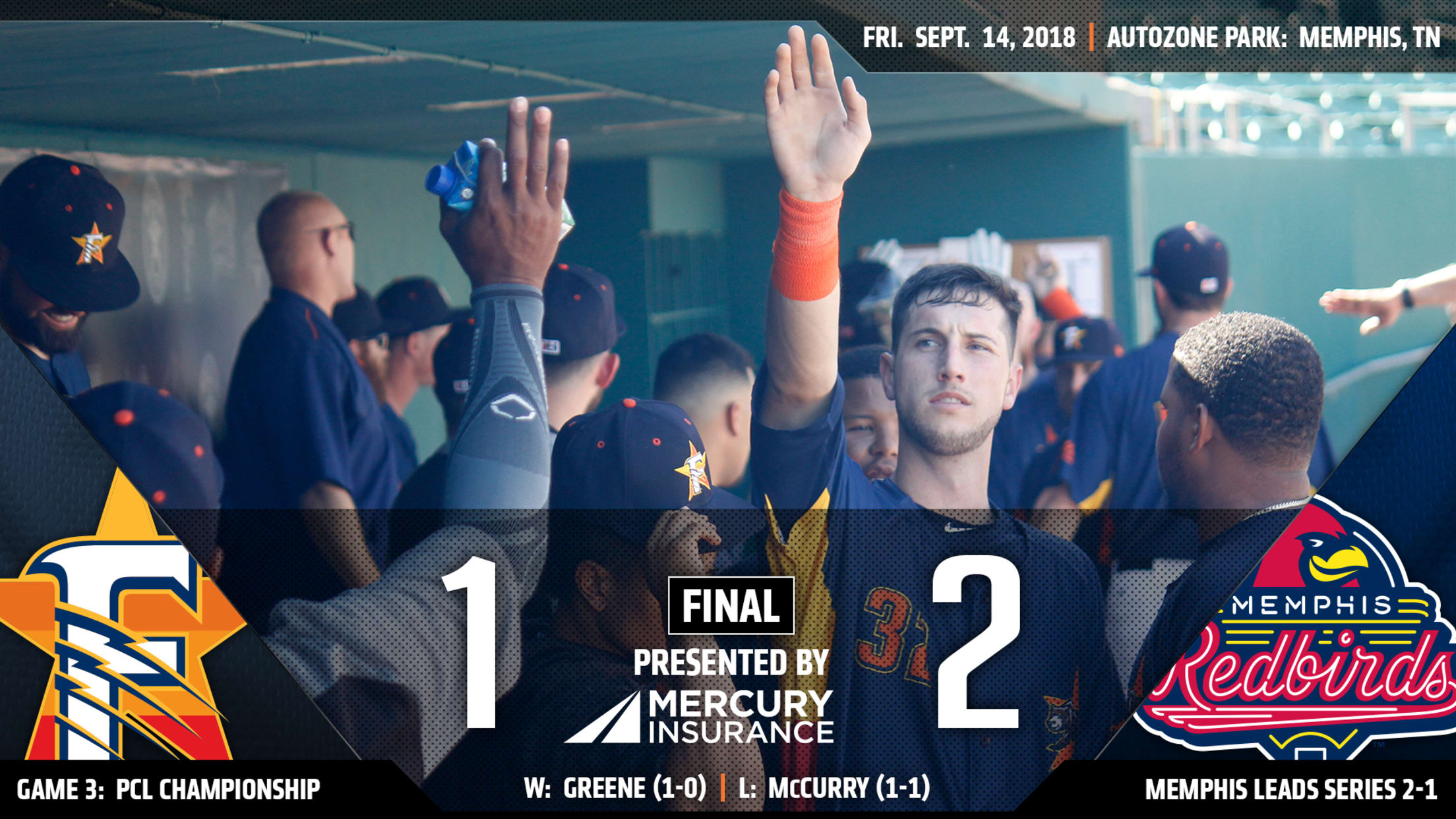 The Memphis Redbirds (American Conference Champions) walked off on the Fresno Grizzlies (Pacific Conference Champions) 2-1 in 11 innings in Game 3 of the PCL Championship Series Friday night from AutoZone Park. With the loss, Fresno must win the final two games of the best-of-five series to win the PCL
The Memphis Redbirds (American Conference Champions) walked off on the Fresno Grizzlies (Pacific Conference Champions) 2-1 in 11 innings in Game 3 of the PCL Championship Series Friday night from AutoZone Park. With the loss, Fresno must win the final two games of the best-of-five series to win the PCL crown.
Memphis inched out to a 1-0 lead in the bottom of the third. Tommy Edman (3-for-4) drilled a double to right, scoring Edmundo Sosa, who also doubled.
The advantage disappeared in the top of the sixth when Kyle Tucker clobbered a solo shot to right field, tying the contest at one. It was his second big fly of the playoffs. That would end the evening for Redbirds starter Chris Ellis. He threw five and one-third frames, allowing one run (earned) on three hits, three walks and five punchouts.
Heading to the bottom of the 11th, Edman singled with one out. He would advance to third on an errant pick-off by Brendan McCurry (1-1, loss). Then, Alex Mejia (3-for-5) laid down a perfect squeeze bunt, knocking in Edman. That would give Memphis the walk-off 2-1 victory and a 2-1 series lead.
Conner Greene (1-0) enjoyed the win after he chucked a scoreless top half of the 11th. He followed Génesis Cabrera and Giovanny Gallegos, who combined for four and two-thirds innings of shutout ball.
Grizzlies starter Rogelio Armenteros (no-decision) hurled six frames of one-run ball. He was charged with seven hits while whiffing one. Fresno fell to 25-7 in starts made by him (0-2 in the postseason, one run of support). Ralph Garza and Riley Ferrell secured two strong innings of relief after Armenteros.
Both squads continue the best-of-five playoff set Saturday night from AutoZone Park. First pitch is scheduled for 4:35 PT. Grizzlies RHP Cy Sneed (0-1, 4.26) and Redbirds fellow righty Jake Woodford (0-0, 2.25) are the probable matchup.