P-Nats' Kieboom cruises to weekly award
No. 85 overall prospect stays hot with 15 hits over seven games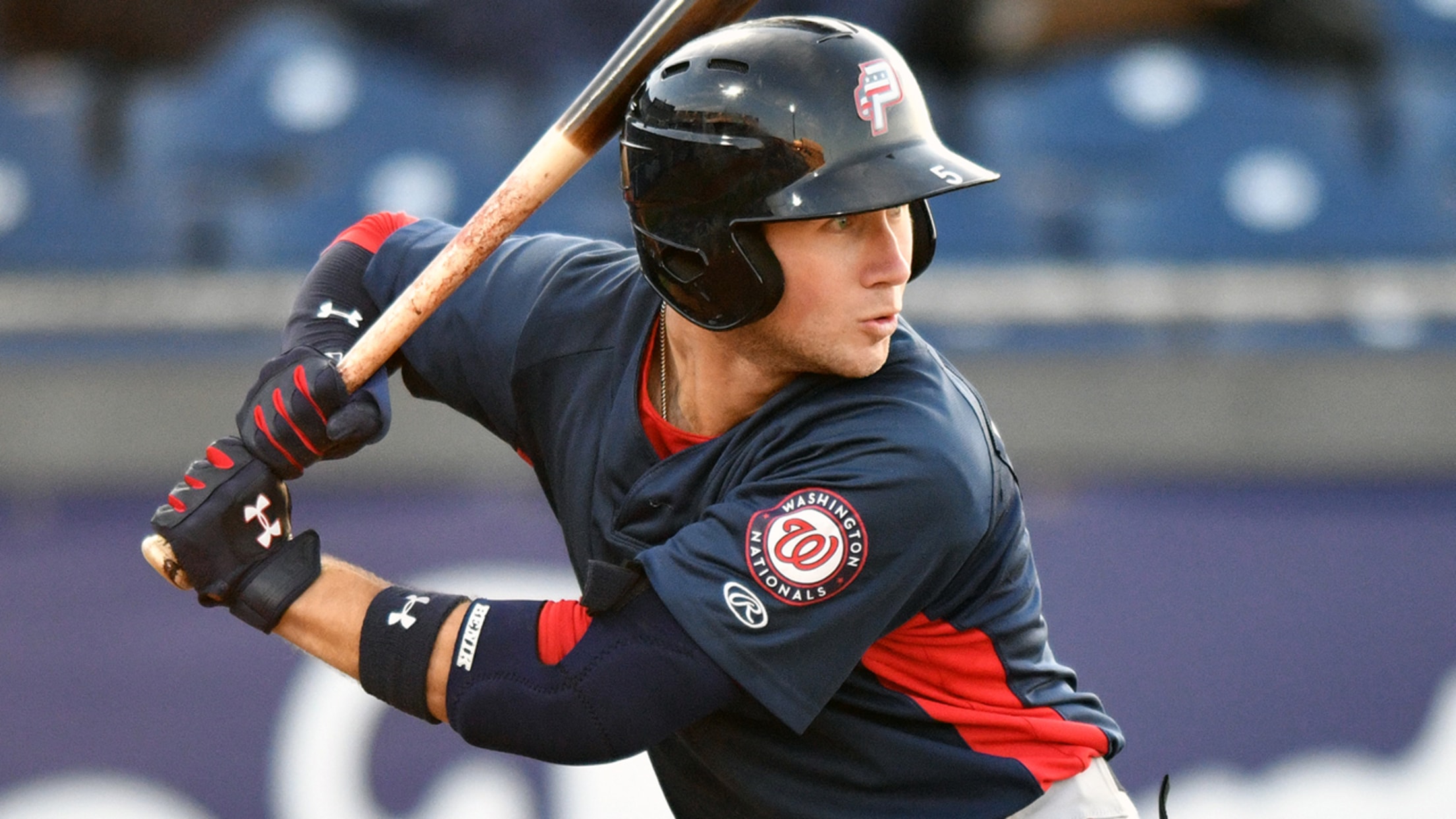 Carter Kieboom put up a .556/.657/1.472 slash line from May 7-13 for Class A Advanced Potomac. (Ken Inness/MiLB.com)
The Carolina League's Player of the Week award isn't going to Juan Soto -- the 19-year-old phenom took his hot bat to Double-A Harrisburg last week -- but that doesn't mean it's leaving the Potomac Nationals' clubhouse.Washington's No. 3 prospect Carter Kieboom captured his circuit's weekly honor for the period
The Carolina League's Player of the Week award isn't going to Juan Soto -- the 19-year-old phenom took his hot bat to Double-A Harrisburg last week -- but that doesn't mean it's leaving the Potomac Nationals' clubhouse.
Washington's No. 3 prospect Carter Kieboom captured his circuit's weekly honor for the period of May 7-13. Kieboom went 15-for-27 (.556) over the seven games he played during the span with a .657 on-base percentage and 1.472 slugging percentage thanks to a home run and four doubles. Kieboom's award is the second straight for a Potomac player after Soto won last week.
Kieboom put up multiple hits in six of the seven games over the award period, beginning with a 2-for-3 night that featured a double on May 7. The shortstop's best showing came May 10 when he went 3-for-4 with a two-run homer and career-high five RBIs.
"I feel good at the plate. I don't look at anything too much and worry about what was going on earlier in the year," he told MiLB.com after his three-hit effort. "But it feels good to get some hits and be the player I know I am."
• View the Pitcher of the Week winners »
Baseball's No. 85 overall prospect now boasts hits in 16 of his last 18 games, including 10 straight. His current streak, including the award period, has boosted his slash line from .191/.294/327 entering play on May 3 to .268/.381/.443 after the 13th. Over his last seven games, the 20-year-old walked seven times with just two strikeouts and scored seven times while driving in six.
It's also worth noting that Kieboom has thrived on the road this season, where all seven of his games were played over the last week. Through 16 games at Pfitzner Stadium, Kieboom has batted just .179/.267/.625, but away from home, he's a .341/.465/.512 hitter in 20 games.
"Sticking with my plan and approach has helped," he said last week. "You have your ups and downs during the season, and that's baseball for you. Don't try to do too much. I know what I'm capable of doing and knew it was just a matter of time before things start falling for me."
After batting .198/.308/.347 in 24 April games, Kieboom is now hitting at a .417/.525/.646 rate through 12 contests in May. The award is the first weekly honor of his Minor League career.
Below is the complete list of Minor League Offensive Players of the Week for May 7-13:
Tyler Maun is a contributor to MiLB.com. Follow him on Twitter @TylerMaun.