Wilmington Splits Series with Salem
Watson's Strong Outing Keeps Red Sox at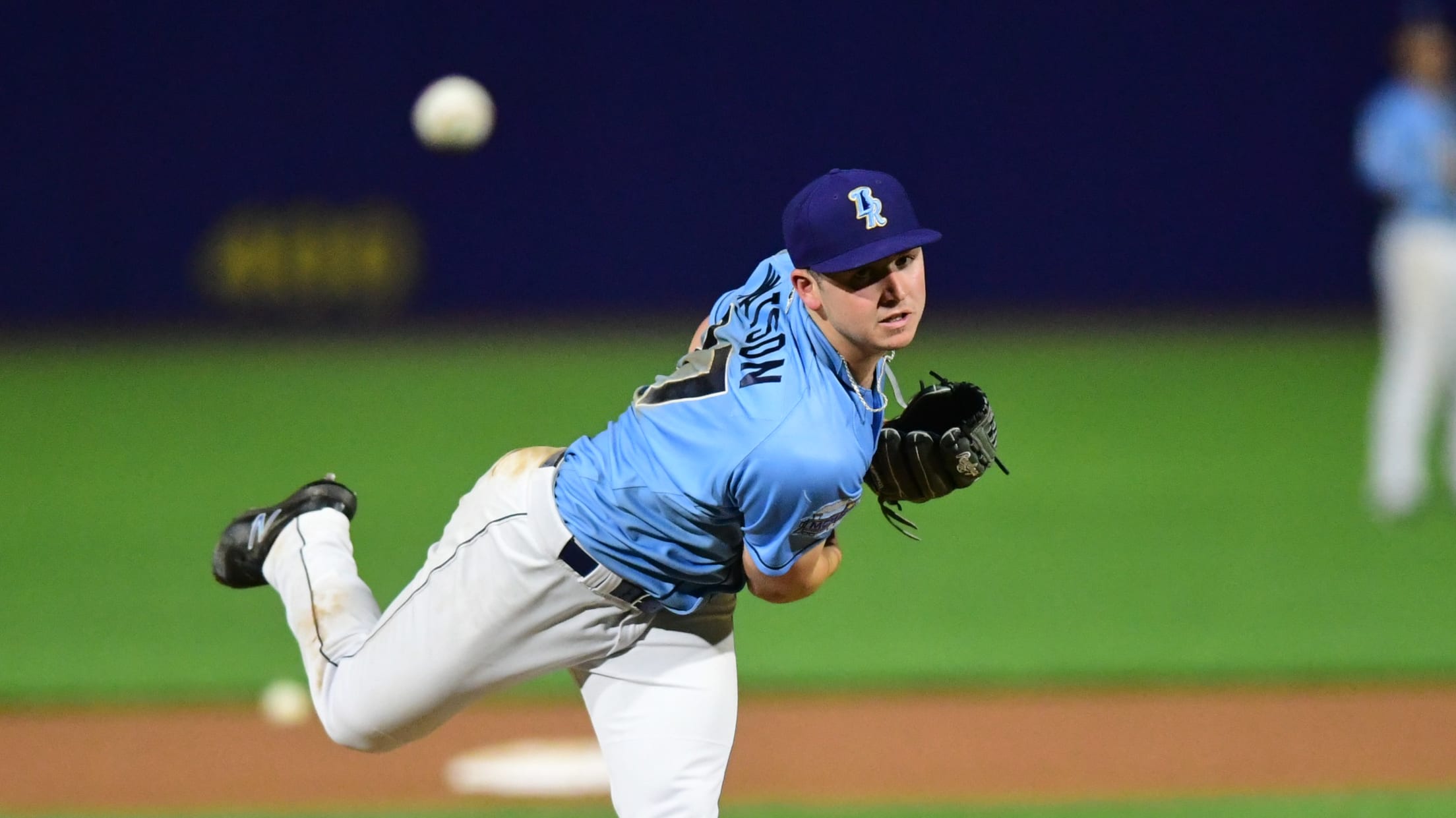 Wilmington's Nolan Watson tossed seven strong innings and allowed just two runs to earn the victory in a 5-2 Blue Rocks win Monday night. (Brad Glazier)
Wilmington, DE- The Wilmington Blue Rocks (44-49/13-10) earned the series split against the Salem Red Sox (46-46/14-10) with a 5-2 victory on Monday night. Nolan Watson had his second straight quality start as a Blue Rock in the winning effort. The righty tossed seven full innings giving up only five
Wilmington, DE- The Wilmington Blue Rocks (44-49/13-10) earned the series split against the Salem Red Sox (46-46/14-10) with a 5-2 victory on Monday night. Nolan Watson had his second straight quality start as a Blue Rock in the winning effort. The righty tossed seven full innings giving up only five hits, two runs, and one walk while also amassing seven strikeouts, his highest total as a Blue Rock. Nick Heath led the offense with two RBI in Monday night's performance.

Trailing 2-1, Wilmington regained the lead in the bottom of the sixth. Vance Vizcaino led the inning off with a double and advanced to third on a balk by Red Sox starter Jake Thompson. Angelo Castellano was hit by a pitch to put runners on the corners with no outs. With Blake Perkins at the plate, Thompson threw a wild pitch that snuck through the legs of the catcher. Vizcaino scored on the play while Castellano moved to third to tie the game at 2-2. With the runner on third and one out, Heath tapped a single up the third base line to score Castellano and put the Rocks on top 3-2. Gabriel Cancel added another vital run with a double down the third base line to score D.J. Burt from second to give the game its final score of 4-2.
The Blue Rocks wasted no time getting on the scoreboard in the bottom of the first. Perkins drew a four-pitch walk and later stole second and then advanced to third on a throwing error by Salem catcher Jordan Procyshen. Heath brought Perkins home on an RBI groundout to put Wilmington ahead 1-0.
Salem responded in the top of the second inning. Bobby Dalbec kicked off the inning with a double to right. He advanced to third after a Roldani Baldwin groundout. Chris Madera hit a deep fly ball to right that was far enough to score Dalbec and draw the game level at 1-1. The Red Sox took the lead in the top of the third. With Tyler Hill on first via a walk, Brett Netzer singled through the gap in right to put runners on the corners with one out. C.J. Chatham smacked a fly ball to right center to score Hill on another sacrifice fly to put the Sox on top 2-1.
The Blue Rocks will be back in action on Wednesday, July 18 when they travel down to Calvin Falwell Field in Lynchburg, VA to take on the HIllcats at 6:30 p.m. Southpaw Daniel Tillo (2-1, 3.86 ERA) gets the start for Wilmington. Fans can tune into the game with Matt Janus on the call on 89.7 WGLS-FM.
PEBBLES OF KNOWLEDGE:
Wilmington's starter Nolan Watson turned in his second straight quality start after going seven strong innings Monday night against Salem. The righty allowed just two earned runs on five hits, walked one and struck out seven, the most since joining the Blue Rocks. Watson at one point retired 10 straight Red Sox hitters en route to his second straight victory and third overall in Advanced-A. The seven innings of work marked back-to-back games in which Wilmington's starters lasted at least seven complete innings. Gerson Garabito did not factor in the decision on Sunday after allowing two runs in seven innings of work.
Gabriel Cancel continues to thrive when batting with runners in scoring position for the Blue Rocks this season. The infielder had another RBI double in Monday's win to give him five doubles on the homestand and seven RBI. Over his last 31 games, Cancel has driven in 35 runs and added to his team lead with 55 on the season. While batting fourth this season, Cancel is hitting a robust .338 (26-for-77) with 22 RBI. When Cancel hits anywhere else in the lineup is hitting .254 (53-for-209) with 33 runs driven in.
Outfielder Nick Heath extended his on-base streak to 17 games thanks to his go-ahead infield RBI single in the bottom of the sixth inning. He is hitting .290 (18-for-62) during the on-base streak to go along with 12 walks. He is now one-game shy of tying the longest on-base streak by a Blue Rock this season which was set by Khalil Lee at 18 games from May 25 through June 12. He also stole another bases in the game to pad his team and league-lead to 29 in just 53 games. D.J. Burt stole his 23rd bag of the year which is third most in the Carolina League. Wilmington has surpassed last season's total of 111 stolen bases and have 113 in just 93 games.
THEY SAID IT, MANAGAER DARRYL KENNEDY
(On Nolan Watson) "Nolan did a great job and mixed his pitches. He threw strikes, stayed ahead in the count and used his off-speed really well tonight and kept everything down (Monday) night."
(On Gabriel Cancel's production) "He has really stepped up his game since coming back from that little injury earlier in the year and it shows. He's been a big force for us. Now that we have (Emmanuel) Rivera back, although he didn't get any hits, he hit the ball on the screws and Salem made a lot of great plays against him. He helps our lineup and makes it deeper."
(On team's success in second half) "I think it's just a matter of everything that we worked on up until now is starting to come into play. That's a testament to these guys. They keep battling, keep working and nobody is giving up. It's hot outside, but we keep working and playing hard and it's paying off."