Whalen's Slam Powers Chiefs 17-Hit Attack in 11-7 Win
Every Peoria batter collects at least one hit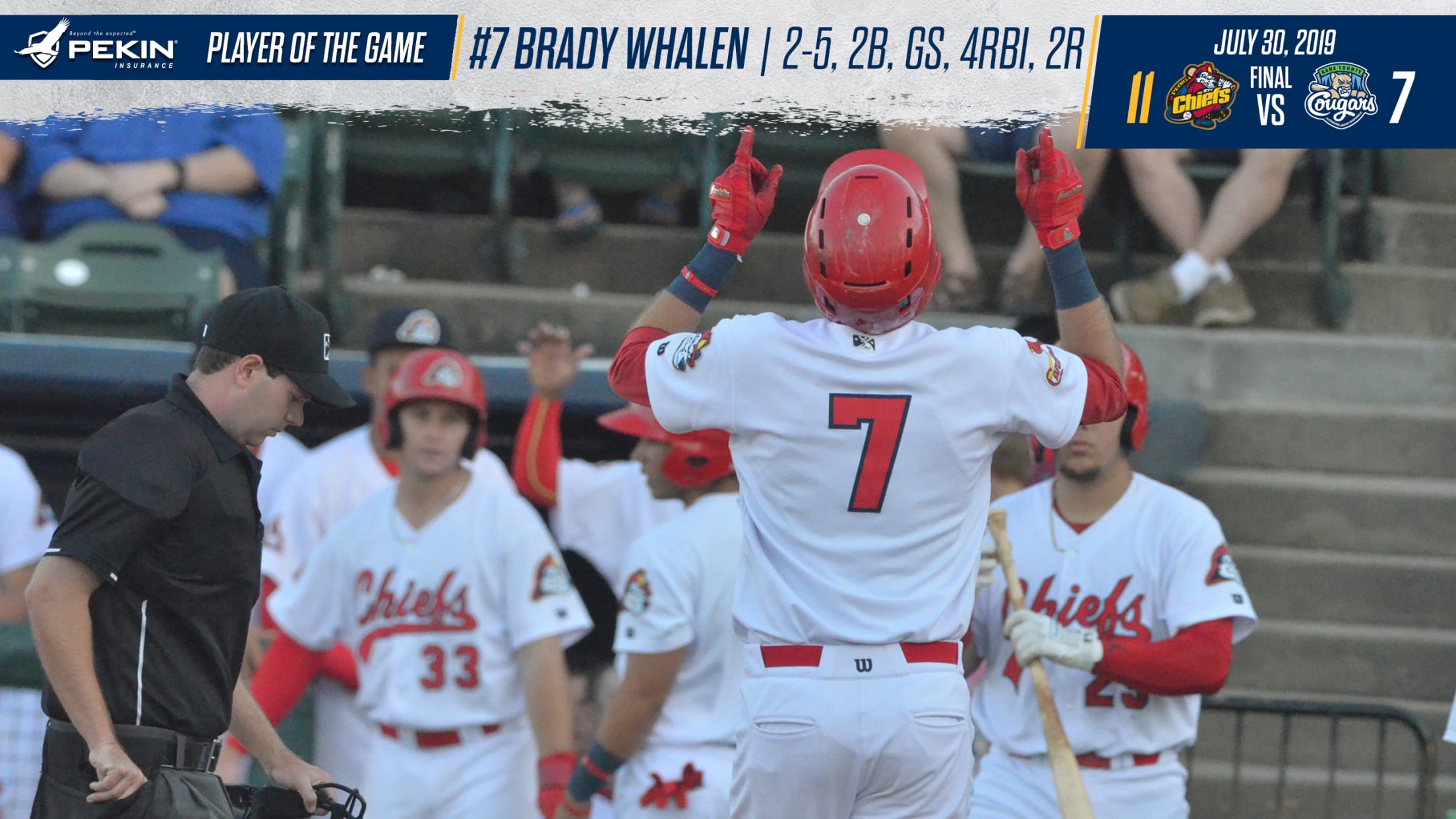 Peoria, IL - The Peoria Chiefs rallied from a five-run deficit to collect 17 hits in an 11-7 win over the first-place Kane County Cougars Tuesday night at Dozer Park. Brady Whalen went two-for-four with a double, a grand slam and 4 RBI to earn the Pekin Insurance Beyond the
Peoria, IL - The Peoria Chiefs rallied from a five-run deficit to collect 17 hits in an 11-7 win over the first-place Kane County Cougars Tuesday night at Dozer Park. Brady Whalen went two-for-four with a double, a grand slam and 4 RBI to earn the Pekin Insurance Beyond the Expected Player of the Game.
The Chiefs entered the bottom of the third trailing 5-0 but the bats came to life against Kane County starter Adrian Del Moral. Wadye Ynfante walked to lead off the inning and with one out, Jonatan Machado and Delvin Perez singled to load the bases. Brendan Donovan worked a walk to score Ynfante and cut the deficit to 5-1. Whalen tied the game at five with a grand slam to right, his sixth homerun of the season, on the first pitch of the at-bat.
Peoria took the lead in the bottom of the fifth against Kane County reliever Kenny Hernandez. With two outs, Whalen doubled and scored on an RBI single from Carlos Soto, making his Chiefs debut for the 6-5 lead. Imeldo Diaz followed with an RBI double, his sixth of the season, to score Soto to give the Chiefs a 7-5 lead. Brandon Riley followed with a double, his 16th of the season to score Diaz for the 8-5 lead.
The bats continued to roll for the Chiefs in the bottom of the sixth. Josh Shaw led off with a double and Machado singled to put runners on first and third. Perez followed with a single to score Shaw and build the Chiefs lead to 9-5. With runners on first and second, Donovan singled home Machado with his second hit of the night. Soto also added a second RBI as he drove in Donovan to put the Chiefs on top 11-5.
Michael Brettell (4-7) earned the win pitching 5 2/3 innings allowing five runs on eight hits with two walks and three strikeouts. Evan Sisk pitched 2 1/3 innings allowing two runs on four hits. Eli Kraus pitched one shut out inning and tallied one strikeout.
The Chiefs continue their four-game series with the Kane County Cougars on Wednesday at 6:35 p.m. and it's Guaranteed WINSday at Dozer Park. The broadcast can be heard, starting with the Pre-Game Show at 6:20 p.m. on the Peoria Chiefs Tune-In Page, which is free and also has a free app for smartphones and tablets. The game is also available on MiLB.TV for subscribers. The Chiefs are guaranteeing their fans a win over the Kane County Cougars. If the Chiefs do not win, all fans can exchange their tickets for a free home game in August. There are also postgame fireworks from Central States Fireworks and a Pitch-In for Charity to benefit the Mid Illini Bandits 12U. It's also a CityLink Bang For Your Buck Wednesday with dollar hot dogs, popcorn and ice cream.
Thursday, August 1 is a 6:35 p.m. start for Pride Night. The Chiefs join the MiLB Pride Night Initiative in a night of inclusion with Peoria Proud as we welcome LGBTQ friends, family and allies to Dozer Park. There will also be concourse tables for Positive Health Solutions and FRIENDS. The first 1000 fans get a rainbow koozie presented by Positive Health Solutions, Peoria Proud, and the Peoria Chiefs. It's also a Baumgarten Distributing Beer and Brat Thirsty Thursday and Taco Bell Live Mas Thursday. The homestand concludes on Friday, August 2 with Harry Potter Night. Dress up as your favorite Harry Potter character and enjoy the sights and sounds from the Wizarding World of Harry Potter. The Chiefs will also wear Harry Potter themed jerseys that will be auctioned off to benefit EP!C. There will also be memorabilia and collectibles from Harry Potter autographed by the stars that will be part of a raffle. The magical night will conclude with post game fireworks and a pitch-in for charity benefitting EP!C.
Individual game tickets, group tickets and season ticket packages, including full-season, a 35-game ticket package, an 18-game ticket package or a Flex Plan are currently on sale by calling 309-680-4000. Individual game tickets are also on sale with the Dozer Park Box Office open Monday - Friday from 10:00 am - 5:00 pm and online at www.peoriachiefs.com which also lists all of the season's promotions. Game times and promotions are subject to change.