Fan Vote: Best Player in Franchise History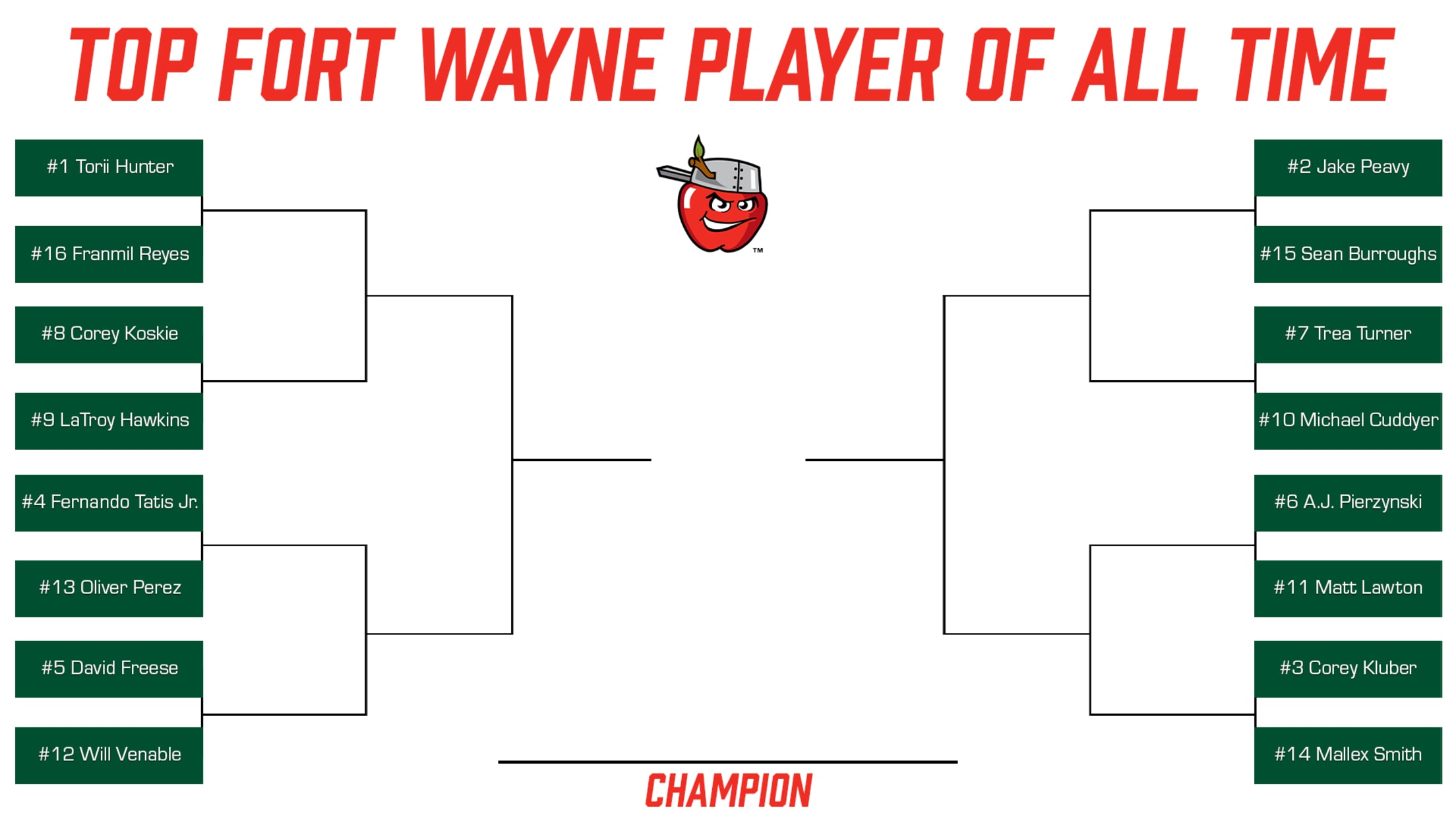 While we wait for the return of baseball, it's time to look back at some of the great Fort Wayne Wizards and TinCaps players of the past, and we're asking you to determine who's No. 1! Over the franchise's 27-year history, 188 players have gone on to reach the major
While we wait for the return of baseball, it's time to look back at some of the great Fort Wayne Wizards and TinCaps players of the past, and we're asking you to determine who's No. 1! Over the franchise's 27-year history, 188 players have gone on to reach the major leagues. We've created a bracket featuring 16 of our most accomplished alums. Follow @TinCaps on Twitter and vote!
BRACKET TIME 🍎⚾️

Who's the top Fort Wayne player of all time?! 🤔

Round one voting below! ⬇️ pic.twitter.com/6AT4EYFtgy

— Fort Wayne TinCaps (@TinCaps) March 27, 2020
For a review of the field, see more below and listen to broadcasters John Nolan and Jack McMullen break it down and share more anecdotes in this podcast.
An 18-year-old Hunter played 91 games for the Wizards in 1994, hitting .293 with 10 HR and 50 RBI, while playing primarily left field
Hunter made his MLB debut with the Twins at the age of 21 in the 1997 season. He began a full-time role with Minnesota in 1999, batting .255 over 135 games.
Over 19 Major League seasons (12 of which were in Minnesota), Hunter hit 353 home runs and drove in nearly 1,400 runs. He was a five-time All-Star (twice with Minnesota, twice with the Angels, and the fifth coming in 2013 as a 37-year-old with the Detroit Tigers).
His prowess best showed defensively in center field. The nine-time Gold Glove Award winner earned the nod every year from 2001-2009. At the plate, he was a two-time winner of the Silver Slugger Award.
Hunter retired after the 2015 season with the Twins. He's a member of the Minnesota Twins Hall of Fame.
His son, Torii Hunter, Jr., is a former baseball and football player at the University of Notre Dame. He's currently a member of the Los Angeles Angels organization, and went 5-for-11 in two games against the TinCaps in 2018 with the Burlington Bees.
---
Peavy appeared in 26 games in 2000 for the Wizards, starting 25 of them. In 133.2 IP, he threw to the tune of a 2.90 ERA, striking out 164.
After making his debut as a 21 year old in 2002, Peavy went on to play 15 years in the bigs for four teams, logging a career 3.63 ERA.
His best years came as a member of the Padres. In 7 ½ seasons with the Padres, Peavy was named an All-Star twice, and took home the NL Cy Young Award in 2007.
In his Cy Young campaign in '07, Peavy was on another level. He led the NL in wins (19), ERA (2.54), strikeouts (240), FIP (2.84), WHIP (1.06), and K/9 (9.7). Peavy finished seventh in the NL MVP voting that year, the highest of any pitcher (Phillies shortstop Jimmy Rollins edged out Rockies outfielder Matt Holliday).
Peavy added one more All-Star appearance, as well as an AL Gold Glove Award, in 2012 as a member of the Chicago White Sox.
In 2013, Peavy tacked on a World Series ring to his collection. Following a deadline move from the White Sox to the Boston Red Sox, Peavy was an integral part of the World Champions' playoff rotation. One year later, Peavy added a second ring as a member of the San Francisco Giants.
Peavy last played in the Majors in 2016 with the San Francisco Giants.
Peavy is one of five pitchers to have achieved the Pitching Triple Crown since the turn of the millenium. Peavy's 2007 season has him in the company of Randy Johnson ('02), Johan Santana ('06), and Justin Verlander and Clayton Kershaw ('11) by leading the league in wins, ERA, and strikeouts.
---
Kluber started 10 games for the Wizards in the final year of their wizardry, in 2008. The 22-year-old Kluber had a 3.21 ERA over 56.0 IP in the second half of the season, coming down from High-A Lake Elsinore. Kluber walked just 13 hitters, and struck out 72.
Kluber debuted with the Cleveland Indians in 2011, but burst onto the scene in 2014. His league-leading 18 wins and stellar 2.44 ERA earned him his first of two AL Cy Young Awards.
His second Cy Young campaign came in 2017. During that season, Kluber paced the American League in 10 categories, including wins (18), ERA (2.25), WHIP (0.87) and K/BB rate (7.36).
2019 was an injury-ridden season for Kluber, who missed the All-Star game for the first time in four years with a broken right forearm and strained oblique muscle. He started just seven games and threw 35.2 innings.
Over his last five full seasons, Kluber has finished outside of the top three in AL Cy Young Award voting just once (finished ninth in the Cy Young race in 2015). Additionally, he has led Major League Baseball in complete games pitched in three of his last four full seasons.
2020 will be Kluber's first MLB season not in eastern Ohio. He was traded to the Texas Rangers this offseason.
In 2014, Kluber became one of nearly 20 pitchers to win the Cy Young Award but not be a member of the All-Star team that season.
---
Tatis played in 117 games for the TinCaps in 2017 before being called up to then-AA San Antonio. While in Fort Wayne, Tatis hit .281 with a franchise-record 21 home runs and 69 RBIs, while also stealing 29 bases. Additionally, he made SportsCenter on multiple occasions during his Midwest League All-Star season.
Tatis burst onto the scene last year in San Diego, hitting .317 over 84 games with the Padres, while launching 22 homers. He finished third in the NL Rookie of the Year voting, only behind Mets first baseman Pete Alonso and Braves starting pitcher Mike Soroka.
Tatis' season was cut short in mid-August after suffering a stress reaction in his back. He finished the season 8 homers shy of Nomar Garciaparra's MLB record for HR by a rookie shortstop (30).
Fernando Tatis Jr. checks in at #41 on ESPN's MLB Rank - Baseball's Top Players for 2020.
---
Freese played 53 games for the Wizards in 2006. He hit .299, and had as many RBIs (44) as he did strikeouts at the plate.
Freese broke into the bigs in 2009 with the St. Louis Cardinals, after making his way to the Cardinals organization via trade during the 2007-2008 offseason.
Freese is best known for his heroics during the Cardinals' 2011 World Series run. He was awarded both the NLCS MVP and World Series MVP awards, and provided two of the most memorable moments in recent World Series history.
Hitting .293 with 20 homers and 79 RBIs, Freese was named an NL All-Star in 2012.
Freese spent the last 11 years of his life at the Major League level, playing for four different teams. He played the last two years for the Los Angeles Dodgers, following stints with the Angels and Pirates. He announced his retirement last October.
---
Pierzynski appeared in 136 games for the Wizards over the 1995-1996 seasons at the ages of 18 and 19, respectively. Overall, he hit .280 with 9 homers and 84 RBIs.
Debuting as a 21-year-old in Major League Baseball in 1998, Pierzynski played parts of 19 MLB seasons, with his final MLB appearance coming in an Atlanta Braves uniform in 2016 at 39.
The two-time All-Star won a Silver Slugger Award as a catcher for the Chicago White Sox in 2012. That was Pierzynski's eighth and final year with the White Sox, having started with them during their World Series-winning season in 2005.
Over the course of his 19 year career spanning seven different teams, Pierzynski hit .280 with 188 HR and 909 RBI. He is one of 288 players in MLB history with 2,000 or more base hits (2,043).
Later in his career, Pierzynski began to make appearances as a studio analyst for FOX during the postseason. In 2017, after Pierzynski's retirement, FOX brought him on as a full-time analyst.
Pierzynski was known for his fiery personality, including a 2006 brawl with Cubs catcher Michael Barrett.
---
Turner played 46 games for the TinCaps in 2014 after being the 13th overall selection of the Padres earlier that summer. In those 46 games, Turner hit .369 and stole 14 bases in 17 attempts, carrying the team to the MWL Eastern Division Championship Series.
Making his MLB debut with the Washington Nationals just a season after his time with the TinCaps, Turner did not exceed rookie limits. Instead, Turner's true rookie season came in 2016, when he hit .342 and stole 33 bases. He finished second in the NL Rookie of the Year voting (Dodgers shortstop Corey Seager received all 30 first place votes).
The tour de force of Turner's young career came in 2018, when he paced Major League Baseball in games played (162), plate appearances (740) and stolen bases (43), all while belting 19 home runs.
Turner, who's considered one of the fastest players in the game, started at shortstop for the Nationals during their World Series title season in 2019.
---
Koskie played in 123 games for Fort Wayne in 1995, clubbing 16 homers and 78 RBIs. His 238 total bases was the most on the Wizards that year.
Koskie spent nine years at the big league level, seven as a Minnesota Twin. Of the six full seasons he spent in Minnesota, he appeared in over 115 games in each of those seasons.
His career ended as a Milwaukee Brewer in 2006 at the age of 33. Koskie was a career .275 hitter, with double-digit home run seasons in seven of his eight full seasons in Major League Baseball.
Born in Anola, Manitoba, Koskie is a member of the Canadian Baseball Hall of Fame (elected in 2015) and became the first Manitoba-born player to reach the major leagues since the 1940s.
---
Hawkins is an Indiana native and played football, basketball and baseball at West Side High School in Gary. While in high school, Hawkins received an offer to play basketball at Indiana State.
Hawkins made 23 starts and three relief appearances for the Wizards in 1993. In total, he amassed 157.1 IP and owned an outstanding ERA of 2.06. He struck out 179 batters that season, and sported a WHIP of .960.
After making his MLB debut with the then-parent club Minnesota Twins in 1995, Hawkins spent parts of 21 seasons at baseball's highest level with 12 different teams.
Hawkins made 99 appearances at the Major League level in the '90s -- 98 of which were starts. From 2000 until his retirement in 2015, he made 943 appearances -- all came as a reliever.
Hawkins is one of just 16 pitchers in MLB history to appear in 1,000-plus games. He's also one of only 93 pitchers in MLB history to throw an "immaculate inning." He accomplished the feat with the Chicago Cubs on September 11 2004.
LaTroy Hawkins is the godfather of Kansas City Chiefs quarterback and Super Bowl MVP Patrick Mahomes. Hawkins was teammates with fellow pitcher Pat Mahomes in the Twins organization.
He currently serves as a special assistant to the Twins organization. He came back to visit Parkview Field in 2016.
---
Cuddyer played 129 games for the Fort Wayne Wizards in 1998, one year removed from being the 9th overall selection of the Twins in the MLB Draft. He hit .276 across those games with a team-high 12 home runs and 81 RBIs.
After making his debut in 2001, Cuddyer spent 15 years at the big league level -- 11 of those 15 years came as a member of the Minnesota Twins.
The two-time All-Star hit above .300 just twice in his career; both of which came as a member of the Colorado Rockies. Cuddyer led Major League Baseball in batting (.331) in 2013. He upped it to .332 in 2014 as a 35 year old, but only played 49 games that season.
Cuddyer retired after the 2015 season as a career .277 hitter, and just six RBI shy of 800.
He is part of a grouping of Special Assistants to Baseball Operations in the Twins organization that rivals that of Mount Rushmore: TinCaps/Wizards alums LaTroy Hawkins and Torii Hunter, and former Twins great Justin Morneau.
---
Lawton played 111 games for the Wizards in 1993. He hit .285 over the '93 season, but reached base at a far better clip (.410 OBP). Lawton walked more that season (65) than struck out (42).
After making his MLB debut with Minnesota in 1995, Lawton played parts of 12 seasons with seven different teams. He retired after the 2006 season, at 34, a career .267 hitter with over 150 career stolen bases.
Lawton was a two-time All-Star. One appearance came as a member of the Twins organization (2000), and the other with the Cleveland Indians (2004).
---
Venable played virtually the entirety of the 2006 season with the Fort Wayne Wizards. Over 124 games, Venable hit .314 with 11 homers and 91 RBIs. Additionally, Venable stole 18 bases in 23 attempts.
Venable was both a mid-season and postseason Midwest League All-Star with the Wizards. Will's father, Max, was Fort Wayne's hitting coach that season. He was named Padres Minor League Player of the Year for his efforts.
In 967 career games at the Major League level, Venable played less than 50 games not in a Padres uniform. He broke in with San Diego in 2008, and stayed with the club until the trade deadline in 2015.
Venable ended his MLB playing career in 2016 a career .249 hitter. But, in 2018, his coaching career began. He has been the first base coach for the Chicago Cubs each of the past two seasons, and will make the switch to being the Cubs' third base coach this season.
Venable played both baseball and basketball at Princeton University. He became just the second athlete in history to be name First Team All-Ivy in both baseball and basketball, only after former Padre Chris Young. Venable went to the NCAA Tournament twice, in both sports.
---
Perez started 19 games for the Wizards in 2001, logging 101.1 IP and a 3.46 ERA. In just over 100 innings, Perez struck out 98 batters.
Perez made his Major League debut just one season later, and became a consistent starter for the Padres at the ripe age of 20. In his rookie season, Perez had a 3.50 ERA in 15 starts.
Longevity is Perez's name of the game. The southpaw hasn't made a Major League start since 2010, but has been a mainstay in The Show as a reliever. In 2019, Perez appeared in 67 games for the Cleveland Indians as a situational reliever, throwing just 40.2 IP in total.
In his 17 year career, Perez has a career 4.38 ERA.
---
Over the 2013 and 2014 seasons, Smith played a combined 175 games for the TinCaps. He hit .274 over those games, but his true prowess showed on the basepaths. Smith swiped 112 bags at the Class A level, including 64 in 2013.
Smith debuted with the Atlanta Braves in 2016, but has become a mainstay at the Major League level over the past few seasons. He played in 141 games for the Tampa Bay Rays in 2018, and 134 games with the Seattle Mariners last year.
The need for speed didn't stay in Fort Wayne. Smith led Major League Baseball in triples (10) in 2018, and was MLB's stolen base king last year (46).
---
After being the ninth overall pick in the 1998 MLB Draft, Burroughs tore up the Midwest League in 1999. He hit a video game-esque, franchise-record .359 in 122 games with the Wizards, with 5 homers and 80 RBIs.
At 21, Burroughs debuted with the Padres in 2002, hitting .271 over 63 games.
Burroughs played his first four seasons in San Diego before heading to Tampa Bay in 2006. However, he only played eight games for the Devil Rays, and was out of Major League Baseball entirely from 2007-2010 dealing with an array of injuries.
Burroughs' comeback bid was successful in 2011 with the Arizona Diamondbacks. In 78 games with the DBacks, he hit .273.
Burroughs' last MLB action came in 10 games that he played for the Twins in 2012. He retired a career .278 hitter over 528 MLB games.
---
The 6-foot-5, 275 pound outfielder played two full seasons for the TinCaps in 2014 and 2015. In 251 games with the TinCaps, Reyes clubbed 19 HR and tallied 121 RBIs.
Reyes broke into the bigs in 2018 with the Padres, and hit .280 with 16 HR in 87 games.
In 2019, Reyes hit 27 HR in just 99 games with the Padres. That was enough to convince the Indians to move for Reyes in a three-team deal that shifted the likes of Yasiel Puig, Trevor Bauer and Taylor Trammel between the Reds, Indians and Padres.
Reyes played in 51 games for the Indians towards the tail end of last year. In total, the slugging Reyes hit 37 home runs in 150 games in 2019.
Note: Players were considered based on their success in Major League Baseball. Players who appeared in less than 10 games with Fort Wayne (such as Chris Paddack, Chase Headley, and Joakim Soria) were not included for consideration.
👑 FERNANDO TATIS JR. 👑

El Niño is the fan-voted top Fort Wayne player of all time! 🍎⚾️ pic.twitter.com/jaGPQU7Crh

— Fort Wayne TinCaps (@TinCaps) March 31, 2020
UPDATE: The people have spoken and Fernando Tatis Jr. is the fan-choice for top player in Fort Wayne's franchise history!