Veteran Rosario tags first three-homer game
Twins first baseman powers Red Wings' romp with seven RBIs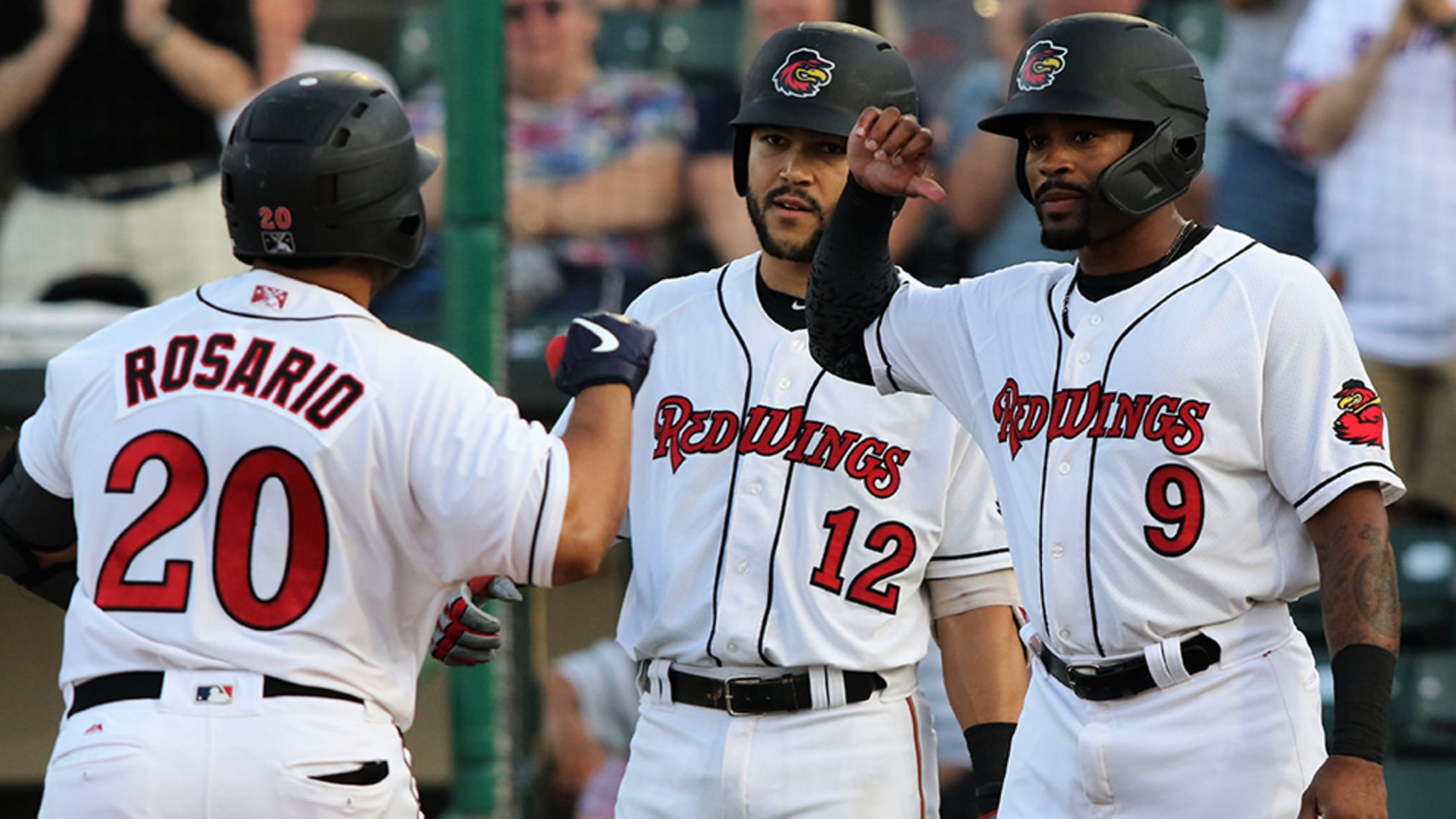 Wilin Rosario had eight two-homer games in his Minor League career before Tuesday's hat trick. (Rochester Red Wings)
On his quest to return to the Majors, Wilin Rosario accomplished something he'd never done before as a pro.The Twins first baseman hit three long balls, one for each of his kids, and drove in seven runs as Triple-A Rochester romped past Norfolk, 16-3, on Tuesday night at Frontier Field. 
On his quest to return to the Majors, Wilin Rosario accomplished something he'd never done before as a pro.
The Twins first baseman hit three long balls, one for each of his kids, and drove in seven runs as Triple-A Rochester romped past Norfolk, 16-3, on Tuesday night at Frontier Field.
Rosario, who became a father for the third time a couple days ago, grounded out in the first inning before embarking on a historic night. He took right-hander Tyler Herb (4-8) deep to center field on a 2-2 fastball in the second, plating Jaylin Davis -- who went 5-for-5 -- and capping the Red Wings' six-run second.
The native of the Dominican Republic doubled home Drew Maggi in the fourth on an 0-1 pitch from Matt Wotherspoon. He got to the righty again in the sixth, sending another 0-1 offering over the fence in right-center, again scoring Davis and extending Rochester's lead to 13-0.
Rosario completed the hat trick in the eighth, depositing a 1-0 pitch from righty Francisco Jimenez over the center-field fence. Davis preceded him across the plate for the fourth time.
"I told him stick with the plan," Red Wings hitting coach Javier Valentin said. "It's a good thing he stuck with the plan. You need to have a plan every time you step up to the plate."
Gameday box score
Valentin, who spent the past two seasons as Double-A Chattanooga hitting coach, said Rosario's presence at the plate forces pitchers to make mistakes.
Rosario was hitting .285 with nine dingers before he was placed on the seven-day injured list with a left ankle sprain on June 30. Since his return, Valentin has noticed an improved approach at the plate.
"He's been great for us," the coach said. "He's a veteran guy. He's made some small adjustments. His hands were a little too high [earlier in the season]. We got him to lower them a bit.
"In Japan, you don't see many fastballs. He was missing some fastballs. So we dropped his hands so he could get better contact. He's a strong guy that puts the barrell on the ball."
The 30-year-old, who spent parts of five seasons with the Rockies from 2011-15, inked a Minor League contract with the Twins in February after playing two seasons in South Korea and another in Japan. In 2012, he clubbed 28 homers and drove in 71 runs for Colorado en route to finishing fourth in National League Rookie of the Year voting. He's batting .311 with 13 long balls and 58 RBIs in 70 games this year.
"That's the kind of year he's having. He's done a real good job for us on the field and in the clubhouse," Valentin said.
The three-homer game was the first for Rochester since Mitch Garveraccomplished the feat on July 9, 2017. Rosario is the second Red Wing with a seven-RBI game this year, joining Zander Wiel, who went 4-for-4 with a pair of homers on July 11 against Lehigh Valley.
Maggi collected four hits, drove in three runs and scored three times for Rochester. Valentin believes Monday's day off helped the Red Wings' offense.
"We had a tough series in Gwinnett," the 43-year-old hitting coach noted. "I told the guys that they needed to go into the series with a clear mind. They needed to make good contact and swing at good pitches, not bad ones. They did just that."
Veteran designated hitter Mark Trumbo went 1-for-4 in the first game of his rehab stint with Norfolk. Christopher Bostick chipped in a two-run homer.
Dan Stokes is a contributor to MiLB.com. Follow him on Twitter @ByDanStokes.