Win Streak Ends Sunday
Kelly tosses 5 shutout innings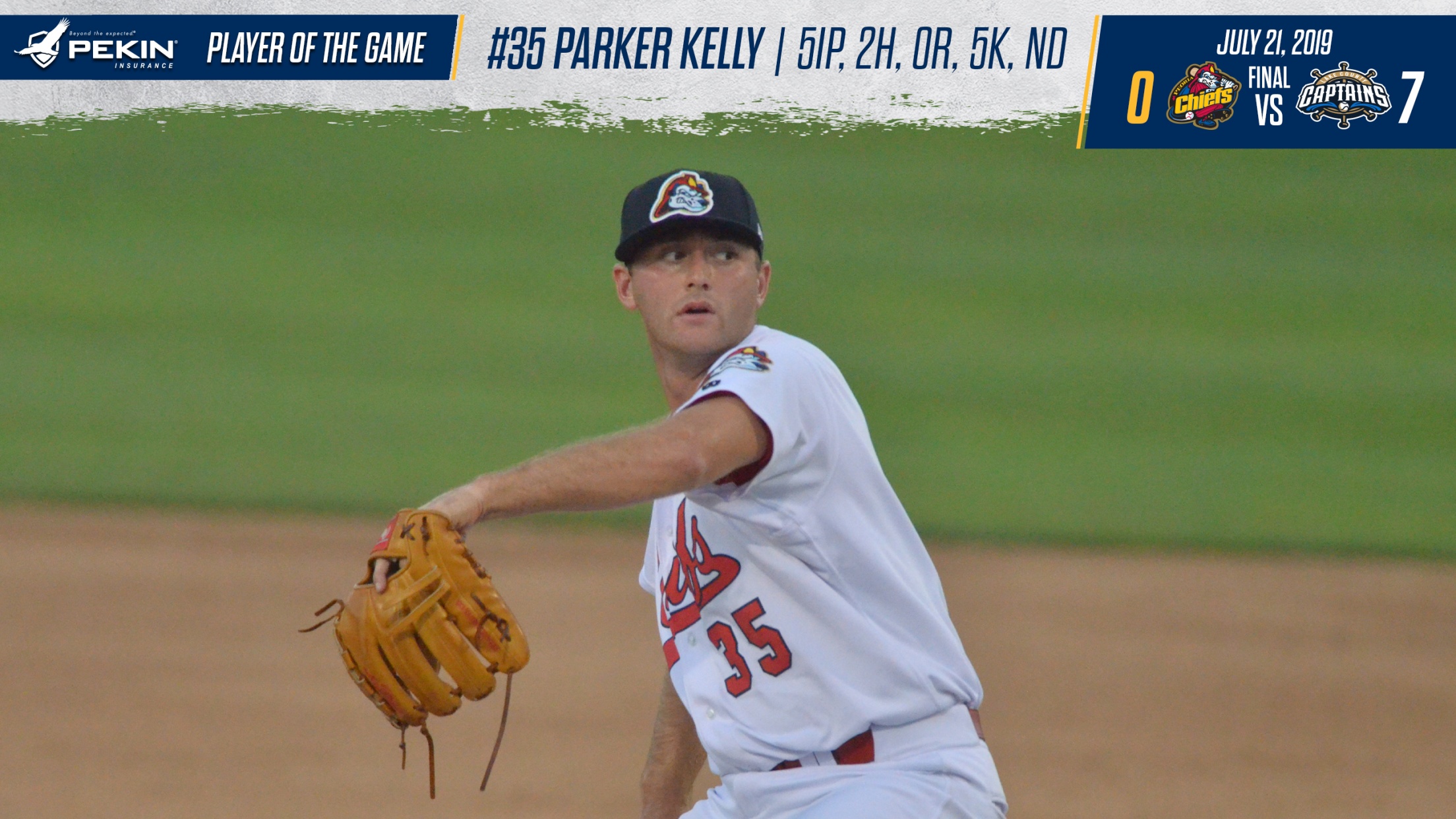 Eastlake, OH - The Peoria Chiefs got five shutout innings from starter Parker Kelly but one bad inning led to a 7-0 loss Sunday against the Lake County Captains, ending the Chiefs win streak. With a career-high five shutout innings and a career-high five strikeouts, Kelly was named the Pekin
Eastlake, OH - The Peoria Chiefs got five shutout innings from starter Parker Kelly but one bad inning led to a 7-0 loss Sunday against the Lake County Captains, ending the Chiefs win streak. With a career-high five shutout innings and a career-high five strikeouts, Kelly was named the Pekin Insurance Beyond the Expected Player of the Game as he got a no-decision.
The Chiefs had a couple early chances to take the lead. Brendan Donovan doubled with two outs in the third inning against Captains starter Zach Dunbar. Edwin Figuera hit a grounder through the legs of LC shortstop Jose Fermin but Donovan was thrown out at the plate by left-fielder Cody Farhat to end the inning.
The Chiefs also got a leadoff double from Brandon Riley in the fifth inning but couldn't get him home. The Captains scored five runs in the sixth as reliever Rodard Avelino (0-2) walked four and allowed a double in 1/3 of an inning. The Chiefs left the bases loaded in the eighth and ultimately fell 7-0.
Kelly allowed three hits, two infield singles, and walked one while striking out five over his five shutout innings. Donovan has a 12-game hit streak, the longest for any Chiefs player this season, and he had two doubles Sunday. Alexis Wilson and Riley also had two hits each. The Chiefs out-hit the Captains 7-6. Kelly made his first start since he was a high school junior in Oregon.
Game three of the series is Monday at 6:00 p.m. Central time. The Chiefs will start RH Kyle Leahy (4-8) against newcomer LH Matt Turner (0-0) for the Captains. The broadcast, begins with the Pre-Game Show at 5:45 p.m. (CT) on the Peoria Chiefs Tune-In Page, which is free and also has a free app for smartphones and tablets.
The Chiefs return home on Saturday, July 27 to start a seven-game homestand. Individual game tickets, group tickets and season ticket packages, including full-season, a 35-game ticket package, an 18-game ticket package or a Flex Plan are currently on sale by calling 309-680-4000. Individual game tickets are also on sale with the Dozer Park Box Office open Monday - Friday from 10:00 am - 5:00 pm and online at www.peoriachiefs.com which also lists all of the season's promotions. Game times and promotions are subject to change.