Dash go around the horn for triple play
Winston-Salem turns Minors' first feat of year vs. Blue Rocks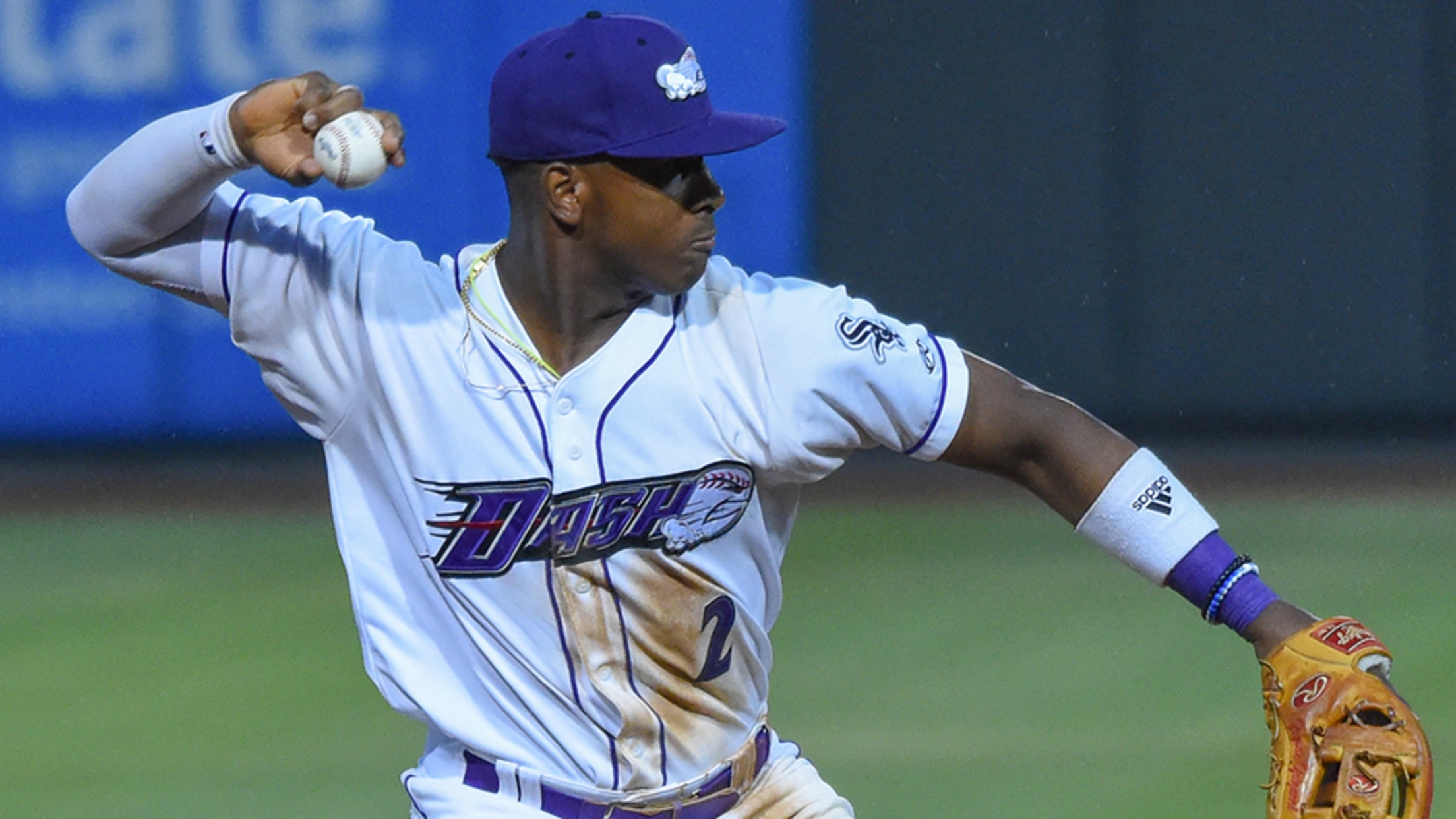 Yeyson Yrizarri has a .976 career fielding percentage, but a .915 mark as a third baseman. (Robert Hill/Winston-Salem Dash)
As Jameson Fisher saw the ball roll down the third-base line, he thought, "No shot this is going to happen." He was wrong, and a no-out, two-men-on jam for Class A Advanced Winston-Salem's Cristian Castillo ended with one pitch. The Dash left-hander induced Wilmington's Sebastian Rivero to ground a ball to Yeyson
As Jameson Fisher saw the ball roll down the third-base line, he thought, "No shot this is going to happen."
He was wrong, and a no-out, two-men-on jam for Class A Advanced Winston-Salem's Cristian Castillo ended with one pitch.
The Dash left-hander induced Wilmington's Sebastian Rivero to ground a ball to Yeyson Yrizarri in the second inning of Tuesday's 2-1, 10-inning loss. The third baseman stepped on the bag and threw to Johan Cruz at second for the forceout. Cruz turned and fired to Fisher at first base to complete the old-fashioned triple play and keep the game scoreless.
From his view at first base, Fisher assumed the throw would come to him after Yrizarri fielded the ball and stepped on third.
"When the ball was hit to third, to Yeyson, I thought he was going to step on the bag and throw it to me for two," the 25-year-old said. "I guess when I saw him field it I didn't realize how close to third base he was. When I saw him throw to second, I was like, 'This is going to have to be quick.'"
Gameday box score
Cruz was lightning fast with the turn.
"It seemed like as soon as Cruz caught the ball it was going to me," Fisher said. "Luckily, I got the stretch in time. I caught it and I was like, 'We just turned a triple play.'
"I knew it was going to be close, but as I'm stretching, I'm like, 'This just happened.' It was like a surreal moment."
For Yrizarri, starting the play was a bit of redemption. The 22-year-old allowed Nick Pratto to reach on a throwing error to open the inning. The Royals' No. 5 prospect stole second before Castillo walked 17th-ranked Brewer Hicklen. Two pitches later, Rivero grounded into the inning-ending trifecta.
The trio of White Sox prospects combined to turn the first triple play of the Minor League season. Rookie Advanced Great Falls -- another White Sox affiliate -- was the last team in the Minors to turn a triple play, last Aug. 28 against Helena. There were 12 such feats across the Minor Leagues last season, none in the Carolina League. Winston-Salem had not turned three since June 28, 1999 against Frederick, when it was known as the Warthogs.
Had Fisher ever been part of a triple play?
"If I have, it was a long time ago," he said. "Maybe tournament ball when you're younger. Not one that I can recall. I mean, it's been a long time since I've been on a field and seen a triple play."
Yrizarri also was an offensive catalyst, with his speed leading to the Dash's lone run. After reaching on a fielder's choice with one out in the fourth, the Venezuela native swiped second. The attempt drew an errant throw from Rivero that allowed Craig Dedelow to score.
"He's a powerhouse in all aspects," Fisher said of his teammate. "He's a plus-plus defender. He's got a great arm. He swings like a 33-ounce bat and he swings it like he's a twig. He's an all-around guy. He does a lot for us."
It also was a big night at the dish for the Baton Rouge, Louisiana, native. After starting the season in a 2-for-22 funk, Fisher rapped out three hits -- all singles -- and nearly plated No. 4 White Sox prospectLuis Robert from second with a knock the other way leading off the 10th.
The left-handed hitter said he's coming off his best Spring Training as a pro.
"So going into the season I felt great, but to open up the season with the results I had was kind of frustrating," the 2016 fourth-round pick said. "But I was feeling OK, I was seeing the ball well. I was barreling the ball at several people. Finally, I get a couple games here where balls are starting to find those holes instead of right at 'em. I'm still thinking about starting a petition to get the shift to be illegal."
All jokes aside, Fisher is trying to reclaim the swing that helped him bat .424 with 11 homers and 66 RBIs during his final season at Southeastern Louisiana University by focusing on a series of offseason adjustments that revolve around simplifying his movements in the batter's box.
"I've been trying to get back to things I did in college when I was very successful," Fisher said. "For some reason in pro ball, my movements started getting bigger. I got a bigger leg kick. I started becoming very inconsistent."
The 6-foot-2, 200-pounder studied plenty of film over the winter and credited the White Sox hitting coordinators for working with him. With Double-A Birmingham last year, he hit .216 with a .641 OPS in 97 games. But Fisher doesn't see starting the season with the Dash as a slight.
"When I first found out, that instant shock kind of hits you of going back down," he said. "But it's a good thing because I'm going to play every day. I'm going to get my at-bats here. Some people might hold grudges for that, but I'm just enjoying the opportunity to get to play every day. ... Just trying to get back in the groove of doing me like I used to."
Royals No. 6 prospect Seuly Matias tied the game in the bottom of the fourth on a sacrifice fly that scored 10th-ranked Kyle Isbel. Matias came home with the winning run on Pratto's walk-off single in the 10th.
White Sox No. 15 prospect Alec Hansen pitched a hitless eighth for Winston-Salem.
Chris Bumbaca is a contributor to MiLB.com. Follow him on Twitter @BOOMbaca.