With the NFL Draft Here, Aces Players Share Football Memories
Duplantier, DeLuzio, Rojas, and Varsho Miss the Friday Night Lights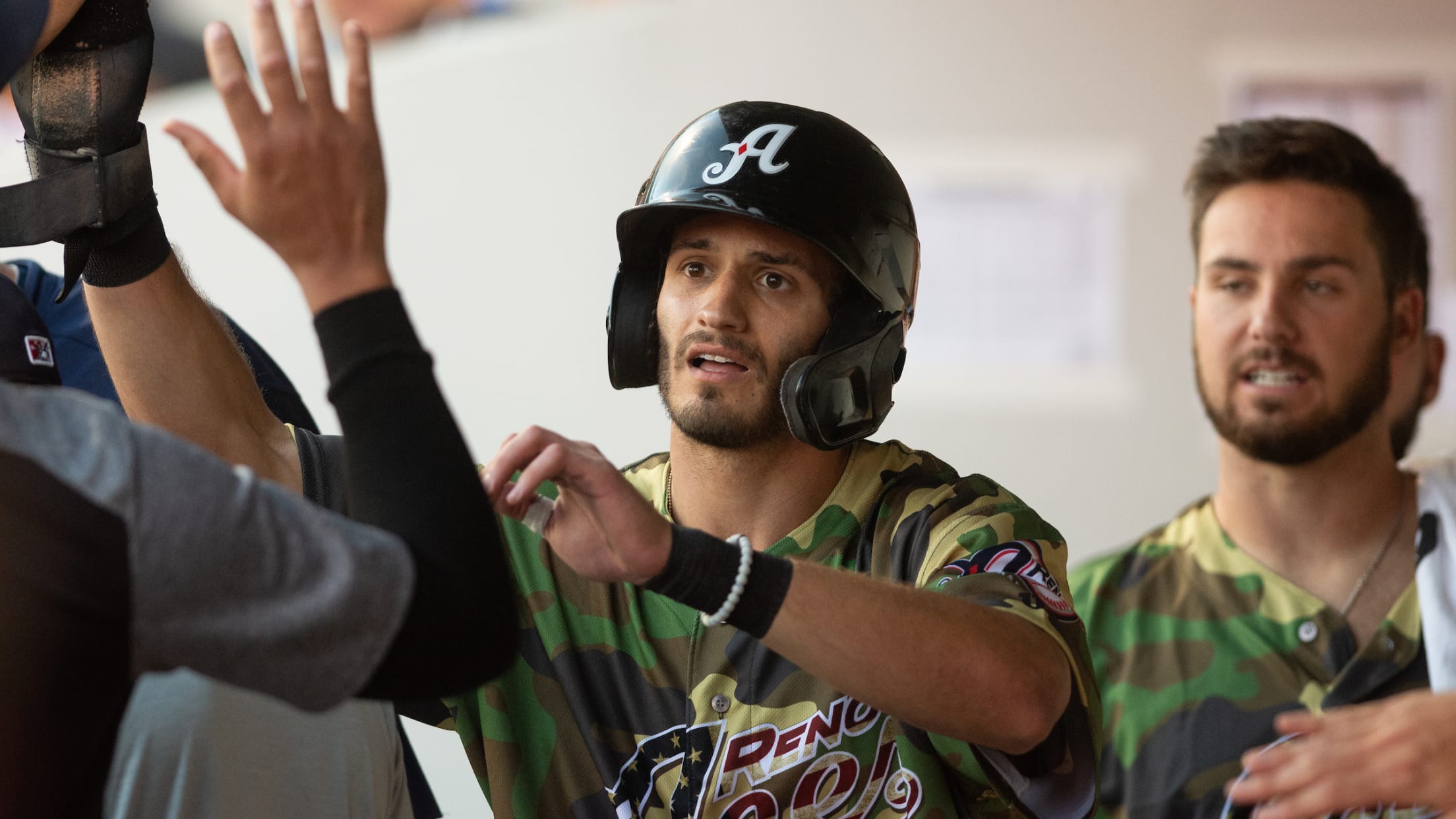 The sports world will get its first taste of live content this Thursday, April 23 when the NFL draft takes place. While we await Aceball, let's look a few current and future Aces who once had their heyday on the gridiron.
The sports world will get its first taste of live content this Thursday, April 23 when the NFL draft takes place.
While we await Aceball, let's look a few current and future Aces who once had their heyday on the gridiron.
Right-handed pitcher Jon Duplantier is from a football hotbed.
"You feel like a myth when you're from Texas," Duplantier said. "Texas High School Football was no joke."
Duplantier played quarterback during his junior and senior years at Seven Lakes High School in Katy, Texas. A stand-out student in the classroom, maintaining a 4.32 GPA throughout high school, Duplantier considered playing both baseball and football at Yale before choosing to pitch at Rice. However, a football prospect from Texas carried a ton of weight in the recruiting world according to Dup.
"Let's just say when I was going to football camps in high school, we'd go up to the Northeast to visit these Ivy League schools and they would read the roster out and see Houston, Texas and they would kinda look and go, 'You from Texas?' and the other players in the camp would look around and be like, 'Is it true y'all hit each other in the spring too?!' I'd say, 'Yup.' They'd say, 'What?! How hot is it down there when y'all are hitting each other?' I'd say, 'Cleats melt,'" Duplantier said.
A torn meniscus his senior season ended his career, but the pitcher has football memories that will last a lifetime.
"I remember even to this day, up until playing in the big leagues, the most adrenaline I've ever had in my life was when the drum line would come out before high school football games in Katy, Texas," Duplantier said. "I can still hear the drum line, I can still hear the beat and I remember sitting there throwing our 10 yard passes with the other quarterbacks, warming up, hearing the drum line coming in and it was just like everything would turn up…yeah it's no joke, when people talk about high school football it's for real."
We'd say his decision to pitch full time wasn't a bad one. The righty was drafted in the third round out of Rice in 2016 and he made his Major League debut a season ago. He's a big part of the D-backs' future plans.
Outfielder Ben DeLuzio was a stud football player in his own right at The First Academy in Orlando, Florida.
The speedy outfielder got varsity snaps all four years from 2009-2012 playing both ways totaling 28 touchdowns on offense and 97 tackles on defense.
DeLuzio did most of his damage on the ground including a senior campaign where he recorded 867 rushing yards and 12 end zone trips.
Though a great player, DeLuzio made his decision to choose baseball based on longevity he told Isaiah Burrows of Tahoe OnStage in 2019.
"I came to the decision that if I made it in baseball, I'd have a longer career out of it. That's the road I've been on," DeLuzio said. "I grew a love for both sports. Looking back, football was a passion for me. I had to let it go and forget about it. There are times when I say 'what if?' But I'm fully content with it."
DeLuzio projects to be a big part of the Aces outfield and lineup whenever we can get back on the field, his decision to choose baseball over football was not to waste as he's definitely a prospect to watch for the D-backs.
Utilityman Josh Rojas was first team all-Section 3 at wide receiver for Millennium High School in Goodyear, AZ during his senior season in 2012.
He scored six total touchdowns, three on the ground to go with 15 catches and 216 yards receiving. He returned kicks for his school racking up 180 yards on 18 punt returns that year.
Though he chose baseball, Rojas still holds the sport close to his heart.
"I watch a lot of football, I have so much respect for those dudes. Those dudes are warriors to do what they do, every four or five days getting in car accidents over and over and over and over, yeah those dudes are superhuman," Rojas said. "Anybody that can be dominant in that sport - Tom Brady has been doing it for a long time, Kyler Murray was Rookie of the Year last year, just to see what those guys do in that sport, they are men amongst men, it's crazy. "
Rojas' decision to stick to baseball truly paid off in 2019 when he made his Major League debut against the Colorado Rockies going 2-for-4 with an RBI.
Last but not least, future Ace Daulton Varsho played two seasons of varsity football for Marshfield High School in Wisconsin in 2013 and 2014. The athletic catcher was a second team all-state selection as a junior and a first-team selection as a senior.
"I miss Friday nights, totally different environment than being able to step on the field every day for baseball - but Friday nights were pretty cool as a football player being able to play in front of your whole community," Varsho said on his football days.
Varsho was a free safety during his time on the gridiron totaling 140 tackles and six interceptions during his two seasons. He also was dangerous with the ball in his hands handling both kickoff and punt return duties for his school. He racked up 648 punt return yards and 1007 kick return yards to go with three touchdowns during his career.
Varsho was a great football player, but baseball seems to be his niche. The catcher is currently rated as the No. 76 overall prospect in baseball and No. 3 D-backs' prospect according to MLB Pipeline. He spent 2019 in Double-A Jackson, but will be a very fun player to watch when he gets the chance to play in the Biggest Little City.