Wood Duck Offense and Bruce End the Losing Streak
Twelve hits were a new high over the last twelve games to go with Steven Bruce's fourth straight quality start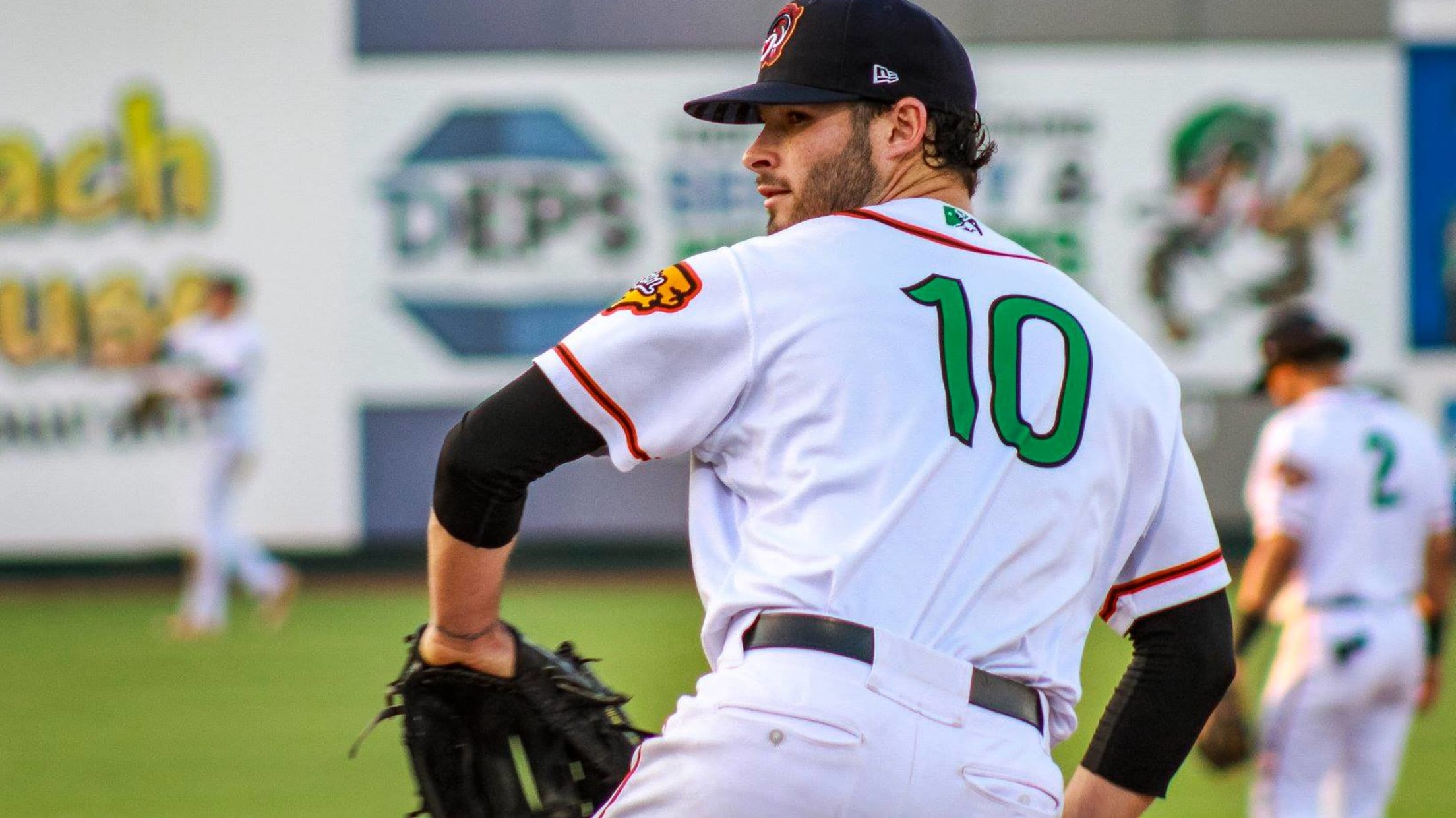 (Matthew Edwards/Down East Wood Ducks)
BUIES CREEK, NC - Steven Bruce set the tone with seven quality innings while the Wood Ducks (10-22, 45-57) scored in five different frames in an 8-4 victory over the Astros (20-12, 58-44). LeDarious Clark clocked his third homer in the last two games and Ricardo Valencia added a pair
BUIES CREEK, NC - Steven Bruce set the tone with seven quality innings while the Wood Ducks (10-22, 45-57) scored in five different frames in an 8-4 victory over the Astros (20-12, 58-44). LeDarious Clark clocked his third homer in the last two games and Ricardo Valencia added a pair of RBIs in the win.
Down East's offense started off on the right foot in the second inning with each of the first three batters of the inning reaching with hits and scoring a run on Valenica's double. Later in the second, a passed ball on Carlos Canelon allowed Josh Altmann to score during Chuck Leblanc's at-bat. He would then connect on a sac fly to left to score Valencia to push the Woodies out to a 3-0 lead.
Clark's homer came in the third as an impressive opposite field shot to right-center to keep his hot July going. Since returning to the Wood Ducks 12 games ago, he has reached base in every game and is maintaining an OPS over 1.000 for the stretch with four homers and three doubles.
Despite a two-run homer from J.J. Matijevic (the first of two homers for him on Monday), Bruce ended counts in tidy fashion and appeared dominant for the middle innings. He only allowed four baserunners over his seven innings of work, marking his fourth win and second against the Astros this season.
In the fifth, the Woodies used speed to pad their lead. Eric Jenkins led off with a bunt single and stole second. Leody Taveras beat out an infield single up the first base line to move Jenkins to third before Clark lined a bullet into right-center. It was tracked down on a sliding catch but Jenkins came in to score on a sac fly to put the DEWDs ahead 5-2.
Josh Altmann and Anderson Tejeda added RBIs in the seventh inning to further the Woodies' grip of the game to 7-2. Then Valencia capped off a ninth inning two-out rally with a base hit to left field for his second mutli-RBI game this season.
The losing streak ends at 11 games - finishing the longest stretch of consecutive losses in DEWD history. The Woodies return home on Tuesday for a six-game home stand, starting with the Lynchburg Hillcats at 7:00 p.m. for Taco Tuesday, presented by Landshark. Gates open at 6:00 for the first of three with the Hillcats at Grainger Stadium.