Wood Ducks Claim Game Three from the Red Sox
Two homers helped, but the pitching took center stage again in the victory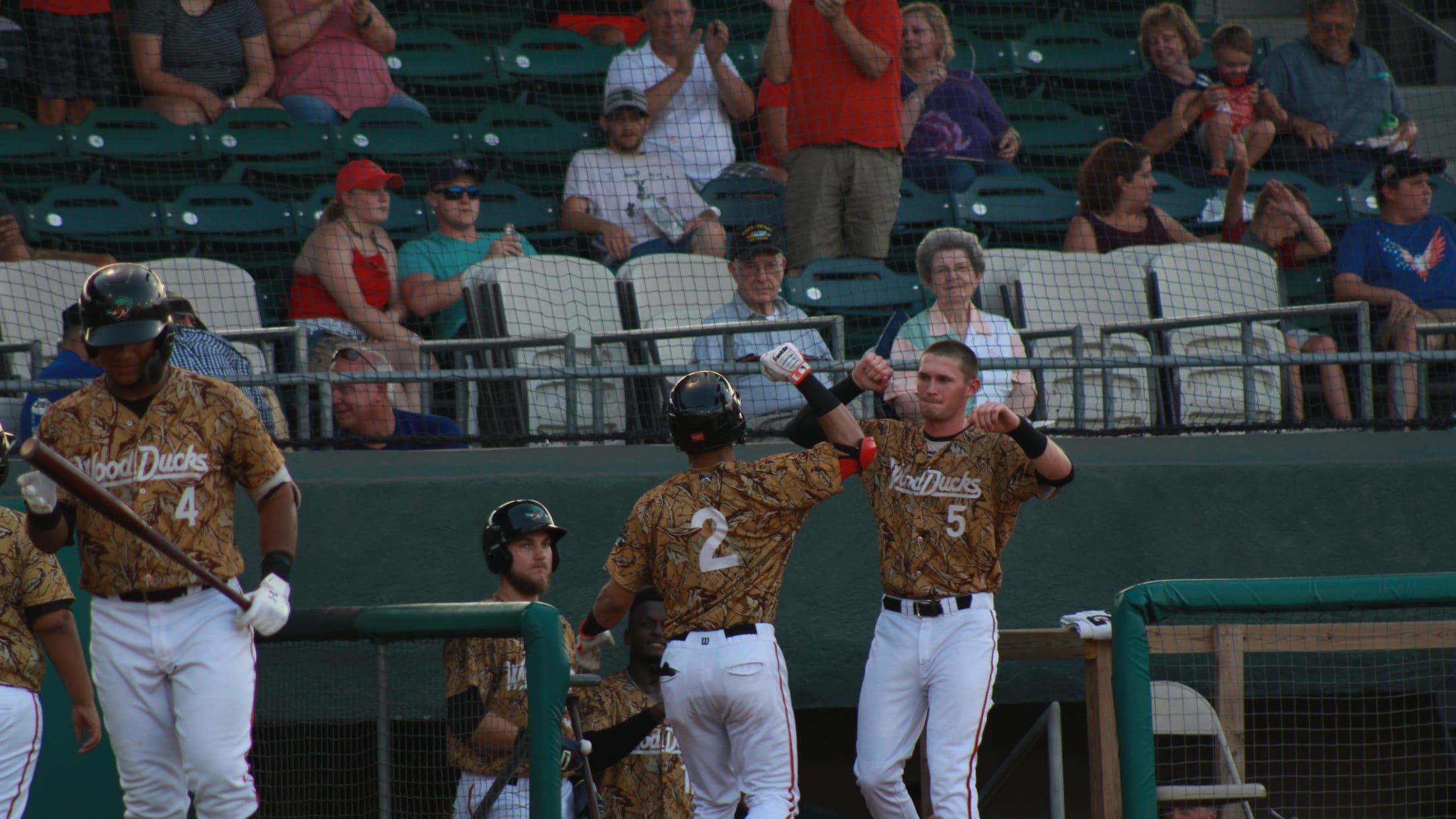 Anderson Tejeda and Josh Altmann have been one-upping each other for the team home run lead (Matthew Edwards/Down East Wood Ducks)
KINSTON, NC - A patient approach at the plate paid off for the Wood Ducks (6-6, 41-41) as the drew eight walks and hit two homers in a 6-3 victory over the Red Sox (5-6, 37-42). Anderson Tejeda and Josh Altmann each left the yard with solo shots in a
KINSTON, NC - A patient approach at the plate paid off for the Wood Ducks (6-6, 41-41) as the drew eight walks and hit two homers in a 6-3 victory over the Red Sox (5-6, 37-42). Anderson Tejeda and Josh Altmann each left the yard with solo shots in a game the Woodies never trailed.
Starting pitcher Robby Rowland also claimed his first win as a member of the Rangers organization with five innings of work and only two earned runs allowed. After his exit, the bullpen unit of Kaleb Fontenot and Cole Wiper was dominant.
The two right-handers combined to retire 12 of the last 13 batters of the game with three strikeouts. Fontenot earned his fifth hold of the season while Wiper's save was only the second of his career.
Down East jumped out to a hot start with each of the first three batters reaching on Red Sox starter Tanner Houck. Tejeda clocked an RBI double to deep left-center to score Altmann from second. Later in the frame, Leody Taveras would score on a wild pitch.
In the second, Eric Jenkins kept the inning alive with a 1-2 two-out triple to right-center. Two pitches later, he too scored on a wild pitch. Salem would collect an unearned run in the third, but Tejeda responded in the bottom of the frame with his 13th homer of the season - an opposite field blast.
The home run briefly tied his total with Altmann for the team lead before Altmann reclaimed it with a two-out solo homer in the eighth inning. Tejeda did collect three RBIs to up his team lead to 55.
The Wood Ducks also return to .500 for the first time in the second half. The win also guarantees a winning home stand with their fifth victory on Monday night.
The nine-game set concludes on Tuesday with a special fireworks show celebrating Independence Day one night early. First pitch is scheduled for 7:00 p.m. as the Woodies will light up the Kinston sky after the game with the biggest pyrotechnics show of the season. Right-hander Steven Bruce (2-4, 4.26) will start against Red Sox lefty Darwinzon Hernandez (3-5, 5.19).