Wood Ducks Complete Legendary Comeback, Walk-Off on Mudcats
Down six runs in the second and four in the ninth, the Woodies found a way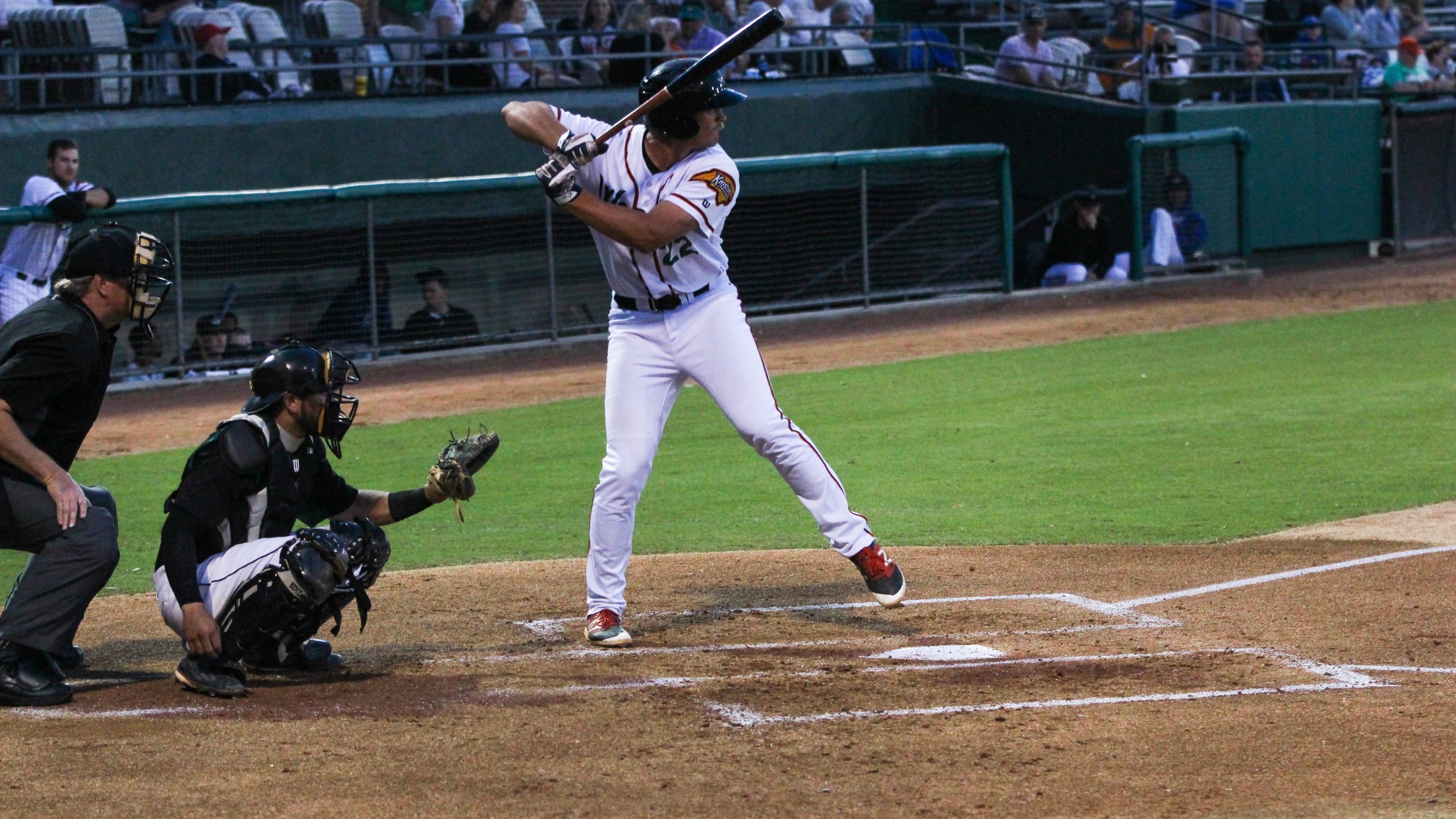 (Dominic Cotroneo/Down East Wood Ducks)
KINSTON, NC - Just over two weeks after the Wood Ducks pulled off the biggest come-from-behind victory in team history, they topped it. The Woodies were behind 7-1 to the Mudcats in the second inning of Friday night's contest, then surged with a five-run ninth inning to win 9-8.Alex Kowalczyk
KINSTON, NC - Just over two weeks after the Wood Ducks pulled off the biggest come-from-behind victory in team history, they topped it. The Woodies were behind 7-1 to the Mudcats in the second inning of Friday night's contest, then surged with a five-run ninth inning to win 9-8.
Alex Kowalczyk had the RBI single to the right side to bring home Chuck Leblanc to win it in the ninth. Yet on the pitch prior, Leblanc tied the game with a triple off of the center field wall while down to his final strike.
Every batter for the DEWDs reached base in the contest as they drew eight walks on the night. The rally in the ninth began with the score 8-4. Josh Altmann and Anderson Tejeda led off with free passes, then Leody Taveras brought home Altmann with a single.
Brendon Davis drew his third walk of the game to load the bases for Matt Whatley. He would hit a sharp ground ball toward the middle, but a diving stop by the shortstop Luis Aviles Jr. turned it into a double play. A run came home, Taveras was on third, and Andretti Cordero came to the plate as the tying run.
Cordero singled into center to score Taveras, then he was pinch-ran for by Franklin Rollin. Leblanc worked his count to 3-2 and fouled off two pitches. On the eight pitch of the at-bat, he lined a shot off of the wall in center field to score Rollin and put himself on third with a tied game.
Kowalczyk's single to the right side was actually stopped on a miraculous slide by Tucker Neuhaus, but he threw the ball away and Leblanc scored from third.
The bullpen also kept the Woodies in it, as they combined for seven and one-third innings without allowing an earned run. The unit of Kaleb Fontenot, Cole Wiper, C.D. Pelham, and Jairo Beras also combined for ten strikeouts and only one walk.
A six-run comeback matches the largest ever surmounted in Wood Ducks team history. Previously, the Woodies came back from down 6-0 on Opening Night in Salem in 2017. They trailed 6-0 in the eighth and 6-1 in the ninth before the victory. With the victory, Down East improves to 10-12 while Carolina falls to 11-11.
Game two of the three game series is on Saturday night at 6:00 p.m. Be at Grainger Stadium early, as the first 1,000 fans will receive a Wood Ducks tote bag courtesy of Piggly Wiggly Fresh Buy and PET Ice Cream.