Wood Ducks Dominate in Victory over the Mudcats
12 strikeouts and 12 hits to go along with zero errors and zero runs allowed snapped the losing streak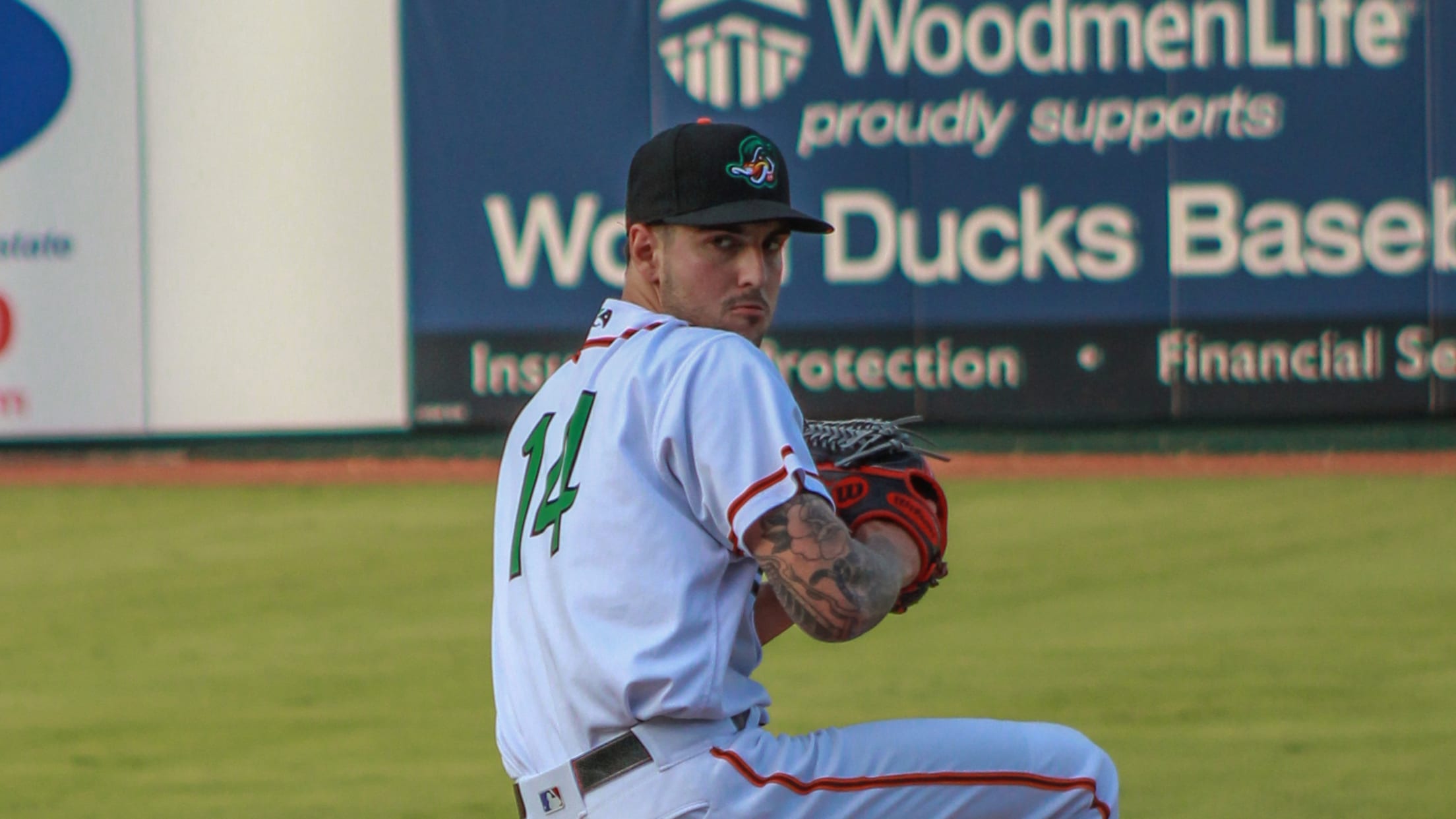 (Matthew Edwards/Down East Wood Ducks)
KINSTON, NC - An offensive barrage backed up the fifth shutout of the season in the Wood Ducks' 8-0 win over the Mudcats. All nine batters for the Woodies had a hit and six had at least one RBI in the victory. Joe Palumbo, Kaleb Fontenot, and Tyler Thomas combined
KINSTON, NC - An offensive barrage backed up the fifth shutout of the season in the Wood Ducks' 8-0 win over the Mudcats. All nine batters for the Woodies had a hit and six had at least one RBI in the victory. Joe Palumbo, Kaleb Fontenot, and Tyler Thomas combined to blank the Mudcats at Grainger Stadium.
Down East (16-35, 51-70) jumped out to a 3-0 lead after two innings thanks to RBIs from Chuck Leblanc (2B), LeDarious Clark (Bases loaded HBP), and Leody Taveras (FC). 12 hits total from the offense set a new high for the month of August.
Palumbo had three strikeouts and three walks through his first ten batters of the game, but found his rhythm the second time through the batting order. He retired nine of his final ten batters faced, six of which with strikeouts.
He follows up his career-high 11 strikeouts last week with nine tonight and creates a scoreless streak of 10.1 consecutive innings. He also set new highs with innings pitched (5.1) and total pitches (85) for the 2018 season in his return from Tommy John.
Carolina's (23-26, 57-62) starter Bowden Francis struggled in his high-A debut and the Wood Ducks chased him from the game in the fifth. Yanio Perez connected on an RBI double to left-center and Andretty Cordero followed with a two-run single to left.
With the DEWDs up 6-0, Fontenot preserved the shutout in the sixth with an inning-ending double play for his only two batters faced. He gave way for Tyler Thomas in his DEWD debut for the final three innings.
The southpaw only allowed one hit with three strikeouts in only his second appearance out of the bullpen in 2018. He also earned the rare bullpen save by working three innings of relief.
Brendon Davis would connect on his sixth homer of the season on a blast to center in the sixth inning. Cordero would find good fortune with a triple in the seventh and come in on a wild pitch to cap the offense at eight runs.
Down East improves to 7-0 at home against the Mudcats in the entire season. Game two features right-handers Emerson Martinez and Jorge Ortega taking the mound at 7:00 p.m. at Grainger Stadium on Wednesday night.