Wood Ducks Soar in a Blowout Win over the Blue Rocks
Morgan's career-night set the tone in the cleanup spot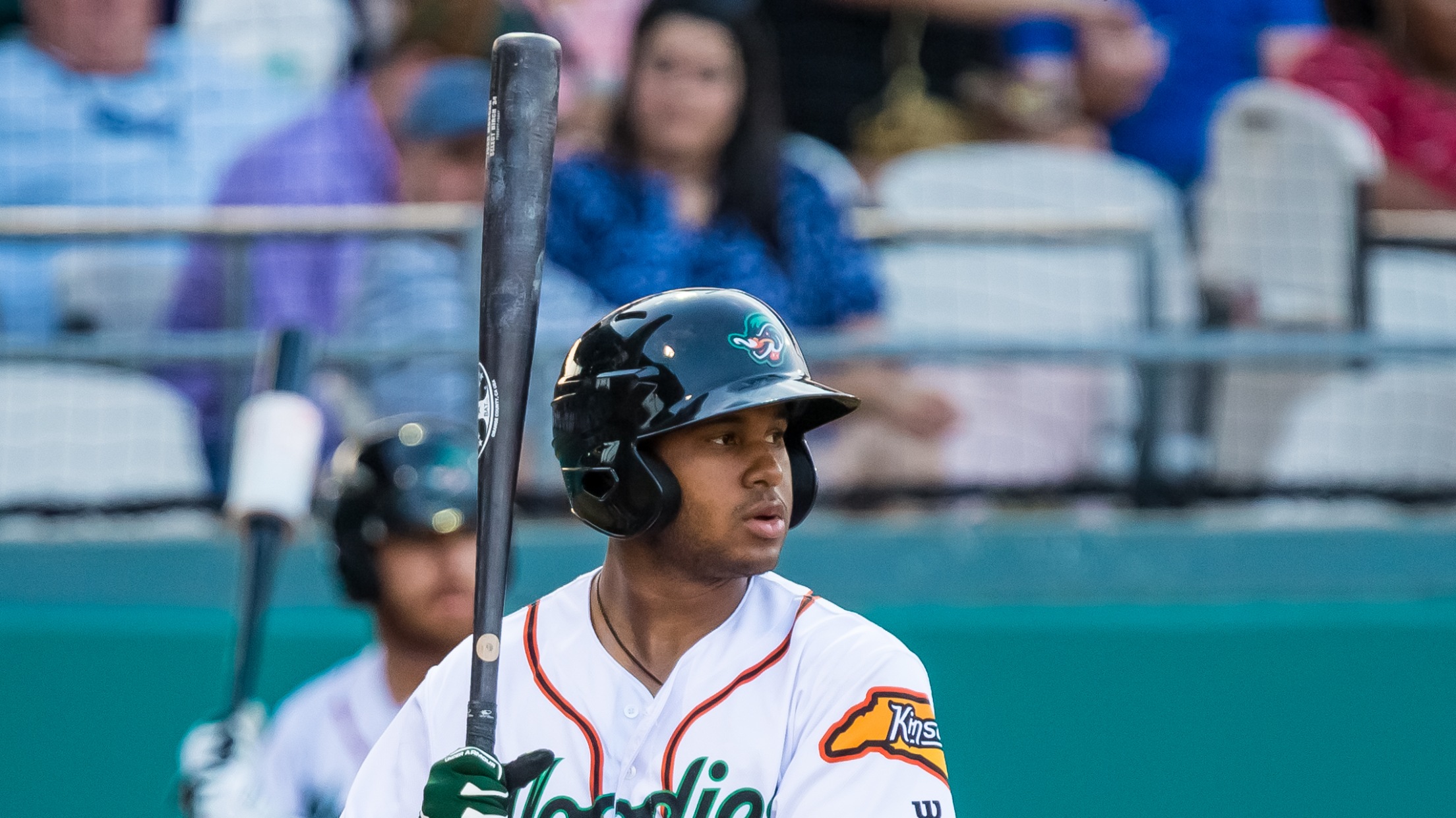 (Rob Goldberg Jr.)
KINSTON, NC - An onslaught of offense never let up as the Wood Ducks (22-23, 46-68) claimed the series opener with the Blue Rocks (21-23, 60-54) in an 11-3 final. Josh Morgan tied a career-high with four hits as all nine starters reached base and either brought in or scored
KINSTON, NC - An onslaught of offense never let up as the Wood Ducks (22-23, 46-68) claimed the series opener with the Blue Rocks (21-23, 60-54) in an 11-3 final. Josh Morgan tied a career-high with four hits as all nine starters reached base and either brought in or scored a run.
The effort with the bats helped Kyle Cody claim a win in his first start with Down East. The right-hander worked five innings while striking out six batters.
In the first four innings, the game was a topsy-turvy affair with runs scored in five consecutive half-innings. The Woodies opened the scoring on an RBI single from Carlos Garay in the second, but the Blue Rocks responded with a two-run third.
Luis La O supplied the tying run in the bottom of the inning with a single to center. Yet still, Wilmington reclaimed the lead in the fourth with an RBI single from Jecksson Flores with the bases loaded. Cody would leave the bases loaded with a strikeout and a groundout to avoid further damage.
The first of seven two-out runs was scored in the fourth on a LeDarious Clark single. Prior to his hit, Chuck Moorman ripped a two-strike double to keep the inning alive.
In the fifth, a one-out rally formed with runners on second and third for Yanio Perez. He poked a single down the right field line to score two runs and give the Woodies the lead 5-3. After a Garay walk, Ti'Quan Forbes ripped a double down the left field line to score Perez and cap the three-run inning.
Down East's bullpen would take over with Grant Zawadzki working two scoreless innings of relief with two strikeouts. In the sixth, an RBI double from Morgan scored La O from first with two outs to push the lead to 7-3.
The big two-out rally came in the eighth, when a four-pitch walk to Preston Scott sparked it. The next four batters had hits including RBI singles from Morgan, Perez, and Garay.
Jeffrey Springs upped his team lead in strikeouts to 123 with two more in a scoreless eighth. Jose Valdespina worked a 1-2-3 ninth with two strikeouts to seal the win.
Coupled with a Buies Creek loss to Salem, Down East moves to 7.5 games back for first place in the second-half race.
Game two of the series is on Tuesday at 7:00 p.m. for Bark in the Park night. Lefties Wes Benjamin (8-6, 4.45) and Collin Rodgers (2-3, 3.66) will duel on the mound. You can listen to every pitch of the 2017 season live on Sports/Talk 960 The Bull or streamed live on the TuneIn Radio app.