Yerzy Slams, Walston Spins Gem In Series Opening Win 
Walston Fires Six Scoreless For First Double-A Win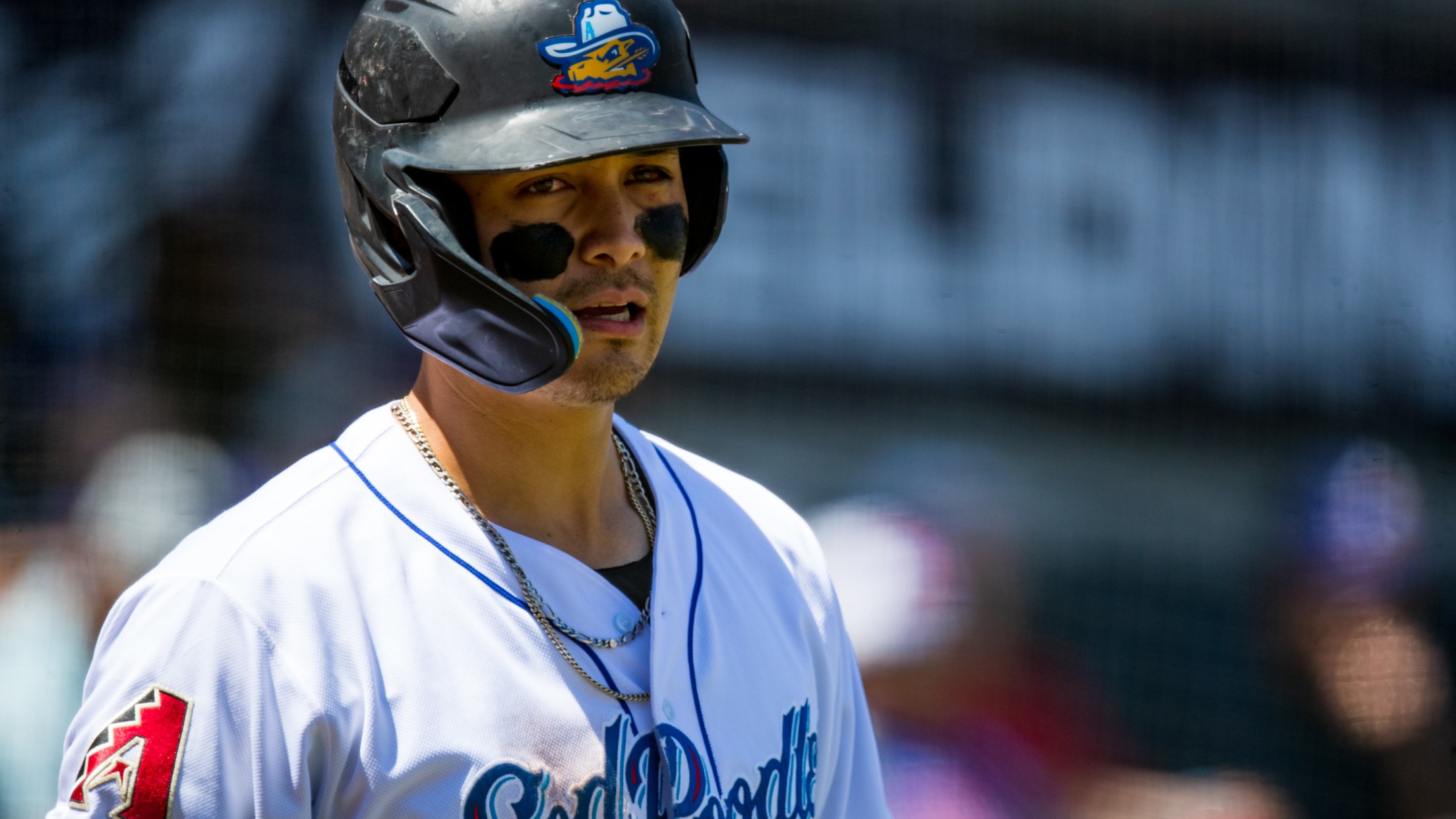 (John Moore)
Amarillo, TX – Andy Yerzy crushed a grand slam and Blake Walston pitched six innings of shutout ball in Amarillo's (25-27) 7-4 victory over the Frisco RoughRiders (27-25) on Tuesday night. In a battle of top pitching prospects, Amarillo's Blake Walston (1-2, 7.66 ERA) out-dueled Frisco's Jack Leiter (3-4, 5.90)
Amarillo, TX – Andy Yerzy crushed a grand slam and Blake Walston pitched six innings of shutout ball in Amarillo's (25-27) 7-4 victory over the Frisco RoughRiders (27-25) on Tuesday night.
In a battle of top pitching prospects, Amarillo's Blake Walston (1-2, 7.66 ERA) out-dueled Frisco's Jack Leiter (3-4, 5.90) in a wire-to-wire Sod Poodles victory.
Walston got off to a fast start and cruised through six scoreless innings to earn his first Double-A win. He tossed a perfect 1st and issued a walk in the 2nd.
Amarillo jumped on top for good with four runs in the 2nd inning off the bat of Andy Yerzy. Ti'Quan Forbes, Blaze Alexander and Nick Dalesandro loaded the bases with one out, and Yerzy brought everybody home with a grand slam to right field. The homer was Yerzy's fifth of the year.
Walston allowed the leadoff batters to reach the corners in the 3rd, but a pair of defensive highlights from 2B Drew Stankiewicz kept it scoreless. Stankiewicz made a diving grab in the infield for the first out and turned a double play by snagging a lineout and throwing out the runner at first.
Amarillo added to their lead with another home run in the 4th, this time off the bat of Stankiewicz. Yerzy was hit by a pitch with two outs, and Stankiewicz built on his highlight defense with a two-run shot to right field. Both Yerzy and Stankiewicz have gone yard in back-to-back games.
The Sod Poodles loaded up the bases once again in the 5th off of three straight singles from Leandro Cedeño, Forbes and Alexander. Dalesandro made it 7-0 Soddies with a sacrifice fly, and that was all Amarillo could plate in the inning.
The quality night kept on rolling for Walston into the 6th inning. He allowed just eight baserunners on the night and only two reached scoring position. His night ended at 6.0 IP, 5 H, 0 R, 3 BB, 4 K, and his first Double-A win.
Blake showed out tonight..

6.0 IP
0 R
5 K
4 H

22 is starting to feel comfortable in AA.. 👀 pic.twitter.com/lVnGIVcsyc

— Amarillo Sod Poodles (@sodpoodles) June 8, 2022
The RoughRiders broke up the shutout with a run in the top of the 7th off of Austin Pope. The first two batters reached on a double and a single, and one came in to score on a fielder's choice.
Frisco added two runs in the 8th inning off of Liu Fuenmayo in his Sod Poodles debut. He retired the first batter, but his fifth pitch in Double-A was taken deep for a home run to left field. He allowed a second run to score off a walk and an RBI single, but recorded his first strikeout as a Soddie and kept it 7-3, Amarillo.
Jeff Bain came on to pitch the 9th, and Frisco organized a late-inning threat. One run came in to score on an RBI double, but Bain struck out the potential tying run to secure the victory.
The Sod Poodles were out-hit 11-8, but their early lead proved to be too much for Frisco to handle. The RoughRiders left 12 runners on base and went just 2-for-11 with runners in scoring position, while the Sod Poodles went 2-for-5 with RISP. Forbes and Alexander led the way with two hits apiece, and Yerzy set his season-high with 4 RBI.
With one game down, the Sod Poodles and RoughRiders will meet for game two of the series tomorrow, Wednesday, June 8, with first pitch at 7:05 PM. RHP Slade Cecconi (2-2, 5.10 ERA) will be on the mound for Amarillo to face Frisco's LHP Cole Ragans (4-3, 3.20 ERA).
Notes:
Shake 'N Blake: LHP Blake Walston, Arizona's No. 1 pitching prospect, was dominant in today's victory. He turned in his first quality start of the season and earned his first career Double-A win with a final line of 6.0 IP, 5 H, 0 R, 3 BB, and 4 K on 84 pitches. The start was his best in Double-A and the first time he pitched more than 4.2 innings. He has been electric over his past two starts, allowing just one earned run over his previous 10.0 IP. His ERA has responded nicely as well, dropping from 12.27 on May 26 to 7.66 today.
SLAMarillo: 1B Andy Yerzy took Rangers' top prospect Jack Leiter deep with the bases loaded in the bottom of the 2nd, putting the Sod Poodles on top 4-0 with a grand slam. The grandy was Amarillo's third of the year after Eduardo Diaz did it on May 7 against Midland and Dominic Fletcher hit one the next day on May 8. It was also the first career grand slam for Yerzy, who finished T-3rd in the Arizona farm system with 21 home runs in 2021.
*Just Like He Drew It Up: *2B Drew Stankiewicz launched a two-run home run in the 4th inning tonight, his third game in a row with a home run. He increased his home run total on the year to five, and his five RBI increased his season total to 25. He also joined Leandro Cedeño as the only Sod Poodles this season to hit a home run in three straight games (April 29, May 1 and May 4 for Cedeño).
Two Games, Four Bombs: 2B Drew Stankiewicz and 1B Andy Yerzy both went deep tonight for the second game in a row. In Sunday's series finale against Midland, Stankiewicz hit a two-run home run and Yerzy hit a solo shot, and the duo followed it up with a two-run homer and a grand slam tonight. They became the third and fourth players to hit a home run in consecutive games this season, joining Juan Centeno (April 22-24 vs SA), Corbin Carroll (2x, May 7-8 vs MID and May 13-14 @ SPR) and Leandro Cedeño (three in a row).
Keep It Rolling: SS Blaze Alexander extended his on-base streak to 15 games tonight in a 2-for-4 effort. Both of his hits were singled and he scored on the Yerzy grand slam in the 2nd. Alexander has now reached base in every game he's appeared in since May 20, the fourth-longest streak by a Sod Poodle this season.
Welcome To The Squad: RHP Liu Fuenmayor made his Sod Poodles debut tonight, allowing two earned runs in one inning. He was added to the Amarillo roster on May 6 after tossing 21.0 innings with A+ Hillsboro this season. In his fifth minor league season, he owns a 2.59 career ERA in 100 games.