Young, Generals Hold Off Barons
Offense returns with 11 hits; Moya, Nakaushiro finish it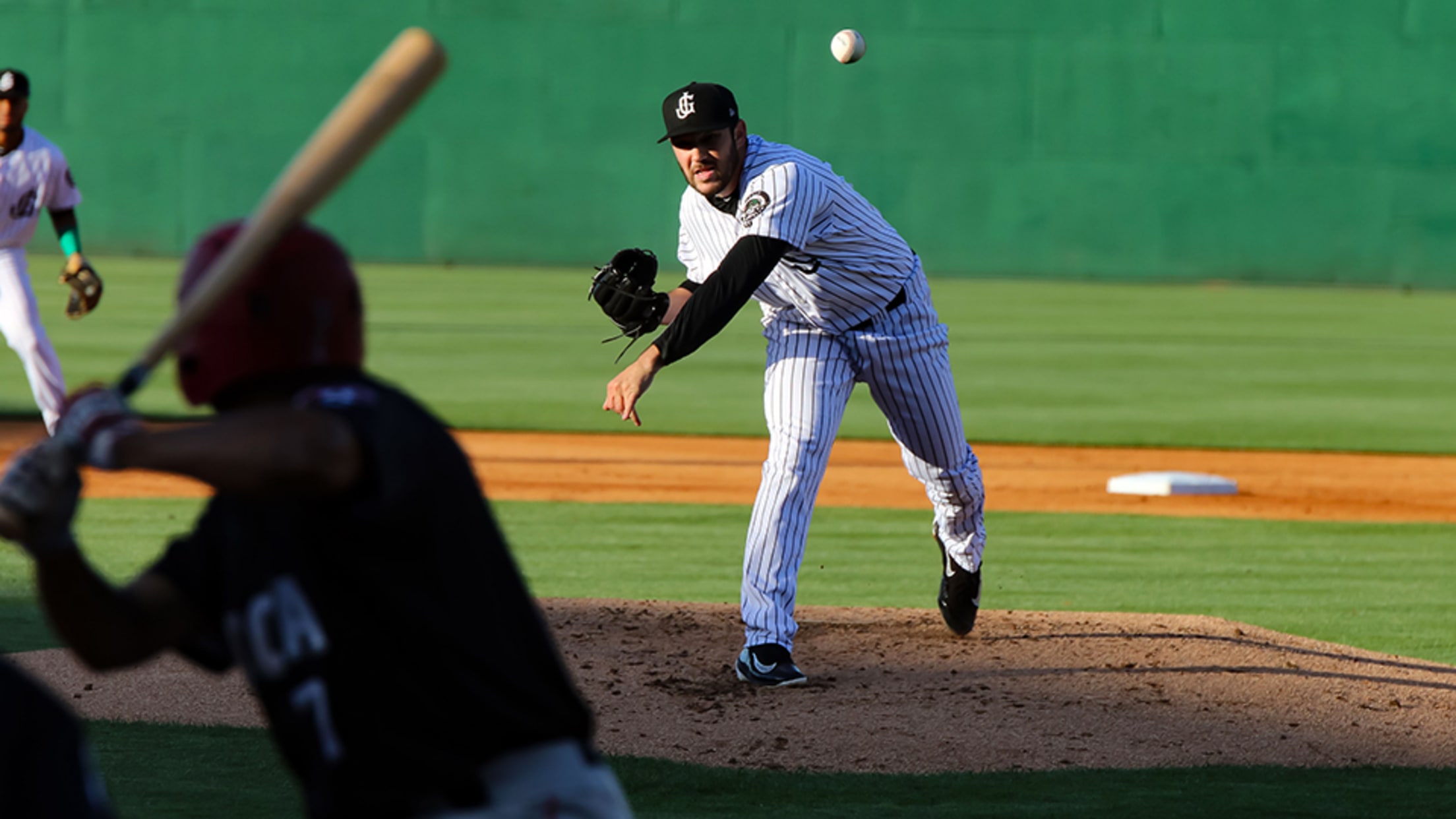 Alex Young came up with his best start of the year on Friday, finishing six innings without allowing a run at Birmingham as part of a 2-1 Generals victory. The left-hander's dominance helped Jackson snap a 4-game skid. (Cody Cunningham)
Birmingham, Ala. - Some do it with youth, and some do it with experience. 23-year-old Alex Young sang lead, and the Jackson Generals, with a pair of thirty-year-old starters in the lineup, backed Young up just enough in a 2-1 victory at Birmingham on Friday. The win snapped a four-game skid
Birmingham, Ala. - Some do it with youth, and some do it with experience. 23-year-old Alex Young sang lead, and the Jackson Generals, with a pair of thirty-year-old starters in the lineup, backed Young up just enough in a 2-1 victory at Birmingham on Friday. The win snapped a four-game skid for Jackson, and the Generals (13-15, 50-48) stayed ahead of the Barons (12-16, 38-59) in the North Division's Second Half standings.
Young (7-5, 4.31 ERA) did not allow a hit until the fourth inning, and he struck out a season-high eight batters while walking just one. Young's quality start is his second of the year and second in a row. 31-year-old Travis Denker had a pair of hits as the designated hitter, while 27-year old second baseman Angel Franco scored the run that snapped a streak of 22 scoreless innings for the Jackson offense.
Facing Birmingham left-hander Jordan Guerrero (6-9, 3.65 ERA), the Generals finally took their first lead of the series in the fifth inning. Franco led off with a double, advancing to third base two batters later on a single from Oscar Hernández. Evan Marzilli walked to load the bases with one out, and Jamie Westbrook shot a single through the right side that brought home Franco for a 1-0 lead.
Two innings later, another bases-loaded opportunity against Guerrero swung the Generals' way. One-out base hits from Kevin Cron, Marty Herum, and Travis Denker filled the sacks for Victor Reyes. Reyes skied a sacrifice fly to left field that allowed Cron to score, giving the Generals the insurance they needed to close out their eleventh win in 18 games with Birmingham.
Young was removed after throwing 76 pitches through six innings, with 72% of them going for strikes. Gabriel Moya (H, 3), Jackson's usual closer, pitched the seventh and eighth innings, delivering his All-Star caliber brand of relief with four strikeouts and just one hit allowed. Yuhei Nakaushiro (S, 4) took up the baton from Moya and closed out his fourth save of the year, trading a ninth-inning pair of hits and an RBI groundout for a win over the Barons.
In the victory, Moya lowered his ERA to an outstanding 0.82. 30-year-old shortstop Vladimir Frias picked up his first hit as a General with a double in the third inning, one of five extra base hits for Jackson on the night. The Generals went 3-for-13 with men in scoring position, but the timely knocks sufficed on Friday night in front of a sellout crowd on the road.
The Generals' series in Birmingham continues on Saturday. Joel Payamps (3-4, 6.26 ERA) will go to work for Jackson against Birmingham's Spencer Adams (7-8, 3.80 ERA). First pitch from Regions Field is set for 6:30 pm CT, and fans can catch all the action starting at 6:50 pm CT on Willie 94 FM & 1390 AM.
After the road swing, Jackson returns home for a ten-game homestand against Mobile and division-rival Tennessee July 25. Saturday, July 29is Shark Week Night presented by the Jackson Energy Authority! In addition to Postgame Fireworks, the Generals will wear special shark-themed jerseys that will be auctioned off with proceeds going to JACOA! With WBBJ, the team will also be giving away umbrellas to honor Gary Pickens for the first 500 families! One lucky fan will go home with a vacation!
Jackson Generals Skills Camp is July 27 and 28! Sign campers up now for a chance to work with the Generals along with much more! The homestand also includes a pair of Thrifty Thursdays and a Leaders Credit Union Food Truck Friday! The Generals will play as the Hub City Hippos July 28!
Make sure to get your tickets now to see the 20th season of professional baseball in Jackson, and the first for the team as an affiliate of the Arizona Diamondbacks! Call the team at (731) 988.5299, stop by The Ballpark or go online to jacksongeneralsbaseball.com to secure your seats now!