Farrell Earns PCL Pitcher of the Week Honors
Recorded 2 wins, struck out 18 & walked none in 18.0 innings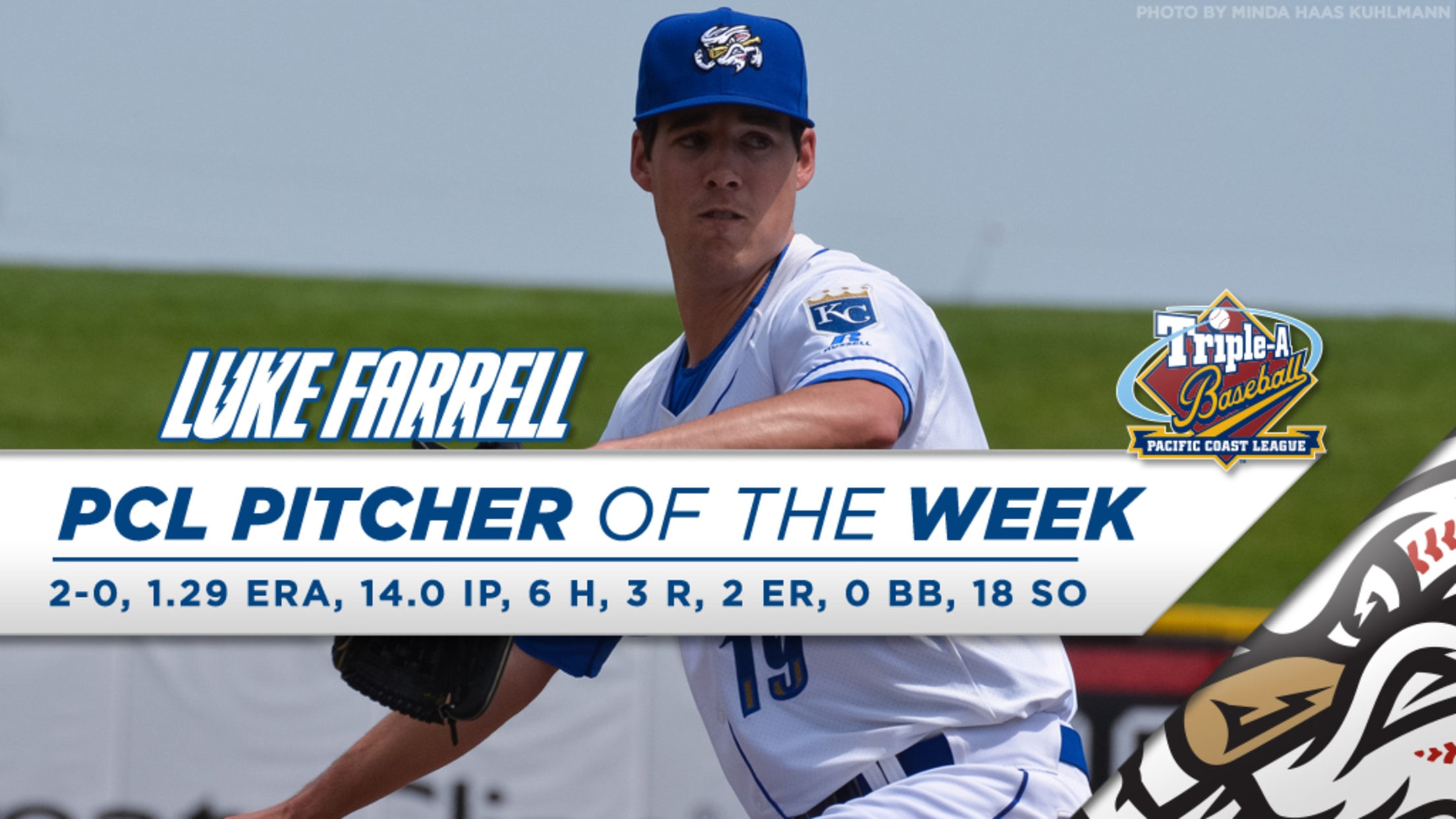 The Pacific Coast League announced on Monday that Storm Chasers right-hander Luke Farrell has been honored as the circuit's Pitcher of the Week for the time period between June 19-26. Farrell is the second Omaha hurler to be honored with a weekly award by the PCL this year after southpaw Jonathan Dziedzic  was
The Pacific Coast League announced on Monday that Storm Chasers right-hander Luke Farrell has been honored as the circuit's Pitcher of the Week for the time period between June 19-26. Farrell is the second Omaha hurler to be honored with a weekly award by the PCL this year after southpaw Jonathan Dziedzic was the Pitcher of the Week Award recipient for April 6-16.
Farrell posted a 2-0 record and 1.29 ERA (2 ER/14.0 IP) in his two starts between June 19-26, yielding just six hits and no walks while fanning a league-best 18 batters. Included in that frame was an eight-inning gem on June 19 at Iowa in which he relinquished a lone earned run on just three hits, striking out nine while setting a single-game career-high for innings pitched.
In 14 outings (13 starts) with Omaha this season, Farrell has compiled a 7-3 record and 3.83 ERA (35 ER/82.1 IP), adding 77 punchouts. He has recorded a quality start in five of his last six outings dating back to May 27, and overall this season ranks second in the Pacific Coast League in wins, tied for third in WHIP (1.19), sixth in strikeouts, seventh in batting average against (.230), and ninth in earned-run average.
Farrell is the second Storm Chasers pitcher to be honored with a weekly award by the Pacific Coast League this season after Jonathan Dziedzic earned Pitcher of the Week accolades for the time period between April 6-16. The last time multiple Omaha hurlers received Pitcher of the Week honors over the course of a single season was in 2014 (Clayton Mortensen and Ryan Verdugo), and it is also the first time Farrell has received a Pitcher of the Week honor from any circuit in his professional career.
Tickets for all remaining Storm Chasers games are still available and can be purchased online at www.omahastormchasers.com/tickets, or by calling the Werner Park Ticket Office at (402) 738-5100.