Five-run Eighth Powers Chasers to win Over Indy
Omaha storms back late to take series-opening win over Indianapolis, 10-6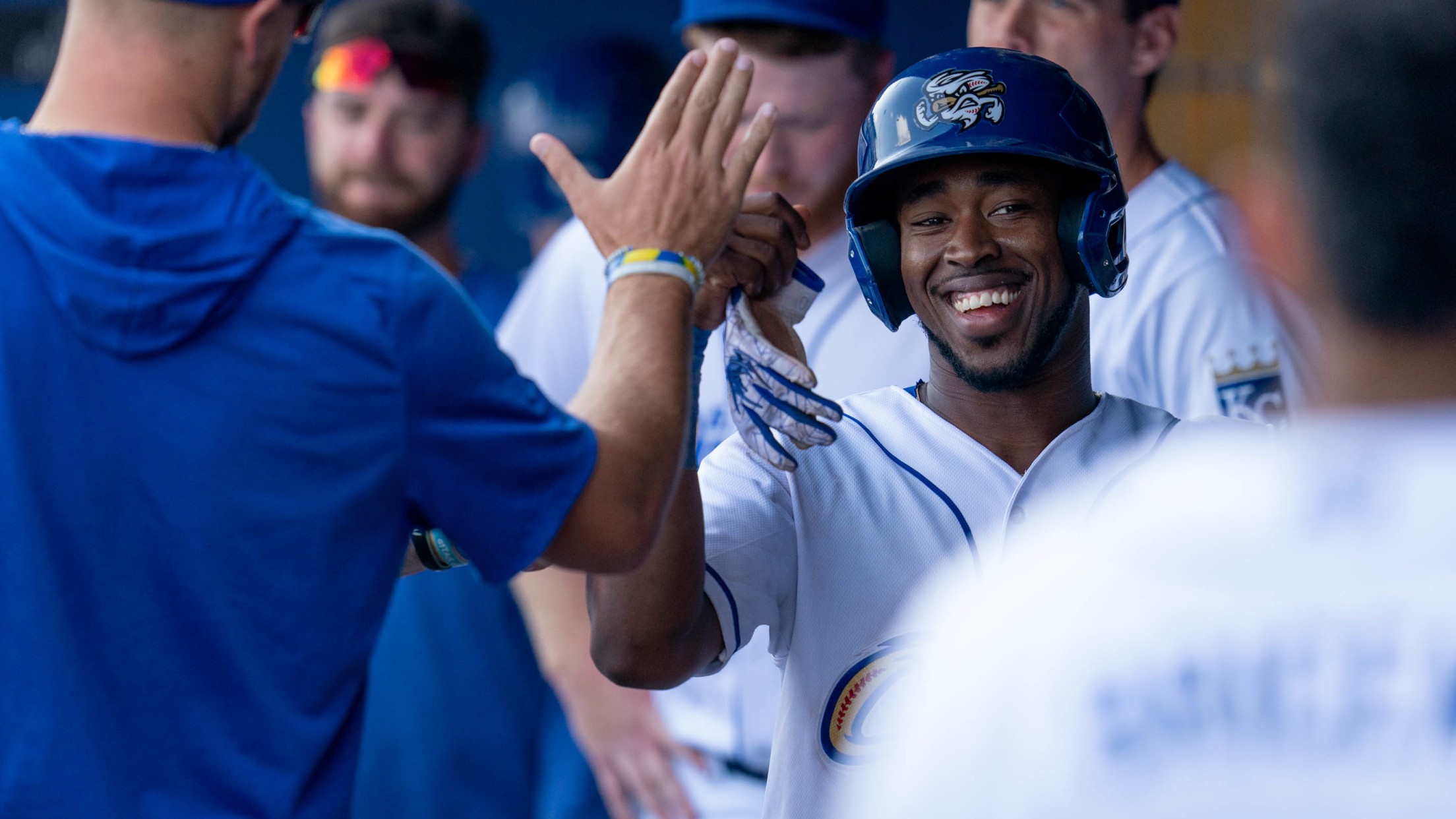 Samad Taylor went 3-for-5 with a pair of doubles, two runs scored and an RBI in Tuesday's win over Indianapolis. (Minda Haas Kuhlmann)
PAPILLION, NEB. – The Omaha Storm Chasers used four doubles to plate five runs in the eighth inning and come from behind to take the series opener Tuesday afternoon over the Indianapolis Indians, 10-6. Neither team scored in the first inning, but Indianapolis struck for single runs in the next
PAPILLION, NEB. – The Omaha Storm Chasers used four doubles to plate five runs in the eighth inning and come from behind to take the series opener Tuesday afternoon over the Indianapolis Indians, 10-6.
Neither team scored in the first inning, but Indianapolis struck for single runs in the next four frames off of Omaha starter Drew Parrish. Parrish surrendered a solo home run to open the top of the second inning, then allowed two-out RBI doubles in the third, fourth and fifth innings.
The Storm Chasers got within a run in the third, as CJ Alexander scored on an error and fielder's choice then Omaha kept within a run again in the fourth, when a sac fly from Alexander scored Clay Dungan.
After Joe Barlow worked a scoreless sixth inning on the mound, Alexander continued to power Omaha's offense, as he doubled in Dungan and Tyler Gentry to tie the score at 4-4.
Will Klein took over in the seventh and inherited a tie game, but allowed another two-out RBI double to Indy, to put Omaha down by a run once more.
Samad Taylor doubled with one out in the bottom of the seventh, then scored on an RBI single from Bubba Thompson to tie the game back up, at 5-5.
Walter Pennington retired Indianapolis in order in the eighth inning, the first time they had been set down 1-2-3 all afternoon, to put Omaha in a position to take a lead for the first time in the bottom half.
Dungan and Gentry opened the bottom of the eighth with back-to-back walks, then John Rave pinch-hit for José Briceño and doubled the pair in, to give Omaha a two-run lead. With two outs, Taylor, Thompson and Matt Beaty doubled back-to-back-to-back to cap a five-run inning and put the Chasers up by five.
Pennington allowed a home run that led off the ninth but quickly got the final three outs to wrap up the series-opening win, 10-6, also earning his team-best seventh win this year.
Omaha's seven doubles in the game tied a season-high, while six steals came one off the team's season-high. Taylor offered a three-hit game, including a pair of doubles, while Thompson and Alexander each had two knocks. Dungan scored three times, with a pair of walks and pair of steals, while Taylor and Gentry each scored twice.
Omaha has won 6 of its last 8 games and will try and make it two straight over Indianapolis on Wednesday at 6:35 p.m. CT with right-hander Max Castillo headed to the mound.