Chasers' 2019 Coaching Staff Announced
Poldberg, Hawkins & Buchanan all set to return to Omaha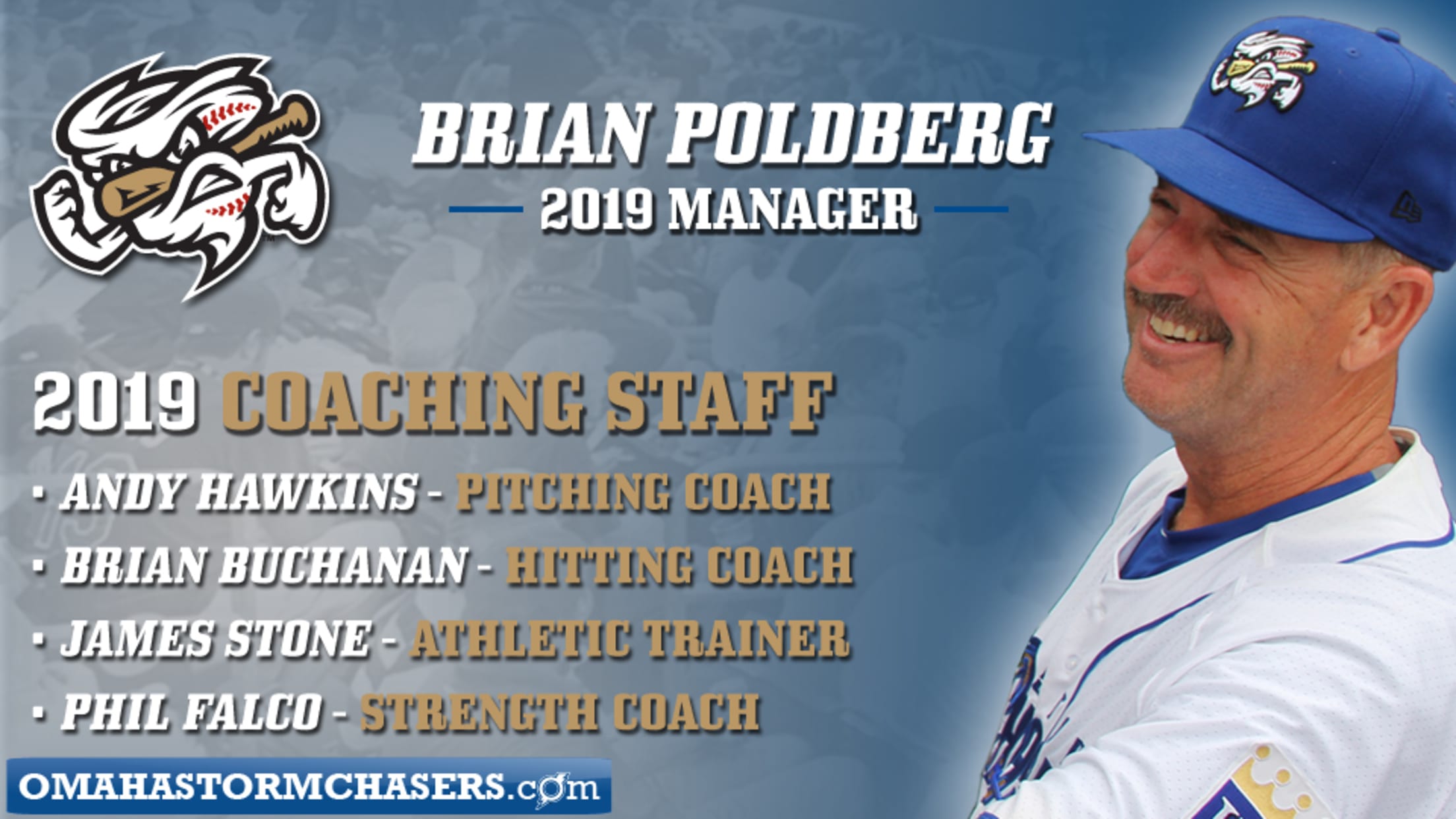 The Kansas City Royals have announced the organization's minor league staff assignments for the upcoming 2019 campaign, with plenty of familiar faces coming back to Werner Park. Manager Brian Poldberg is set to return to Omaha for his sixth season as skipper, with Pitching Coach Andy Hawkins, Hitting Coach Brian
The Kansas City Royals have announced the organization's minor league staff assignments for the upcoming 2019 campaign, with plenty of familiar faces coming back to Werner Park. Manager Brian Poldberg is set to return to Omaha for his sixth season as skipper, with Pitching Coach Andy Hawkins, Hitting Coach Brian Buchanan and Strength and Conditioning Coach Phil Falco all coming back as well. The lone newcomer is Athletic Trainer James Stone, who comes to Omaha after serving as the trainer at High-A Wilmington for the last seven seasons.
"We are delighted to have Poley, Hawk, Buck, and Phil return, and also welcome James to Omaha," said Storm Chasers President and General Manager Martie Cordaro. "All five bring a wealth of knowledge and experience, and we look forward to working with them and the Kansas City Royals organization in 2019."
Poldberg is the second-longest tenured skipper in Omaha franchise history, behind Mike Jirschele's 14-year reign, and is on-pace to manage his 800th contest with the Storm Chasers during this upcoming campaign. He enters the 2019 season with 349 managerial victories with the Storm Chasers, the second-highest total in franchise history behind only Jirschele (995). Poldberg led the Storm Chasers to the 2014 Triple-A National Championship in his first season as skipper, joining Jack McKeon (1969) as the only managers in franchise history to win a league title in their first year at the helm. 2018 will mark Poldberg's 20th season as a minor league manager, and owns a career managerial record of 1,224-1,273.
Hawkins comes back for his fourth tour as Storm Chasers Pitching Coach. Prior to joining the Storm Chasers at the start of 2016, he served as Bullpen Coach for the Texas Rangers from 2008-15. He also boasts 14 seasons of Major League experiences, having pitched with the San Diego Padres (1982-88), New York Yankees (1989, 91) and Oakland Athletics (1991), accumulating an 84-91 record and 4.22 ERA (731 ER/1558.1 IP).
Buchanan returns to the Storm Chasers for his second season as Hitting Coach after serving as Kansas City Royals Assistant Hitting Coach two years ago. In 2016, he was the Hitting Coach for Double-A Northwest Arkansas, helping lead the Naturals to a Texas League Championship Series appearance, and has also served as a manager in the Royals minor league organizations over six seasons, most recently High-A Wilmington (2015). A seven-year Major League veteran, Buchanan was a member of the 2008-09 Omaha Royals squads, totaling 98 games played between those two campaigns.
Falco returns for his third season with the Storm Chasers. He previously served as the Strength and Conditioning Coach with the Atlanta Braves from 2008-16. Falco after was the Milwaukee Brewers' strength and conditioning coach from 2000-02. He graduated in 1996 with a bachelor's of science degree in exercise science from Appalachian State and was certified by the National Strength and Conditioning Association in 2005 as a strength and conditioning specialist.
Stone joins the Storm Chasers after serving as the Athletic Trainer with High-A Wilmington for the last seven seasons. Dave Iannicca, who served as Omaha's trainer for the previous eight years, has been promoted by the Kansas City Royals to the role of Minor League Medical Coordinator. Stone joined the Royals organization in 2010 as the trainer for Burlington (Class-A) after spending one season with the Cetral Valley Coyotes in Arena Football 2. He worked the previous three seasons in the Florida Marlins organization and won New York-Penn League Trainer of the Year honors in 2006. Stone graduated with a bachelor's of science in kinesiology from Cal State-Northridge.
Following the Royals Exhibition Game presented by Cobalt Credit Union on March 25, the Storm Chasers begin 2019 regular season Pacific Coast League play at Werner Park on Tuesday, April 9 against the Oklahoma City Dodgers.