STORM CHASERS ANNOUNCE FULL 2024 SCHEDULE
Chasers open at home against Iowa, play in Buffalo for first time since 1997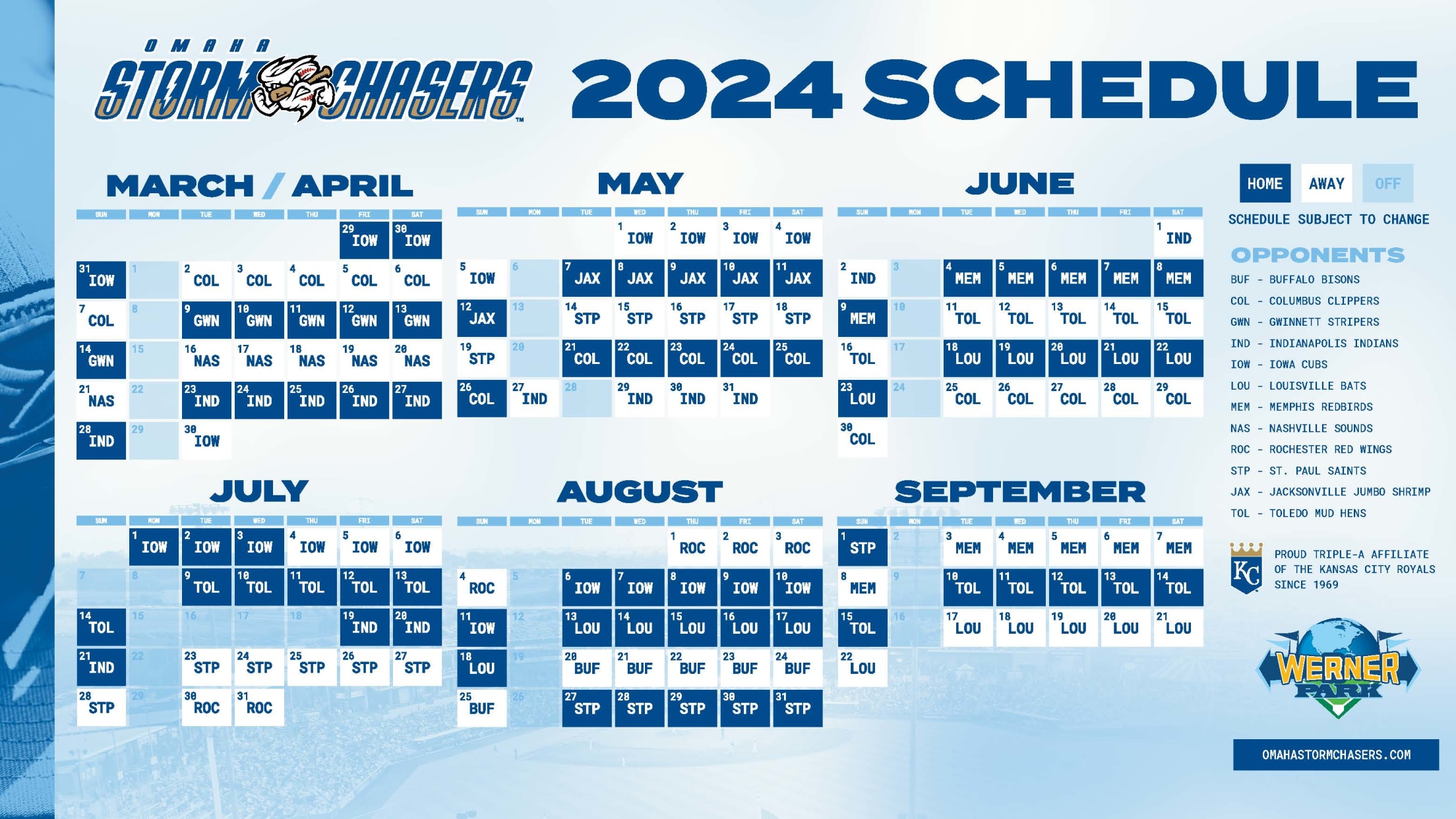 PAPILLION, NEB. — In conjunction with Minor League Baseball, the Omaha Storm Chasers today announced their 2024 regular season 150-game schedule, after previously releasing 75 home dates. The 2024 regular season will once again consist of 75 home games and 75 road games and will span across parts of seven
PAPILLION, NEB. — In conjunction with Minor League Baseball, the Omaha Storm Chasers today announced their 2024 regular season 150-game schedule, after previously releasing 75 home dates.
The 2024 regular season will once again consist of 75 home games and 75 road games and will span across parts of seven months with the home opener on Friday, March 29 at Werner Park against the Iowa Cubs; the first time since 2021 that the Storm Chasers will open the season at home. Omaha wraps up the season on the road at Louisville, September 17 to 22.
The Storm Chasers will play their I-80 rivals, the Iowa Cubs, 18 times throughout the season. There will be one six-game series (August 6-11) and two three-game series (March 28-30 and July 1-3) at Werner Park, both one three-game series (July 4-6) and one six-game series (May 1-5) at Principal Park in Des Moines, Iowa.
Omaha will play three series against International League East opponents – one at home and two on the road. The Storm Chasers welcome the Jacksonville Jumbo Shrimp for a 6-game series (May 7-12) as the Miami Marlins affiliate makes its first trip to Werner Park. The Chasers will make their first trip to Buffalo since 1997 and play six games at Sahlen Field (August 20-25) against the Toronto Blue Jays affiliate and the team returns to Rochester for a third straight season (July 30-August 4) to face the Washington Nationals affiliate.
The Storm Chasers will host Iowa on Easter Sunday (March 31) and Jacksonville on Mother's Day (May 12), while also hosting Iowa on July 3 for the annual FNBO Independence Day Fireworks game. Omaha will be on the road for Memorial Day (May 27 in Indianapolis), Father's Day (June 16 in Toledo), and Independence Day (July 4 in Iowa). The Storm Chasers are scheduled off on Labor Day (September 2).
Omaha will host one double-homestand, playing six games each against Iowa and Louisville from August 6 to 18, the only time Omaha plays more than 10 consecutive games at Werner Park. The team plays one two-week road trip as well, against St. Paul and Rochester from July 23 to August 4, the only time Omaha plays more than six consecutive games on the road.
Omaha will welcome the Louisville Bats (Cincinnati Reds affiliate) and Toledo Mud Hens (Detroit Tigers affiliate) for 12 total games, a pair of six-game series each, while the Indianapolis Indians (Pittsburgh Pirates affiliate) come to town for nine games total. The Storm Chasers will host the Columbus Clippers (Cleveland Guardians affiliate), Gwinnett Stripers (Atlanta Braves affiliate), Memphis Redbirds (St. Louis Cardinals affiliate) and St. Paul Saints (Minnesota Twins affiliate) each for one six-game series.
For the third time in four seasons, Omaha will make two trips to Huntington Park in Columbus (April 2-7 and June 25 to 30), while the team returns to St. Paul's CHS Field twice (May 14-19 and July 23-28). Omaha's plays Memphis (St. Louis affiliate) both at home (June 4-9) and on the road this year, (September 3-8), while the lone contest against Nashville (Milwaukee affiliate) is once again on the road (April 16 to 21).
Game times for home and road contests will be released at a later date. Omaha's 2024 schedule can be found as a PDF here.