Brettell Pitches Chiefs to 2-0 Win over Quad Cities
Chiefs get 13th shutout of 2019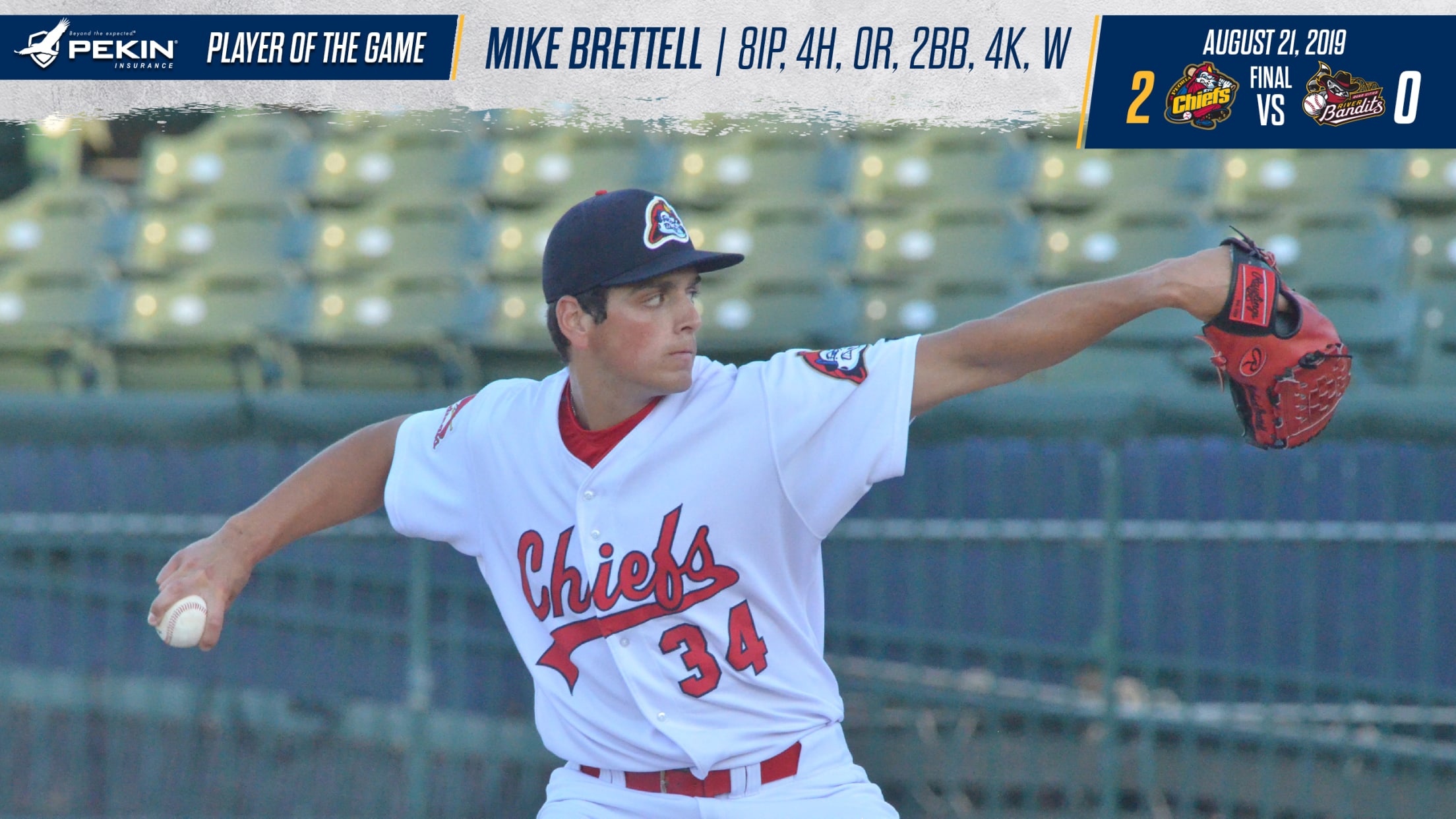 Peoria, IL - The Peoria Chiefs rode a season-high eight shutout innings from Michael Brettell as they defeated the Quad Cities River Bandits 2-0 Wednesday night at Dozer Park. Brettell pitched eight shutout innings allowing four hits, with two walks and four strikeouts to earn the Pekin Insurance Beyond the
Peoria, IL - The Peoria Chiefs rode a season-high eight shutout innings from Michael Brettell as they defeated the Quad Cities River Bandits 2-0 Wednesday night at Dozer Park. Brettell pitched eight shutout innings allowing four hits, with two walks and four strikeouts to earn the Pekin Insurance Beyond the Expected Player of the Game.
The Chiefs took the lead in the bottom of the third against Quad Cities starter Jose Alberto Rivera . Leandro Cedeno reached on an error to lead off the inning and advanced to second on a single by Alexis Wilson. With one out, Jonatan Machado walked to load the bases and Brady Whalen singled to put Peoria ahead 1-0.
Peoria added a run in the bottom of the fourth. With two outs, Brandon Riley singled and stole second, his 12th stolen base of the season. Cedeno followed with his 21st double of the season to score Riley for the 2-0 lead.
Brettell (6-9) earned the win pitching a season-high eight shutout innings, allowing four hits with two walks and four strikeouts. Connor Thomas earned his first professional save, pitching a perfect final inning.
The Chiefs continue their seven-game homestand with the Quad Cities River Bandits Thursday at 6:35 p.m. The broadcast can be heard, starting with the Pre-Game Show at 6:20 p.m. on the Peoria Chiefs Tune-In Page, which is free and also has a free app for smartphones and tablets. The game is also available on MiLB.TV for subscribers.
Thursday August 22 is Video Game and Social Media Night. Join us for video game themed events and social media contests all night long. It's also Brewers Distributing Beer and Brat Thirsty Thursday. Enjoy $2 12 oz domestic cans and soda, $3 Margaritas and Brats, plus $4 16 oz Craft drafts. $5 Berm seats are also available for students with a college ID. Make sure to bring a Taco Bell receipt, showing a $5 minimum purchase, within the last seven days to receive a buy one get one free ticket for Taco Bell Live Mas Thursdays.
There will also be a Cardinals Green Seat Giveaway presented by Brewers Distributing. Sign up before the game outside the gates from 6-6:30 or during the game in the Budweiser Bullpen behind section 101. A winner will randomly be selected in the 7th inning for Cardinals Green Seats Tickets with access to the All-Inclusive, air conditioned Cardinals Club dining room and lounge. The tickets and VIP parking pass are for the September 3 Cardinals/Giants game and the winner must be 21+ and present to win.
Individual game tickets, group tickets and season ticket packages, including full-season, a 35-game ticket package, an 18-game ticket package or a Flex Plan are currently on sale by calling 309-680-4000. Individual game tickets are also on sale with the Dozer Park Box Office open Monday - Friday from 10:00 am - 5:00 pm and online at www.peoriachiefs.com which also lists all of the season's promotions. Game times and promotions are subject to change.