Chiefs Walked Off Tuesday
Peoria stays in wild card lead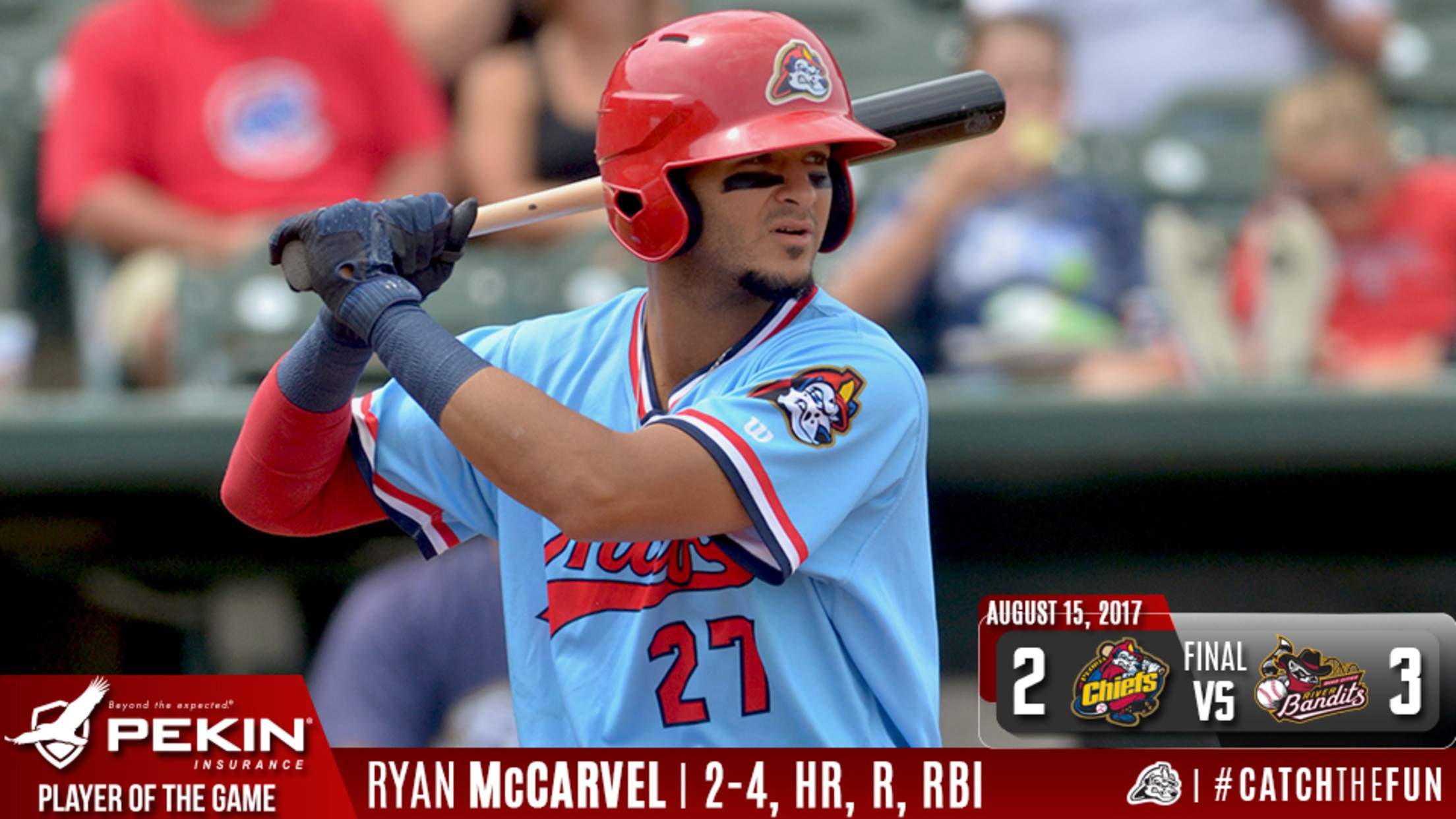 Davenport, IA - A bases-loaded fielders' choice resulted in Kristian Trompiz beating a throw to first base by a split second to give the Quad Cities River Bandits a walk-off 3-2 win over the Peoria Chiefs Tuesday night. The loss sends the Chiefs to 1-5 in the last six games
Davenport, IA - A bases-loaded fielders' choice resulted in Kristian Trompiz beating a throw to first base by a split second to give the Quad Cities River Bandits a walk-off 3-2 win over the Peoria Chiefs Tuesday night. The loss sends the Chiefs to 1-5 in the last six games but at 27-24 they remain in the wild card lead by a half game over Beloit with 19 games to play.
The game was scoreless into the bottom of the sixth inning when the hosts broke through against Chiefs starter Evan Kruczynski. Trompiz led off with a bloop single and moved to third on a two-out single by Daz Cameron. Josh Rojas lined a single into center to score Trompiz for a 1-0 Bandits lead. Austin Sexton took over on the mound for Kruczynski an a two-strike infield single by Chas McCormick scored Cameron to put Quad Cities on top 2-0.
The Chiefs didn't get anything going against starter Cristian Javier but rallied to tie the game against Robert Corniel. Mick Fennell led off with a double to right, moved to third on a grounder and scored on a ground out by Evan Mendoza. Ryan McCarvel tied the game with his team-leading 14th homer, an opposite field shot. Stefan Trosclair reached on a two-base error by Trompiz but Jesus Balaguer came out of the bullpen and struck out Juan Yepez to end the inning.
The game stayed tied until the bottom of the ninth as Max Almonte took over for Sexton. With one out, pinch-hitter Ronnie Dawson reached on a bunt single and Ray Henderson singled to left. After a wild pitch, the Chiefs intentionally walked pinch-hitter Wander Franco to load the bases and they moved Dylan Carlson from right field to first base to go with five infielders. The move nearly paid off as Trompiz hit a one-hopper to Mendoza at third. Mendoza dove and tagged third base with his glove to get a force out. From a knee he fired to Carlson at first but Trompiz was called safe on a bang-bang play as Dawson scored the winning run.
Kruczynski allowed two runs on six hits over 5 2/3 innings in a no-decision while walking one and striking out six. Sexton allowed two hits and struck out one over 1 1/3 shutout innings. Almonte (2-4) took the loss as he allowed one run on two hits and a walk while striking out one over 1 2/3 innings.
Notes… The Chiefs avoided tying their longest home run drought of the season at six games…McCarvel leads the Chiefs in homers (14) and RBI (48) as he hit his first home run since July 24 at Bowling Green…He has eight home runs that have either tied the game or given the Chiefs the lead…Of the Chiefs 107 home runs, 71 are solo shots…After scoring 37 runs in seven games between August 2-8, the Chiefs have scored nine runs in the last six games while going 1-5…The Chiefs have not scored more than two runs in a game in that span…The Chiefs have lost 15 games in the opponents final at-bat…Almonte has lost consecutive outings in the opponents final at-bat…Kruczynski tied a career high with six strikeouts…The Chiefs are 18-20 in one-run games…Peoria is 6-10 when tied after eight innings…The Chiefs are 4-8 against Quad Cities, 2-7 in Iowa…The series continues Wednesday at 6:35 p.m. as the Chiefs send RH Frederis Parra (3-4, 3.03) to the mound against River Bandits RH Carlos Sanabria (4-3, 4.41)…The broadcast can be heard, starting with the pregame show at 6:20 p.m. on www.peoriachiefs.com/listenlive which also has downloads for a free app on the iPhone, iPad, Blackberry, and Android… The broadcast is also available on the Peoria Chiefs Radio Network in the Tune-In Radio App.