Montero Named League MVP, Gonzalez an All-Star
Montero First Chiefs MVP since Pujols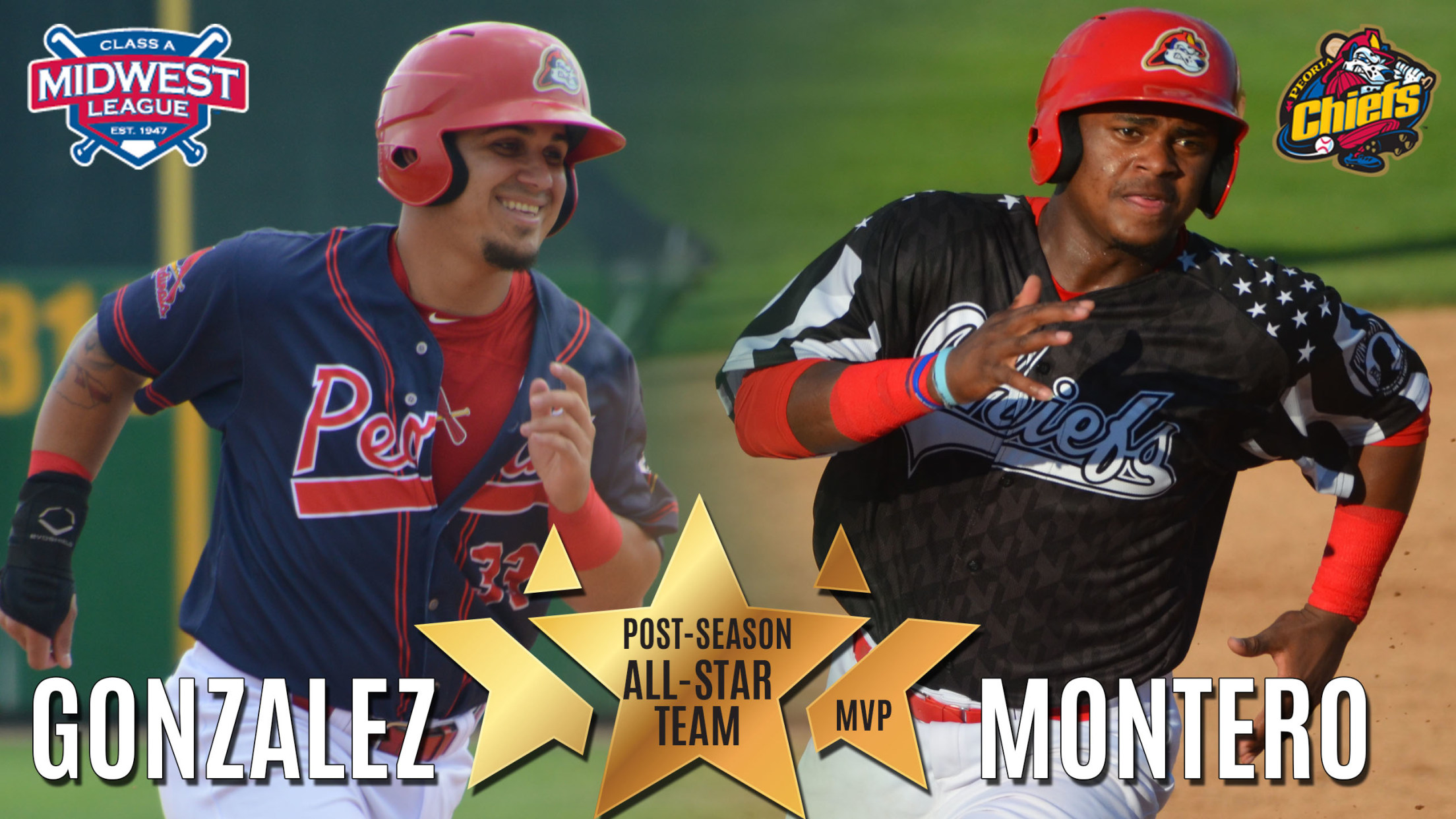 PEORIA, IL - The Peoria Chiefs and Midwest League have announced that Chiefs corner infielders Elehuris Montero and Yariel Gonzalez were named 2018 Post-Season All-Stars while Montero is the first Chiefs player to win MWL Most Valuable Player since Albert Pujols in 2000. The Post-Season All-Star team is voted on
PEORIA, IL - The Peoria Chiefs and Midwest League have announced that Chiefs corner infielders Elehuris Montero and Yariel Gonzalez were named 2018 Post-Season All-Stars while Montero is the first Chiefs player to win MWL Most Valuable Player since Albert Pujols in 2000. The Post-Season All-Star team is voted on by league managers and was announced Friday.
Montero, who was promoted to Palm Beach on August 7, still leads the Midwest League with a .321 batting average, a .531 slugging percentage and with 201 total bases. At the time of his promotion he also led the league in hits (122), extra-base hits (46) and doubles. He left ranked third in RBI (69) and fifth in home runs (15) in the league. Montero started the All-Star Game in Lansing in June and was named MWL Player of the Week July 2-8.
Montero, who turns 20 Friday, became the 37th player in team history and just third since 2011 to rack up 200 total bases in the season and his 69 RBI are the most by a Chiefs player since Jacob Wilson drove in 72 in 2013. He is one of 35 players in team history to have at least 15 home runs in a season and the first teenager to ever hit 15 home runs in a Chiefs season.
On August 6 Montero was named Midwest League Player of the Month for July. He put his name in the Chiefs record book as he tied a team and league record with four doubles July 29 in Clinton. During that four-game series in Clinton he had 10 hits with six doubles and two homers. Montero put together a 13-game hit streak earlier this season and that streak will jump to 14 games when the Chiefs finish a July 1 suspended game next Friday.
Gonzalez, who started the MWL All-Star Game in June at first base, enters play Friday fifth in the league in batting average at .308. He has 10 home runs 21 doubles, 61 RBI and 117 hits on the season. Gonzalez leads the Chiefs with 102 games played and is second with 170 total bases and 49 runs scored. The 24-year old has posted a .351 on-base percentage and a .447 slugging so far this season.
While he was named a Post-Season All-Star at first base, Gonzalez has started games at six positions this season. He has 55 starts at first base, 21 at third base, 10 at second base, four at shortstop and nine in the outfield, split between left and right. He was named MWL Player of the Week for July 22-28.
A switch-hitter signed as a non-drafted free agent, Gonzalez is batting .328 from the left side with eight of his 10 homers and 20 of his 21 doubles. He is batting .323 in 56 home games and .359 with runners in scoring position. Gonzalez actually hit higher than Montero in July with a .341 average and 12 extra-base hits while driving in 23 runs in 23 games and scoring 17 times. He homered in three straight games in Clinton July 28-30 with eight RBI in the four-game series.
This marks the fourth time since 2000 the Chiefs have had multiple Post-Season All-Stars and the first time since 2009 with two position players. In 2005 Sean Gallagher (RHP), Ryan Harvey (OF) and Eric Patterson (2B) made the team. In 2009 as the Chiefs made the playoffs four players earned the honor: Rebel Ridling (1B), Kyler Burke (OF), Josh Vitters (3B) and Josh Harrison (2B). In 2015 the playoff-bound Chiefs again had four players named: Darren Seferina (2B), Kyle Grana (RHRP), Austin Gomber (LHP) and Luis Perdomo (RHP).
The last time the Chiefs had a player named league MVP was in 2000 when Albert Pujols won the award and was also named Co-Prospect of the Year with Dayton's Austin Kearns. This season the Prospect of the Year is Cedar Rapids shortstop Royce Lewis. Chiefs shortstop Pablo Ozuna also won the league MVP award in 1998.