Lugnuts' Young, Vicuña, Buffo and Castillo named MWL All-Stars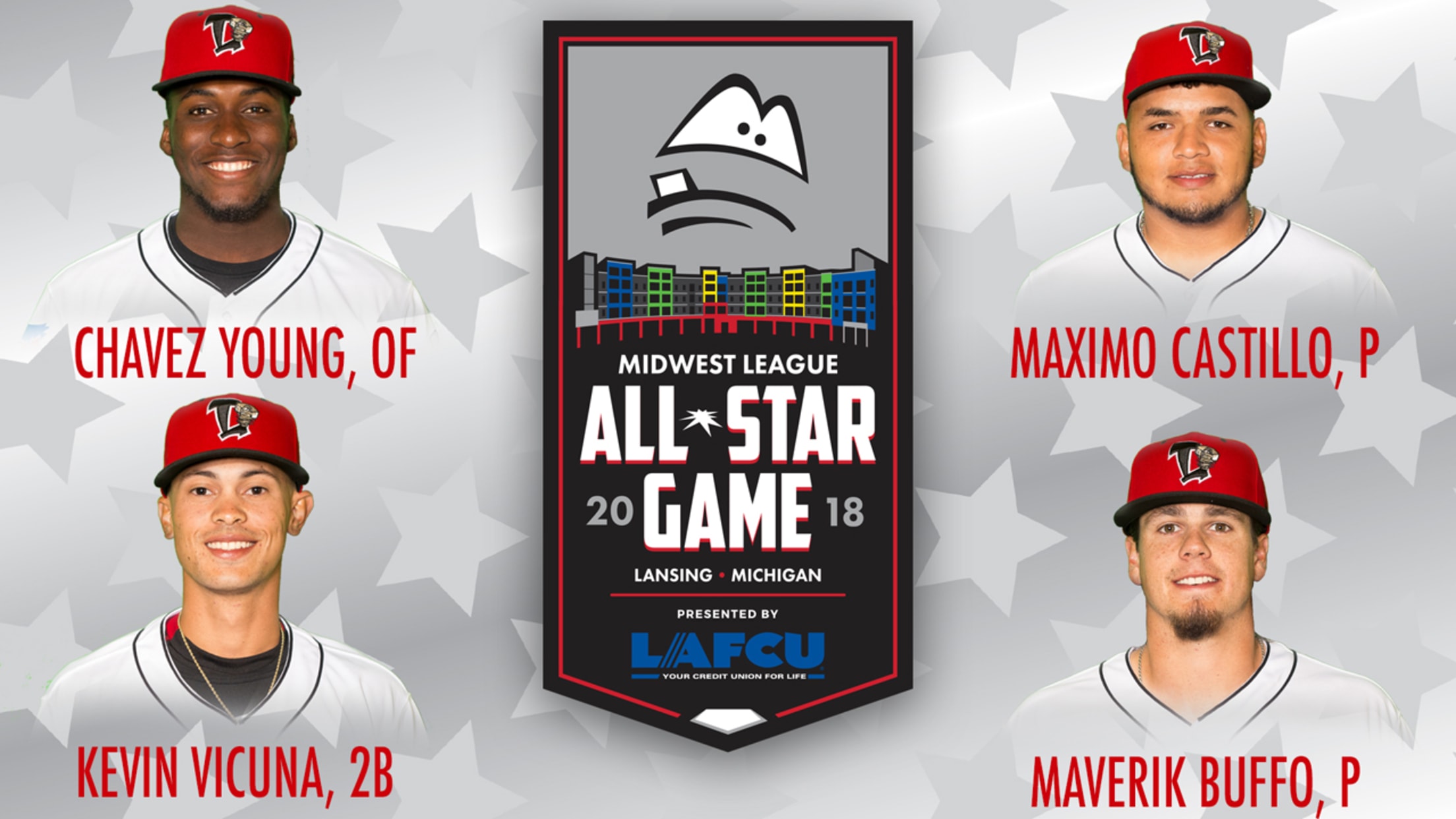 SOUTH BEND, Ind. - The Midwest League's Eastern Division All-Star Team will feature the Lansing Lugnuts' Chavez Young starting in the outfield, Kevin Vicuña starting at second base, and Maverik Buffo and Maximo Castillo among the pitching corps for the 54th annual Midwest League All-Star Game presented by LAFCU at
SOUTH BEND, Ind. - The Midwest League's Eastern Division All-Star Team will feature the Lansing Lugnuts' Chavez Young starting in the outfield, Kevin Vicuña starting at second base, and Maverik Buffo and Maximo Castillo among the pitching corps for the 54th annual Midwest League All-Star Game presented by LAFCU at Cooley Law School Stadium on Tuesday, June 19th.
Purchase All-Star Game Tickets!
The four Lugnuts will be playing for their own coaching staff in the Midsummer Classic. As the host team for the event, manager Cesar Martin, pitching coach Antonio Caceres, hitting coach Matt Young, position coach Dave Pano, strength and conditioning Aaron Spano and athletic trainer Caleb Daniel will direct the Eastern Division against the West, led by Quad Cities manager Mickey Storey and his River Bandits coaching staff.
The 2018 Midwest League All-Star rosters are headlined by two 2017 1st-round picks in Cedar Rapids' Royce Lewis, taken No. 1 overall, and Beloit's Austin Beck, selected No. 6 overall, in addition to two 2016 1st-rounders, Lake County's Will Benson (14th overall) and Cedar Rapids's Alex Kiriloff (15th overall), and two 2017 2nd-rounders, Dayton's Stuart Fairchild (38th overall) and Fort Wayne's Luis Campusano (39th).

In all, the teams include 18 of MLB Pipeline's Top 30 prospects for the Midwest League's parent clubs, with the Western Division led by Lewis, the Minnesota Twins' top prospect, and Jasrado Chisholm, the Arizona Diamondbacks' No. 3 prospect.

Among the Lugnuts' honored quartet, the 20-year-old Vicuña is ranked the Blue Jays' No. 23 prospect and the 19-year-old Castillo is ranked the Blue Jays' No. 24 prospect and No. 6 pitching prospect.

A native of Puerto La Cruz, Venezuela, Vicuña earned his All-Star nod with his dynamic hitting, ranking ranks second in the Midwest League in runs scored (42) and fifth in base hits (64). In 50 games, he is batting .292 with 10 doubles, four triples, one home run and 25 runs batted in.

Young, also 20 years of age, has excelled in his first season in the Midwest League. A native of Freeport, Bahamas, he leads the Lugnuts' active roster with a .328 average, fourth-best in the Midwest League. He is also tied for second in the league in doubles (17), third in total bases (98), tied for third in hits (65) and extra-base hits (24) and fourth in runs scored (39).

A native of Caracas, Castillo has worked in a piggyback role in his first MWL season, making six starts and six relief appearances and posting a 4-1 record in 48 1/3 innings, walking 16 while striking out 45 batters. In his finest performance, he struck out a career high nine Lake County Captains in only five innings on May 30th.

From Salem, Utah, the 22-year-old Buffo has distinguished himself with seven victories, tied for most in the Midwest League with Wisconsin's Nelson Hernandez. In 11 appearances, nine starts, Buffo has tossed a team-leading 51 1/3 innings, walking just 13 while striking out 40 and coaxing a team-high nine double plays. His finest outing came on May 24th at South Bend, when he struck out a career high nine Cubs in six innings, allowing just one run.

The Lansing Lugnuts currently boast a record of 37-21, the most wins in Minor League Baseball, putting them in a tie atop the Eastern Division with the 36-20 Bowling Green Hot Rods. They play the second game of a three-game series at Bowling Green Ballpark tonight at 7:35 p.m., the fifth game of a 13-game road trip.

Only three more home games remain before the All-Star Break! The Lugnuts return to Cooley Law School Stadium on Friday, June 15th, opening a three-game series against South Bend featuring Family Faith Night with LAFCU Fireworks on June 15th, Star Wars Night with LAFCU Fireworks on June 16th, and a Father's Day Delta Dental Kids Day with a special Jersey Giveaway on June 17th.

Then celebrate our All-Stars and join us to cheer on the finest talent in Minor League Baseball as the Midwest League All-Star Game presented by LAFCU returns to Lansing on Tuesday, June 19th, with a commemorative helmet giveaway to the first 1,000 fans! To purchase tickets, visit lansinglugnuts.com or call (517) 485-4500.Tickets may be purchased at the Cooley Law School Stadium box office, by calling (517) 485-4500 or via lansinglugnuts.com.
# # #