Rutherford, Five Yankees Top-30 Prospects Headline RiverDogs Opening Day Roster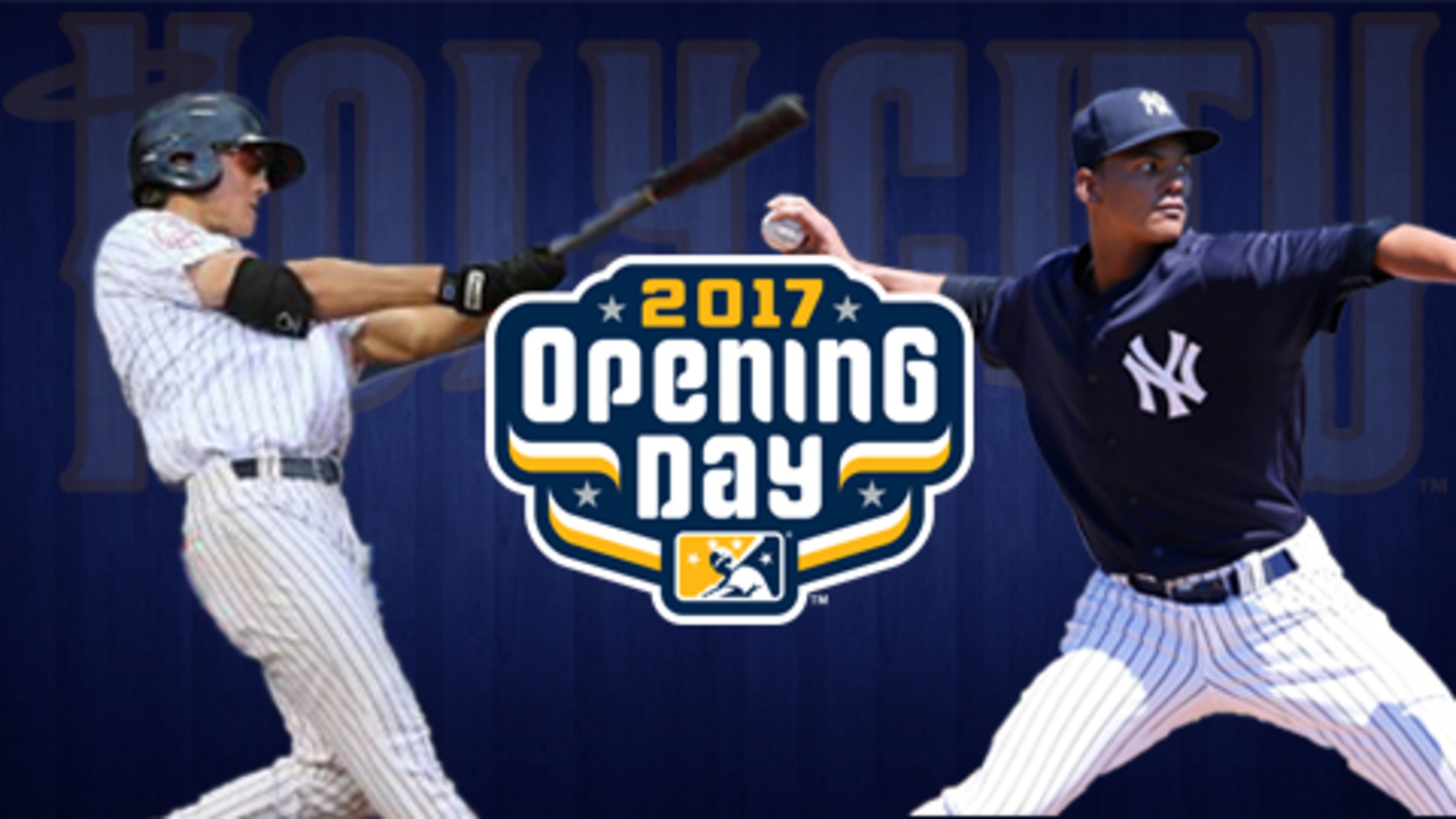 Fresh off a playoff run and one of their most successful seasons in history, the Charleston RiverDogs will once again be supplied with some of the premier talent in Minor League Baseball. Outfielder Blake Rutherford, the Yankees first-round pick in 2016, is among five of the New York Yankees' top-30 rated
Fresh off a playoff run and one of their most successful seasons in history, the Charleston RiverDogs will once again be supplied with some of the premier talent in Minor League Baseball. Outfielder Blake Rutherford, the Yankees first-round pick in 2016, is among five of the New York Yankees' top-30 rated prospects assigned to the Charleston RiverDogs 2017 Opening Day roster.
Rutherford (Yankees No. 3 Prospect, MLB.com, No. 3, Baseball America), the 37th best prospect in baseball per MLB.com, figures to be the central piece of an eye-catching outfield that will also feature 19-year-old Dominican standouts Estevan Florial (No. 17, MLB.com, No. 14, Baseball America) and Leonardo Molina, both whom spent brief stints with the RiverDogs in 2016.
On the mound, the Yankees assignments to Charleston include offseason acquisition Albert Abreu (No. 11, MLB.com, No. 9, Baseball America) from the Astros and Freicer Perez (No. 29, MLB.com). Donny Sands (No. 27, MLB.com) will be the battery mate for a talented crop of pitchers and 20- year-old shortstop Hoy Jun Park will start the year with the RiverDogs for the second consecutive season in the infield.
The RiverDogs' roster as provided by the Yankees is subject to change and will be finalized on Thursday, April 6 at noon.
Outfield
After being selected 18th overall in the June Amateur draft this past season, Rutherford turned heads in his first pro season, slashing .351/.415/.570 while cranking his first three homers in 33 games split between the rookie ball Gulf Coast League and Pulaski. The 19-year-old native of Simi Valley, Calif. ranked among the top-5 in the Appalachian League in batting, on-base percentage, and slugging among those with at least 100 plate appearances.
Florial turned in a solid campaign mostly spent in Pulaski last season that earned him a late promotion to Charleston. The Haitian-born, Dominican native hit .227 while slugging eight home runs, including a blast at The Joe in his Single-A debut that capped a 2-for-4 night with a triple. The wiry 6'1" outfielder started all three RiverDogs playoff games in center field.
Molina also rejoins the RiverDogs ranks after a season split between Charleston and Pulaski. The five-tool outfielder hit .226 in 85 games while flashing nifty defense, a strong throwing arm, speed, and power as the San Francisco de Macoris native slugged nine homers on the year.
Switch-hitter Isiah Gilliam and Colombian Carlos Vidal will round out the outfield corps. The native of Lilburn, Ga. and a 20th round selection in 2015, Gilliam earns promotion from Pulaski where he posted a .239 average while slugging .440 with ten home runs. Vidal makes Charleston's Opening Day roster after spending four games with the Dogs in an injury-ridden 2016 campaign where he hit .194 in just 19 games split between three levels.
Infield
"Ode to Oi" by TJR will once again resonate through The Joe in 2016 as Park returns to Charleston. The 20-year-old Korean native hit .225 with two home runs and a .336 on-base average in 116 games last year. His 12 triples rank as a single-season record in a RiverDogs uniform and the second most in franchise history dating back to 1980. Park led the RiverDogs with 32 stolen bases and ranked third in the league with 67 walks and was the only player in MiLB with 15+ doubles, 10+ triples, 30+ stolen bases, and 60+ walks. He led the Dogs in the postseason, hitting .300 (3-10) with another triple and two RBIs.
Angel Aguilar will again feature in the Charleston infield along with newcomers Oswaldo Cabrera, Diego Castillo, and Brandon Wagner.
A native of Barinas, Venezuela, the 21-year-old versatile infielder Aguilar hit .220 with eight home runs in 64 games while playing superb defense before finishing out the season with Staten Island.
Cabrera and Castillo, both teenagers from Venezuela, will get their first taste of Single-A ball to start the year in Charleston. Cabrera crushed rookie ball pitching in 2016, hitting .345, reaching base at a .396 clip, and slugging .523 with two home runs in 52 games split between three levels. Castillo also touted solid numbers in rookie ball with a .267 average and his first professional home run in a season spent in the Dominican Summer League and GCL.
A native of Princeton, N.J., lefty slugger Wagner rounds out the young infield corps at first base. The 21-year old was a sixth-round selection by the Yankees in 2015, and owns a .267/.369/.471 line with eight home runs in two minor league seasons at the rookie and short season levels.
Catchers
A converted infielder, Sands will get work behind the plate in his first full season as a catcher. Considered the best pure hitter in the Yankees' 2015 class, the former 8th round pick out of Tucson, Ariz. spent last season split between rookie-ball Pulaski and the Gulf Coast League where he hit .286 while slugging his first two professional home runs while reaching base at a .328 clip. He appeared in seven games in a RiverDogs uniform in his first pro season in 2015.
Also featuring on the Opening Day roster, Eduardo Navas returns for a second campaign in a RiverDogs uniform. With Charleston in 2016, Navas hit .184 with 12 RBIs in 43 games. The native of Valencia, Venezulea threw out 46 percent of would-be base stealers behind the plate between his time in Charleston and Staten Island, accounting for 51 outs on the base paths.
Pitching
Former Astros farmhand Abreu heads the list of RiverDogs arms to begin the 2017 campaign. Acquired by the Yankees in the offseason trade that sent veteran catcher Brian McCann to Houston, the 21-year-old righty is coming off a solid Single-A campaign where he went 8-13 with a 3.16 ERA and punching out 220 batters in 216.1 innings mostly as a starter.
The towering right-hander, Perez, 21, will also factor in the RiverDogs rotation after making 28 starts in the Dominican Summer League and Staten Island last year. The 6'7" fireballer went 2-4 with a 4.47 ERA with 49 Ks in 52.1 innings in the New-York Penn League.
Returning arms from the RiverDogs' 2016 staff include Anyelo Gómez, Nick Green, Garrett Mundell, Adonis Rosa, and David Sosebee. Gomez, 24, was a strikeout per inning flamethrower for Charleston last season (76 in 76.1 IP) who touched 100 mph with his fastball while Green looked sharp in three starts in a RiverDogs uniform after being acquired by New York in the Carlos Beltran deal.
Phillip Diehl, Brian Keller, Trevor Lane, and Kolton Mahoney join the RiverDogs after making appearances for Staten Island last year. A 27th round pick out of Lousiana Tech last year, Cincinnati native Diehl pounded the strike zone with 41 Ks to just six walks in his debut season with a 2.41 ERA. Germantown, Wisc. native Brian Keller, a 39th round pick out of the University of Wisconsin-Milwaukee, was dominant in the low minors, allowing just four earned runs and punching out 51 batters in 41 innings.
Another offseason trade acquisition, Jio Orozco begins his first season in the Yankees organization after being acquired in the deal that sent former RiverDogs outfielder Ben Gamel to the Mariners.
The Yankees' 4th round pick in 2016, Nick Nelson rounds out the staff after a solid debut season in Pulaski where the native of Panama City, Fla. logged a 3.38 ERA in ten starts without a winning decision.
RiverDogs season tickets, half-season ticket packages, mini plans, and group tickets are now available for the 2017 campaign, including options for the all-new Riley Park Club. The RiverDogs, the Class-A affiliate of the 27-time world champion New York Yankees, begin their season on Thursday April 6 when they host the Lexington Legends at The Joe.
Single-game tickets are now available and can be secured by contacting the box office at (843) 577-DOGS (3647) or online at www.riverdogs.com. Those that can't make it to the park can follow every pitch of the RiverDogs season on WTMA 1250 AM in the tri-county area or by streaming online at riverdogs.com and the TuneIn Radio App by searching "RiverDogs." All 70 RiverDogs home games and select road games can be viewed with a subscription to MiLB.tv.
--RIVERDOGS--