SL Postseason Awards and All-Stars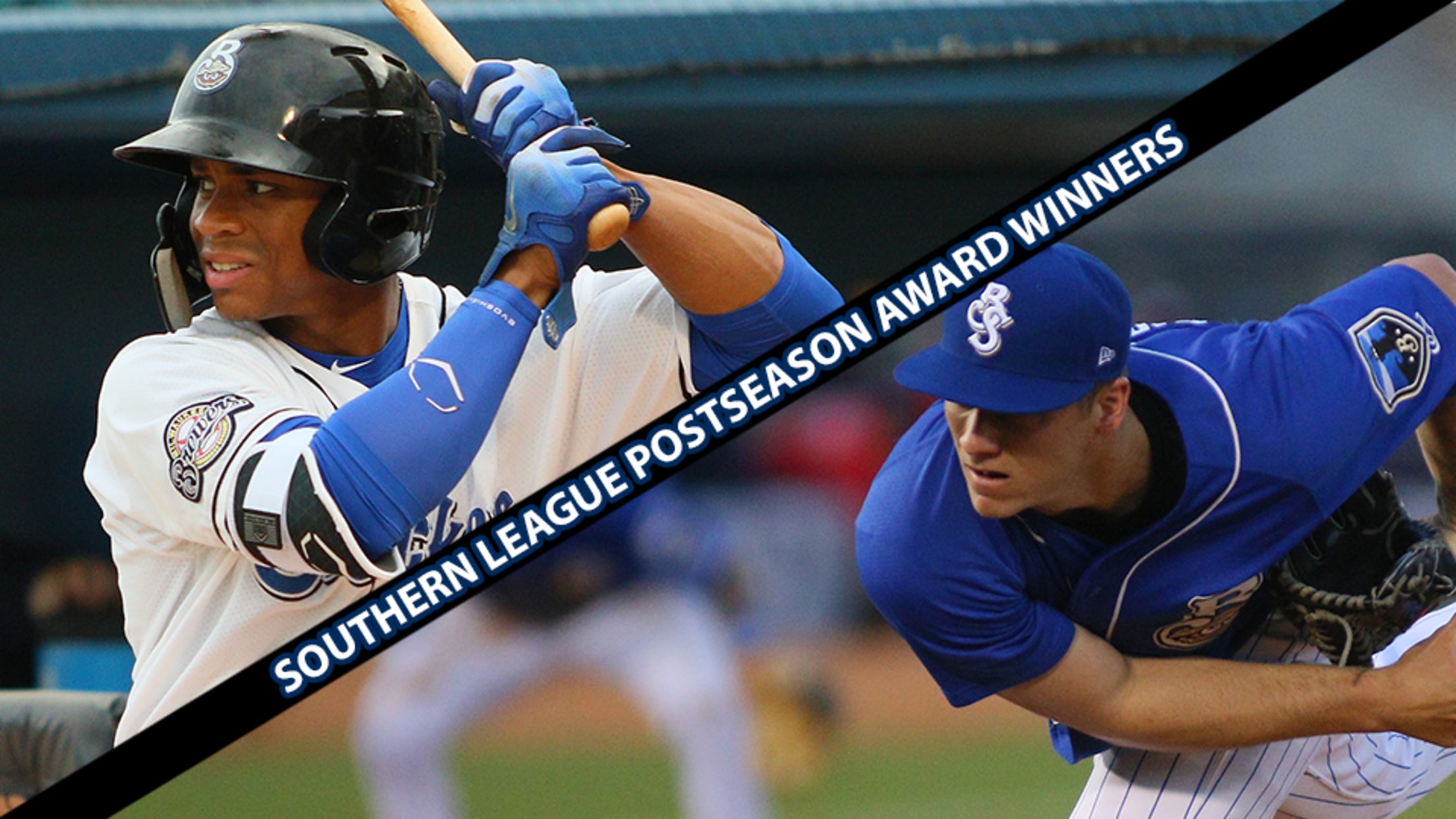 MARIETTA, GA - The Southern League of Professional Baseball Clubs are proud to announce their postseason award winners, as well as the 2018 Southern League postseason All-Star team. The Biloxi Shuckers have swept all three of the Southern League's major awards; making them the first team to do so since
MARIETTA, GA - The Southern League of Professional Baseball Clubs are proud to announce their postseason award winners, as well as the 2018 Southern League postseason All-Star team. The Biloxi Shuckers have swept all three of the Southern League's major awards; making them the first team to do so since the 2016 Jackson Generals. Corey Ray is the first Southern League MVP in Biloxi's franchise history, while Zack Brown and Mike Guerrero are the second set of Shuckers to win Most Outstanding Pitcher and Manager of the Year awards respectively.
MOST VALUABLE PLAYER - Corey Ray, OF, Biloxi Shuckers
Currently 130 games into his first Southern League season, Biloxi Shuckers outfielder Corey Ray has continued to make his mark on the league. The Chicago, Illinois native is looking to cement his place in the record books by becoming the first player in Southern League history (since 1964) to lead the league in both home runs and stolen bases at season's end. Ray, 23, also currently leads all qualified hitters in a number of offensive categories including slugging percentage (.485), extra-base hits (66), and total bases (249), while ranking among the league's best in hits (122, T-3rd), runs scored (83, T-2nd), and RBI (73, T-2nd). Following a Southern League midseason All-Star selection in June, Ray was named the Southern League's Player of the Week on July 22 and its Player of the Month for July. The Milwaukee Brewers selected Ray fifth overall in the 2016 MLB Amateur Draft out of the University of Louisville. He is listed as Milwaukee's no. 2 overall prospect according to MLB Pipeline.
MOST OUTSTANDING PITCHER - Zack Brown, RHP, Biloxi Shuckers
Also in his first Southern League season, Biloxi Shuckers RHP Zack Brown has been the ace of a pitching staff that currently leads the league with a 3.51 team ERA. Biloxi is 19-2 as a club when Brown takes the mound, and has an astounding 18-2 record across Brown's 20 starts this season. The 23-year-old Brown is 9-1 on the season and leads all qualified pitchers with a 2.48 ERA (33 ER/119.2 IP). He is second in the Southern League with a 1.05 WHIP and a .208 opponents' batting average; allowing only 10.04 baserunners per nine innings pitched. On June 15, with Biloxi eyeing a first half South Division title and an automatic playoff berth, Brown got the ball and tossed a complete game one-hit shutout to bring the Shuckers back to the postseason. Thanks to his eight strikeouts recorded and no walks surrendered, Brown posted a game score of 93; a performance bested only twice in the major leagues this season (Gerrit Cole's complete game, one-hit, 16 strikeout performance on May 4 and Sean Manaea's no-hitter on April 21). Brown is the Milwaukee Brewers no. 8 prospect according to MLB Pipeline. He was selected in the fifth round of the 2016 MLB Amateur Draft out of the University of Kentucky.
MANAGER OF THE YEAR - Mike Guerrero, Biloxi Shuckers
The Biloxi Shuckers are in position to sweep both halves of the Southern League's split season, thanks in large part to the steady hand of veteran manager Mike Guerrero. Guerrero, the Shuckers manager since the start of the 2016 season, has led Biloxi to a 221-190 record (.538 win percentage) over that span. Almost 21 full seasons into his managerial career, Guerrero has compiled a career .536 win percentage (1,174-1,016). Prior to joining the Shuckers, Guerrero was a coach on the Milwaukee Brewers major league staff. For his work as manager of Triple-A Nashville in 2013, Guerrero received the Mike Coolbaugh Award. The honor is presented by Minor League Baseball to an individual who has shown an outstanding baseball work ethic, knowledge of the game and skill in mentoring young players on the field. Guerrero's first stint in the Southern League came when he served as manager of the Huntsville Stars from 2010-11.
2018 POSTSEASON ALL-STAR TEAM
The Southern League of Professional Baseball Clubs are also excited to announce the 2018 Postseason All-Star team, as selected by field managers and club personnel. The Biloxi Shuckers, Chattanooga Lookouts, and Jackson Generals lead the way with three selections each. Jacksonville Jumbo Shrimp outfielder Monte Harrison is the lone player on the Southern League's All-Star team to be classified as a top-100 prospect according to MLB Pipeline.
The 2018 Postseason All-Star Team is as follows:
Southern League Executive Awards are scheduled to be announced on Monday, September 10.