Modern Woodmen and River Bandits Team Up to Honor First Responders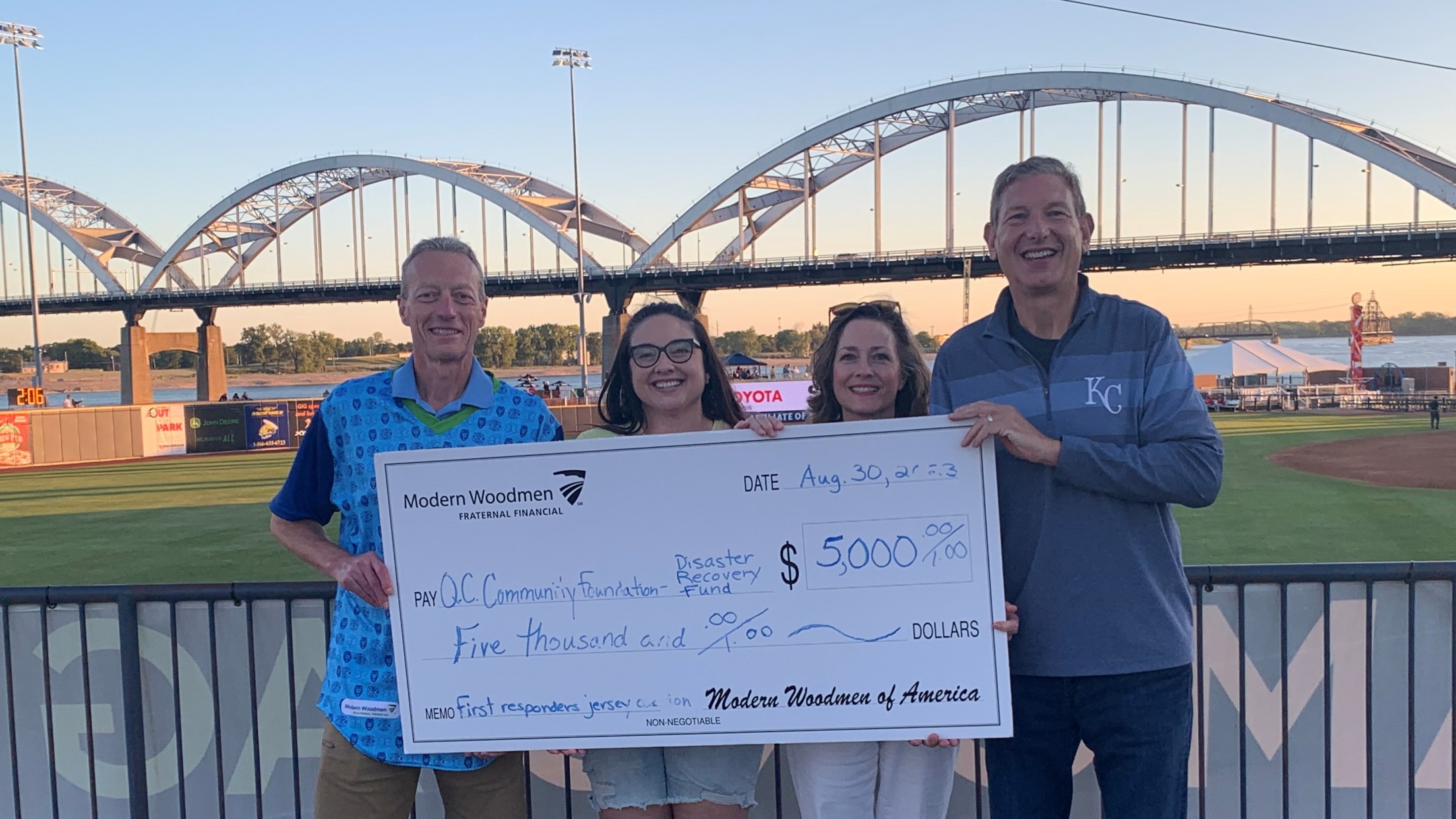 Davenport, Iowa — Jerry Lyphout, president and CEO of fraternal financial services organization and ballpark sponsor Modern Woodmen of America, and River Bandits owner Dave Heller jointly announced the results of the organizations' recent partnership to honor local first responders at Modern Woodmen Park. During the "Modern Woodmen Night" game
Davenport, Iowa — Jerry Lyphout, president and CEO of fraternal financial services organization and ballpark sponsor Modern Woodmen of America, and River Bandits owner Dave Heller jointly announced the results of the organizations' recent partnership to honor local first responders at Modern Woodmen Park.
During the "Modern Woodmen Night" game on Wednesday, July 26, the River Bandits wore special jerseys bearing emblems of firefighters, police officers, and EMTs. The first responder-themed jerseys were then auctioned off to support The Community Foundation of the Quad Cities' Disaster Recovery Fund. The jersey auction netted $2,500 and Modern Woodmen matched the amount for a total of $5,000 donated. The fund provides aid to those impacted in the weeks and months after a disaster occurs.
Community members nominated first responders from across the region to throw out first pitches and enjoy the game from a suite. Honorees included Jason Carillo (firefighter), Rodney Deerberg (Bennett Fire/Ambulance), Matt DeSmyter (R.I. County Sheriff's Dept.), Matt Dingbaum (Iowa D.O.T.), Arturo Dominguez (R.I. County Sheriff's Dept.), David Engler (Eldridge Fire Dept.),Rodney Fink (Riverdale Fire Dept.), Bryce Frenell (Milan Police Dept./New Windsor Fire Dept.), Andrew Harris (Davenport Police Dept.), Brenden Johnson (firefighter), Ben Klinkenberg (Davenport Fire Dept.), Darren LeBeau (R.I. County Fire Dept.), Emily McDowell (Unity Point Emergency Services), Mark Mielke (Osco/Andover Fire Dept.), Carter Oltman (Davenport Fire Dept.), Pete Owen (Davenport Police Dept.), Missy Pate (Henry County Office of Emergency Management), Josh Paul (Bettendorf Police Dept.), Justin Peters (EMT), Tyler Reagan (R.I. County Sheriff's Dept.), Joseph Roseman (Muscatine County Police Dept.), Xavier Scritchfield (Bettendorf Fire Dept.), Andy Sheehan (firefighter), Joe Snodgrass (EMT), Ryan Sweeney (R.I. Arsenal Fire Dept.), and Tamara Wigim (West Liberty Fire Department).
Modern Woodmen's Lyphout, whose father was an East Moline firefighter, has long respected the work of first responders in the Quad Cities.
"We wanted to recognize their ongoing efforts to serve our local community," Lyphout said. "These honorees and other first responders are there when we need them most – in times of crisis and disaster."
Heller and the River Bandits have honored first responders at the ballpark for many years.
"Our region's first responders represent the very best of the Quad Cities." Heller said. "They frequently put themselves in harm's way to keep our community safe and strong and make the Quad Cities such a great place to live, work, play, and raise a family. All of us in the River Bandits' family are proud to join with Jerry Lyphout and all of our great friends at Modern Woodmen to support their heroic efforts."