Quakes Motor Past 66ers in Seventh Straight Win
May and Kendall shine as Rancho chances a sweep on Tuesday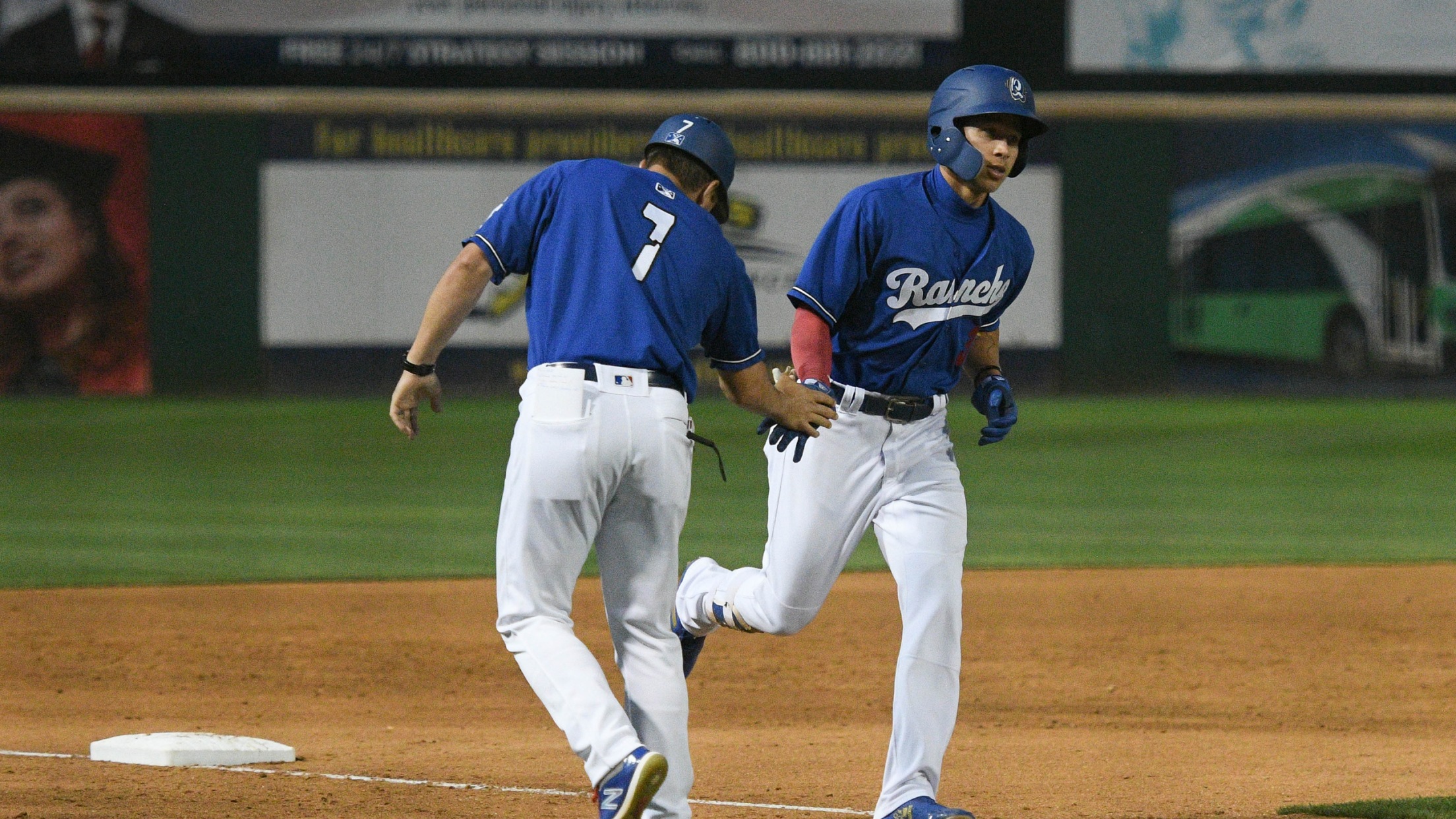 (STEVE SAENZ)
Rancho Cucamonga, CA- The Quakes opened another big lead over Inland Empire in the middle innings on Monday night and flourished from a career-long outing by Dustin May to top the 66ers, 7-3 in a seventh straight victory.Rancho's starter silenced the 66ers' offense over eight dominant innings and Jeren Kendall's
Rancho Cucamonga, CA- The Quakes opened another big lead over Inland Empire in the middle innings on Monday night and flourished from a career-long outing by Dustin May to top the 66ers, 7-3 in a seventh straight victory.
Rancho's starter silenced the 66ers' offense over eight dominant innings and Jeren Kendall's first multi-home run game as a Quakes paced the scoring effort.
Gavin Lux helped open the scoring early, as a he tripled and scored on an Omar Estevez sacrifice fly in the first inning.
May's only blemish on the night came in the form of a solo home run allowed to Connor Justus that tied the game in the second, before Kendall caught fire.
With the game still knotted in the fourth, Estevez led off with a double and Kendall smashed a 428-foot home run in the following at-bat to put the Quakes on top 3-1.
Replicating the tale of Sunday afternoon, the Quakes used a big offensive sixth inning to put the game out of reach midway through. Estevez started with a walk and Kendall added to his home run tally with another two-run blast, his ninth home run of the season. Nick Yarnall tacked on with an RBI double, scoring Logan Landon, and Lux plated Zach McKinstry on a sacrifice fly for a 7-1 lead.
May (4-3) pitched through the eighth on 92 total pitches, striking out seven and not issuing a walk in his fourth victory of the season.
Ryan Moseley was called upon in the ninth and allowed a pair of runs before Nolan Long entered and recorded the final two outs of the game.
On the mound for Inland Empire, starting pitcher Nate Bertness (1-7) allowed the first three runs of the game over four innings and was saddled with the loss.
With the victory, the Quakes enter Tuesday on a season-long seven-game winning streak and hold the best second-half record in the league at 10-2.
The Quakes will have a chance to sweep the five-game series over Inland Empire on Tuesday with Dodgers RHP Walker Buehler scheduled to start on major league rehab assignment. Inland Empire will counter with RHP Jeremy Beasley (3-1), set to make his sixth start with the 66ers. First pitch is scheduled for 7:05 PM.
Fans will get to enjoy a firework spectacular after the game on Military Appreciation Night at LoanMart Field presented by Ontario International Airport. Standing room only tickets are still available online at rcquakes.com or by calling (909) 481-5000. Go Quakes!