Trash Pandas Baseball Camp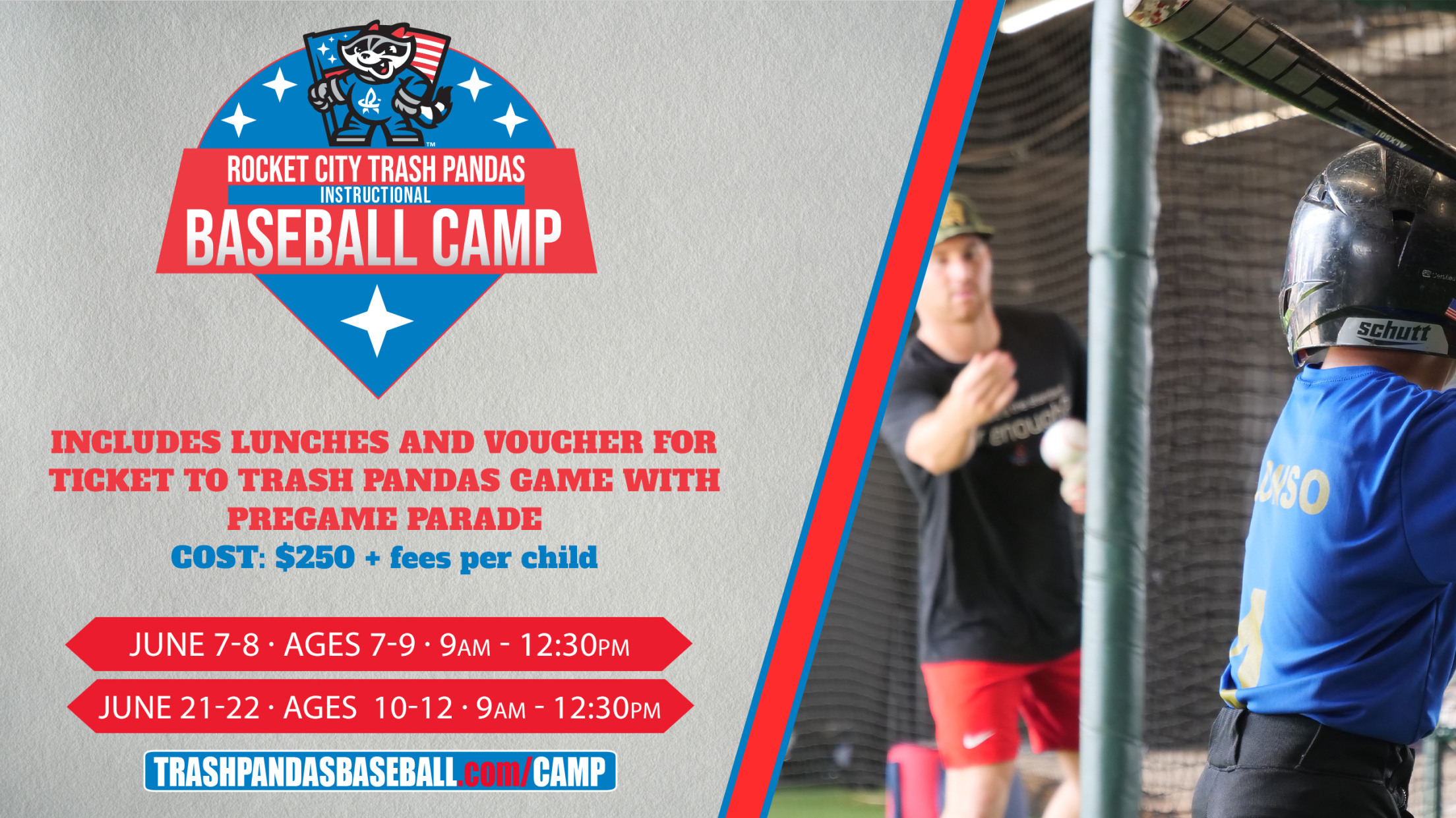 Ages
Camp 1: Ages 7-9
Camp 2: Ages 10-12
Dates
Camp 1: June 7th-8th
Camp 2: June 21st-22nd
Both Camp Times: 9 AM - 12:30 PM
Cost
$250 plus fees, Includes instruction from Trash Pandas Players & Coaches, lunch both days, a 2023 camp t-shirt, and 1 box seat ticket for a Trash Pandas game featuring a pre-game parade around the warning track
Must Pre-Register
Registration Deadline
May 19th to be guaranteed a shirt
Stations
This is an instructional baseball camp lead by Trash Pandas players. Stations will include infield/outfield drills, batting cages, pitching, and more. Kids will get to see and experience our facility here at Toyota Field. Camp is rain or shine and activities may vary in the case of rain/inclement weather.
Check-In
Camp begins at 9am. Campers will be required to check-in daily at the PEPSI GATE entrance to Toyota Field. Check-in will be open starting at 8:15 am every day.
Equipment
Each camper must bring his/her own backpack, water bottle, baseball bat, and glove. They should have their name and phone number on all items.
Game Day Ticket
Registration will include 1 complimentary Box Seat Ticket for a Trash Pandas game with a pregame parade on the field for either Thursday June 9th or Thursday June 15th at 6:35 PM. Additional tickets may be purchased at the Wicks Family Foundation Box Office.
Medical Staff/Insurance
There will be a certified EMT on-site at Toyota Field to attend and care for minor injuries and illness. If a camper gets sick or injured while at camp, parents or guardians will be contacted immediately. Please make a notation on the medical portion of your registration if there is any medical condition that we should be aware of in advance of the camper's attendance at camp.
Camp Medical Waiver Form
*DOWNLOAD AT TOP OF PAGE*
All camp participants must have a completed medical waiver. Waiver MUST BE submitted to [email protected] after purchase.
Insurance information provided on the Medical Waiver Form MUST be accurate. All campers must have medical insurance.
Parking Information
You can park in our main parking lot beginning at 8am outside the PEPSI Gate.
Lunch
Lunch is included in the purchase of camp and will be served at 12pm. It will include a hot dog, tater tots, fruit salad, a cookie, and a beverage.
Pick Up
Pick up will take place from 12-12:30 PM inside the Pepsi Gates in the Bill Penny Toyota Plaza. Anyone picking up a child will have to have the proper identification.
Late Pick-Up
There will be an additional charge for late pick-up of a child.