Rick Sweet Named New Sky Sox Manager
Sweet leads new-look Sky Sox staff including Pitching Coach Fred Dabney and Coach Bob Skube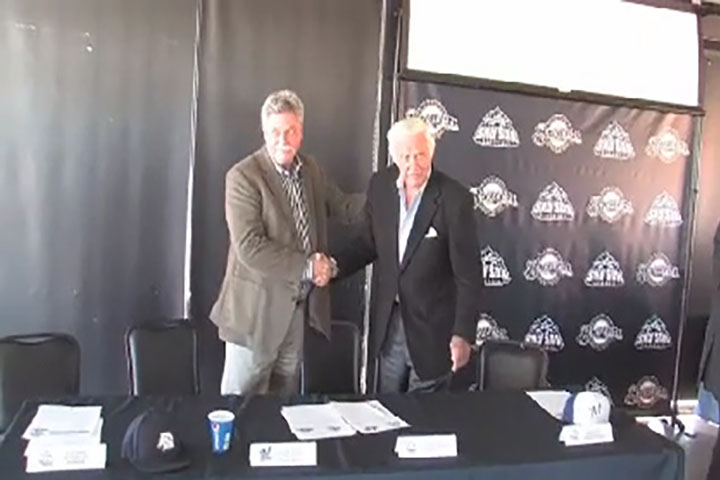 By Nick Dobreff / Colorado Springs Sky Sox | January 13, 2015 11:40 AM
With the dawn of an exciting era of baseball in Colorado Springs set to begin, the Milwaukee Brewers announced Tuesday that Rick Sweet has been named the new manager of the Sky Sox for the 2015 season. Joining Sweet on the coaching staff will be pitching coach Fred Dabney, coach Bob Skube, athletic trainer Aaron Hoback and strength & conditioning coach Andrew Emmick.
"The Sky Sox are excited to welcome manager Rick Sweet to Colorado Springs as we begin our first season as the top affiliate of the Milwaukee Brewers," said Sky Sox President and General Manager Tony Ensor. "As one of the winningest managers in the minor leagues, Sweet brings tremendous leadership, experience and a familiarity with the Pacific Coast League to this role with the Sky Sox. In Fred Dabney and Bob Skube, we're also getting two tremendous coaches with proven track records in the Brewers organization. This is an exciting day for our fans and we're looking forward to a great season in 2015."
Sweet, 62, becomes the 15th manager in Sky Sox history. The 2015 season will be his second in the Brewers organization after leading Triple-A Nashville to a record of 77-67 last year. Sweet spent the previous nine seasons in the Reds organization as manager of the Louisville Bats (2005-11) and as the Reds' catching coordinator (2012-13).
The 2015 season marks his 25th year as a minor-league manager, a managerial career that dates back to 1987. As one of the most successful managers in the game, he owns a 1,665-1587 (.512) career record while his 1,665 wins rank sixth-most among active minor league managers entering the upcoming season.
During Sweet's stint in Louisville from 2005-11, he became the franchise's all-time winningest manager with a 539-465 (.537) record. From 2008-10 his Bats won three straight International League West Division championships. He was named International League Manager of the Year in 2008 and 2009 and was Baseball America's 2010 Triple-A Manager of the Year. He was also recognized as Pacific Coast League Manager of the Year in 1994 while with Triple-A Tucson.
Sweet is a three-time Triple-A All-Star Game manager, having received the honor twice in the PCL with Tucson (1993) and Portland (2003), as well as with Louisville in the IL in 2009.
"I've been coming to Colorado Springs as a visiting manager since 1993 and one thing that's always stood out has been the tremendous fan support," said Sweet. "Our staff and players will be active members in the community and fans will be proud of how we go about our business and how we play on the field. We're very excited to be here and thrilled to be a part of the Sky Sox."
Sweet previously managed in the Seattle (1987-88), Houston (1989-95), New York - NL (1997), Montreal (1998, 2000), San Diego (2001-03) and Detroit (2004) minor league systems. He also served with the Astros as first base coach in 1996 and with the Expos as field coordinator from 1999-2000.
The former catcher had a nine-year playing career (1975-83) including three seasons in the majors with San Diego (1978), New York - NL (1982) and Seattle (1982-83). Following his playing days, Sweet became bullpen catcher for the Mariners (1984) and then spent the next two years as an advanced scout with Seattle (1985-86).
Bob Skube, 57, begins his third season as a coach in the Brewers organization and his first in Colorado Springs. Prior to joining the Brewers, he spent six seasons as a hitting coach in the San Diego Padres organization with Class-A Fort Wayne (2007), Rookie Peoria (2008-09), Class-A Lake Elsinore (2010) and Triple-A Tucson (2011-12). Before joining the Padres he worked in the Texas Rangers organization for two seasons as hitting coach at Class-A Bakersfield (2005) and as a manager of the rookie-level Arizona Rangers in 2006.
Skube was selected by the Brewers in the 13th round of the 1979 draft and played seven seasons as an outfielder/first baseman in the organization. He was named California League Rookie of the Year in the 1982-83 seasons, batting .250 with nine RBI. Prior to his professional career, Skube attended the University of Southern California from 1975-79, winning MVP honors for the Trojans in 1977 and helping lead USC to a national championship in 1978.
Fred Dabney, 47, begins his first season as pitching coach for the Sky Sox and 12th overall season with the Brewers. He joined the organization as pitching coach at Class-A Huntsville in 2004, spent seven seasons in the same capacity at Brevard County from 2005-11 and spent the last three seasons with Triple-A Nashville as their pitching coach. During the 2010 season, Dabney served as interim bullpen coach for the Brewers from April 23 to May 23. He took the place of Stan Kyles, who underwent surgery in April. Prior to joining the Brewers, Dabney spent five seasons as a pitching coach in the Texas Rangers organization with the Rookie GCL Rangers (1999), Class-A Savannah (2000), Class-A Charlotte (2001-02) and Class-A Stockton (2003). While with Charlotte, he coached in the Florida State League All-Star Game both seasons. His staff posted a league-best 3.40 ERA in 2002 and ranked third with a 3.37 ERA in 2001.
Dabney played nine minor league seasons as a pitcher with Chicago-AL (1988-93), Cleveland (1994) and Chicago-NL (1995-96) and finished his career in Taiwan (1997). He was originally chosen by the White Sox in the 15th round of the 1988 draft after attending Seminole (OK) Junior College.
Aaron Hoback enters his ninth season as an athletic trainer in the Brewers organization and his first with the Sky Sox. He previously served in the same capacity with Triple-A Nashville (2013-14), Double-A Huntsville (2010-12), Class-A Wisconsin (2009) and Rookie Level Helena (2007-08).
Andrew Emmick begins his first campaign with the Sky Sox and enters his seventh season with the Brewers organization. He served in the same role for Triple-A Nashville from 2010-2014 and Double-A Huntsville in 2009. Prior to joining the Brewers, Emmick spent three seasons in the Angels organization as strength and conditioning coach with Class-A Cedar Rapids (2006), Rookie level Tempe (2007) and Triple-A Salt Lake (2008).
A new era of Sky Sox Baseball begins April 9, 2015. For information about the Sky Sox and the 2015 season at Security Service Field, please call (719) 597-1449 or email info@skysox.com.
This story was not subject to the approval of the National Association of Professional Baseball Leagues or its clubs.
View More