Chattanooga Walks Off Smokies In Series Finale
Oscar De La Cruz Shines in Loss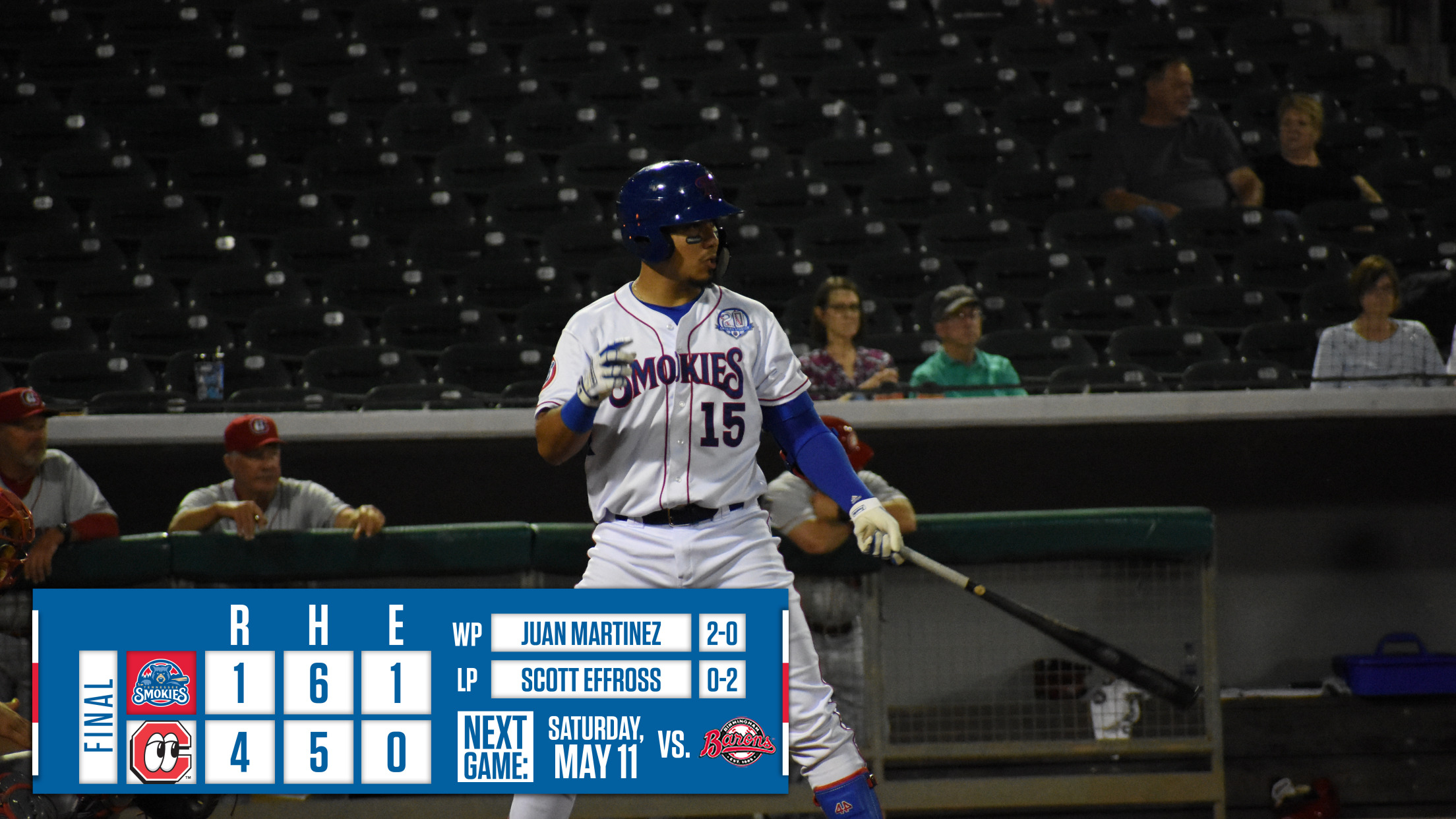 CHATTANOOGA, TN - The Tennessee Smokies (16-18) lost 4-1 in ten innings against the Chattanooga Lookouts (19-14) thanks to a walk-off three-run home run from Jose Siri. As the rain began to pour, Lookout Siri got an additional shower after he blasted a three run homer to right field off RHP Scott
CHATTANOOGA, TN - The Tennessee Smokies (16-18) lost 4-1 in ten innings against the Chattanooga Lookouts (19-14) thanks to a walk-off three-run home run from Jose Siri.
As the rain began to pour, Lookout Siri got an additional shower after he blasted a three run homer to right field off RHP Scott Effross (L, 0-2) to win in walk-off fashion.
Both starting pitchers were impressive in their first six innings, not budging at all by keeping it scoreless. RHP Oscar De La Cruz struck out seven Lookouts and gave up just two hits. For Chattanooga, RHP Tony Santillan had similar numbers. He struck out five and allowed three hits.
The deadlock ended in the top of the seventh inning when Jhonny Pereda doubled to score Charcer Burks. Chattanooga responded in the bottom of the seventh off an error from Vimael Machin which scored Brantley Bell to bring the score to 1-1.
Making his 2019 Smokies debut, RHP Tommy Nance found himself in a jam with runners at second and third and two outs in the bottom of the eighth. He worked himself out of it after striking out Ibandel Isabel.
In the tenth, Lookouts LHP Juan Martinez (W, 2-0) earned the win after stonewalling the Smokies and their bonus runner.
The Smokies return to Kodak tomorrow to begin a five-game series against the Birmingham Barons with game one set to start at 7 pm ET at Smokies Stadium. RHP Tyson Miller, (1-1, 0.86), the owner of the lowest ERA in the Southern League, gets the ball for the Smokies while Birmingham sends out LHP Kyle Kubat (1-0, 0.00).