Smokies Fall 4-2 In Birmingham
Rubber Match Set for Sunday Evening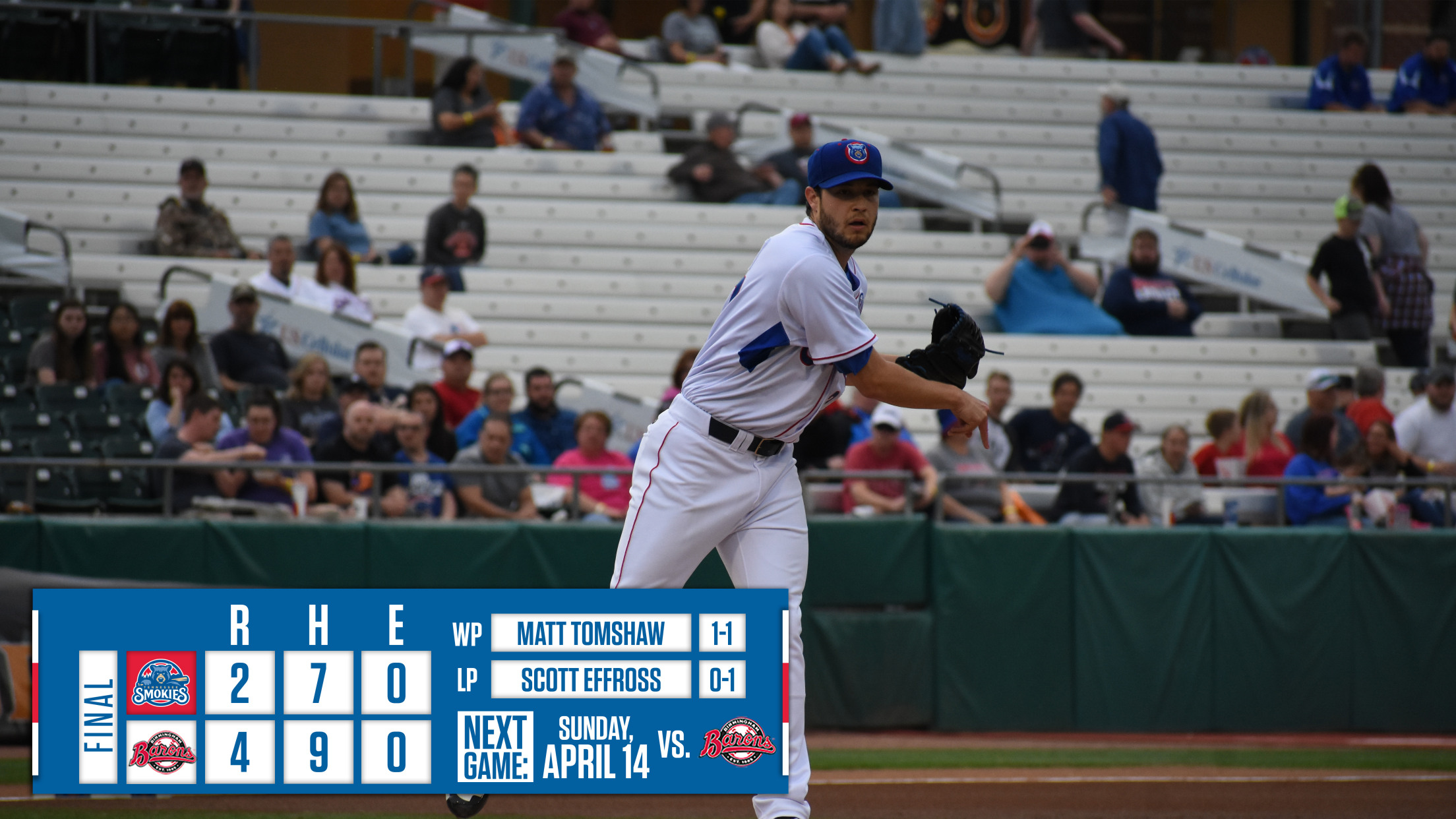 BIRMINGHAM, AL - The Tennessee Smokies (5-3) lost a pair of leads and ultimately fell to the Birmingham Barons (4-5), 4-2 in Birmingham on Saturday night. Nico Hoerner wasted no time slapping a run-scoring double in the first inning to give the Smokies an early 1-0 lead. The Barons responded with
BIRMINGHAM, AL - The Tennessee Smokies (5-3) lost a pair of leads and ultimately fell to the Birmingham Barons (4-5), 4-2 in Birmingham on Saturday night.
Nico Hoerner wasted no time slapping a run-scoring double in the first inning to give the Smokies an early 1-0 lead. The Barons responded with a run of their own courtsey of a Gavin Sheets' RBI in the bottom of the first inning, tying the game 1-1.
A P.J. Higgins' home run in the fourth inning gave the Smokies the lead again, but not for long. With two outs in the bottom of the sixth, Luis González line drived a triple to level the game, 2-2.
RBI-singles from Ramón Torres and Joel Booker gave the Barons a 4-2 lead in the seventh, which would be the eventual game-sealing runs.
Smokies RHP Scott Effross (L, 0-1) took the loss after three innings of work, giving up five hits and three runs. For the Barons, LHP Matt Tomshaw (W, 1-1) picked up the win tossing 1.1 innings and surrendering a hit. RHP Matt Foster (S, 1) earned his firat save of the season with a scoreless ninth.
The rubber match in this series is Sunday afternoon at 5:00 pm ET in Birmingham. RHP Brad Markey will go for the Smokies against LHP Sean Nolin for Birmingham.