TENNESSEE SMOKIES AND BUSH'S BEANS ARE TEAMING UP AGAINST HUNGER
Smokies, Bush's coming together with Second Harvest Food Bank to fight hunger in East Tennessee community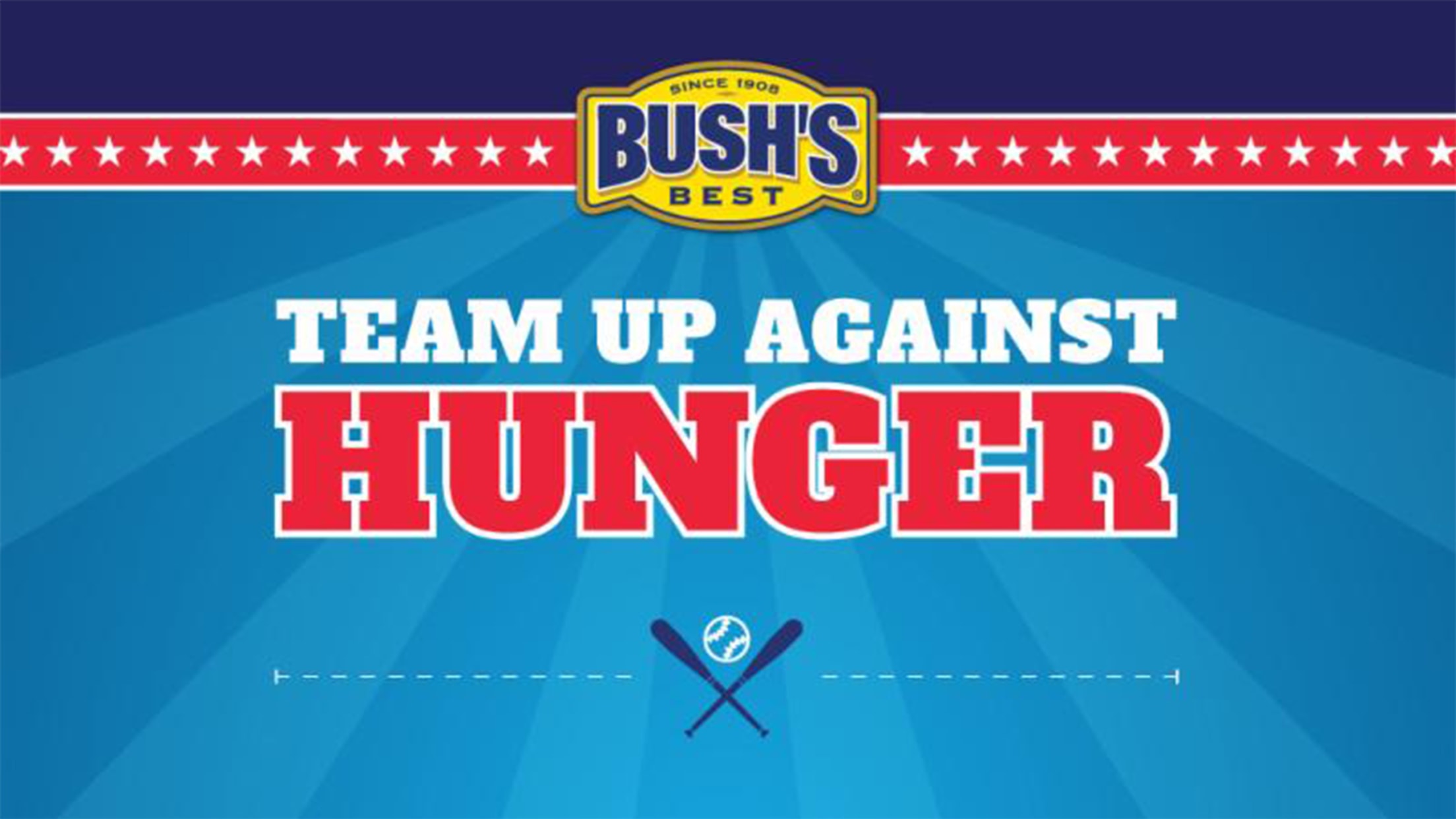 SEVIERVILLE - Tennessee Smokies and BUSH'S® Beans are working with Second Harvest Food Bank of East Tennessee to "Team Up Against Hunger." In its second year, this program encourages fans to bring non-perishable food donations to Smokies Stadium on Sunday, July 29th and, in turn, fans will receive a Smokies ticket
SEVIERVILLE - Tennessee Smokies and BUSH'S® Beans are working with Second Harvest Food Bank of East Tennessee to "Team Up Against Hunger." In its second year, this program encourages fans to bring non-perishable food donations to Smokies Stadium on Sunday, July 29th and, in turn, fans will receive a Smokies ticket voucher for Fan Appreciation Night on September 2, 2018 (One ticket per person) for helping to feed the local community through Second Harvest Food Bank of East Tennessee. Ninety Minor League Baseball™(MiLB) clubs across the country will "Team Up Against Hunger" throughout the month of July. The month is significant as it marks the middle of summer break and a crucial time when millions of children are not receiving free or reduced-price meals at their schools as they do when school is in session.
"We are honored to partner with BUSH'S Beans and Second Harvest Food Bank of East Tennessee to bring the issue of hunger to light using our MiLB platform," said Thomas Kappel, Director of Corporate Partnerships for the Tennessee Smokies. "This is one great way to bring the community together to show that we are united in the fight against hunger in our hometown."
"As a family-owned food company, it is important to everyone at BUSH'S to help hungry families," said Mike Morris, consumer experience manager at Bush Brothers & Co. "Working with Minor League Baseball and communities nationwide helps bring attention and action to a very important topic - beating hunger."
"Beating hunger in our community is a mission we work toward every day," says Elaine Streno, Second Harvest's Executive Director. "It's hard to believe, but 1 in 7 East Tennesseans are at risk of hunger every day. We are grateful to Minor League Baseball and BUSH'S Beans for joining us in a cause that is so near to our hearts and the hearts of this community."
About Minor League Baseball
Minor League Baseball, headquartered in St. Petersburg, Florida, is the governing body for all professional baseball teams in the United States, Canada and the Dominican Republic that are affiliated with Major League Baseball® clubs through their farm systems. Fans are coming out in unprecedented numbers to this one-of-a-kind experience that can only be found at Minor League Baseball ballparks. In 2017, Minor League Baseball attracted 41.8 million fans to its ballparks to see the future stars of the sport hone their skills. From the electricity in the stands to the excitement on the field, Minor League Baseball has provided affordable family-friendly entertainment to people of all ages since its founding in 1901. For more information visit MiLB.com.
Follow Minor League Baseball on Facebook, Instagram and Twitter.
About BUSH'S Beans
BUSH'S® Beans are "The Official Beans of Minor League Baseball™." BUSH'S® is all about family, friends that feel like family, and a certain Secret Family Recipe. When you enjoy our beans (doesn't matter if they're Baked Beans, black beans, pinto beans, great northern beans...you get the picture), you can trust that they're the very best. Because we wouldn't serve your family anything less. Since we got our start more than 100 years ago in Chestnut Hill, Tenn., BUSH'S® has always maintained that quality is the best policy. We pursue excellence and exceptional taste in our beans, sauces and everything we do. That's why, from mouthwatering Baked Beans to satisfying bean recipes, you're cooking up the best with BUSH'S BEST®. For more information, visit www.bushbeans.com, like them on Facebook or follow BUSH'S® Beans on Instagram and Twitter.
About Second Harvest Food Bank of East Tennessee
Second Harvest Food Bank of East Tennessee, a member of Feeding America, has worked to eliminate hunger since 1982. In FY17, the organization provided 16.2 million meals to the hungry across 18 counties of East Tennessee. With six major programs and more than 550 agency partners, Second Harvest Food Bank of East Tennessee distributes food to more than 118,000 children, adults and seniors each month.