Total Team Effort: Smokies Slow-Burn Barons, 7-1
Abbott Keeps Starting Pitching Hot as Offense Does Its Job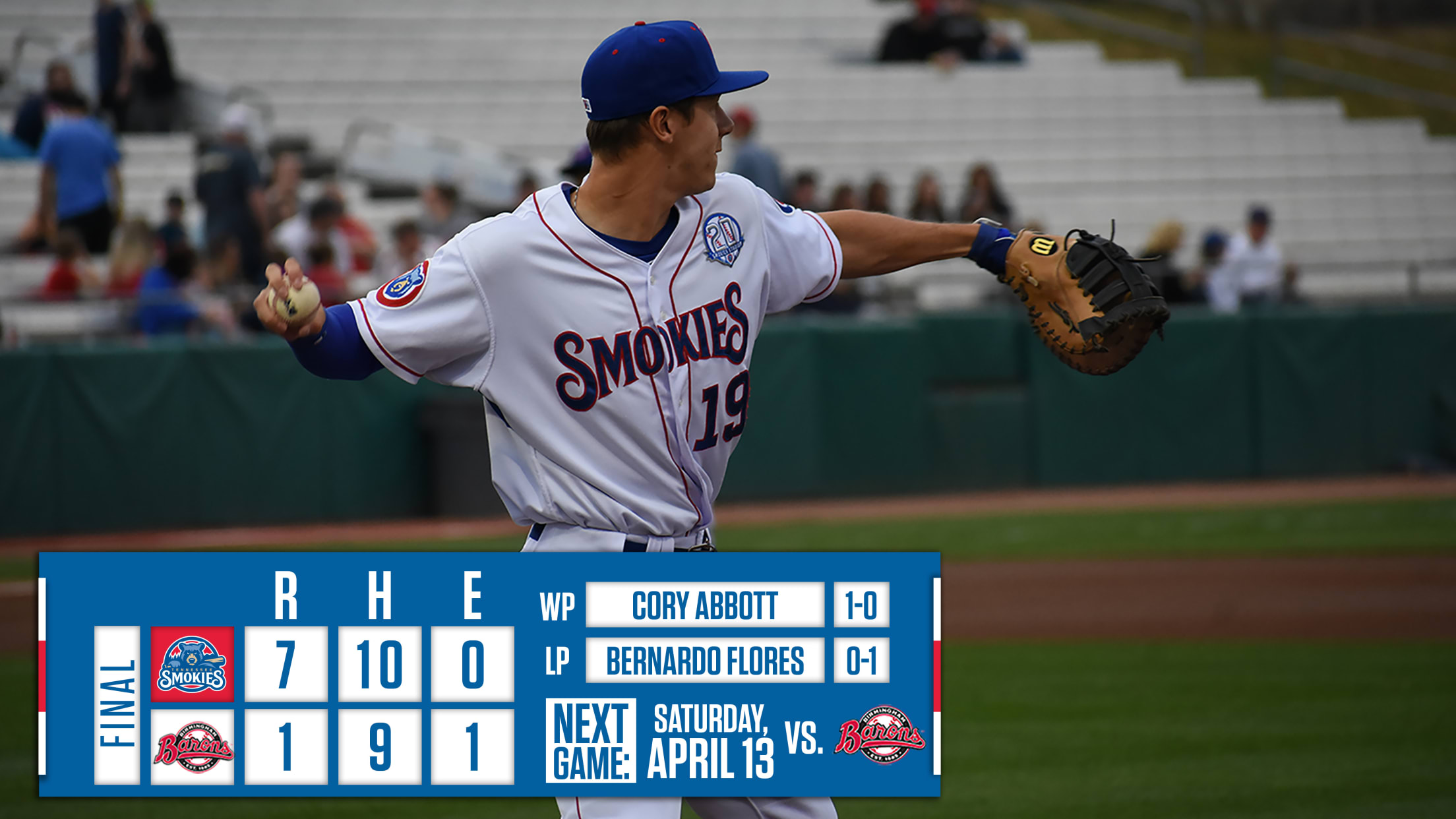 BIRMINGHAM, AL - The Tennessee Smokies (5-2) used RBIs from five different players and eight strikeouts from starter RHP Cory Abbott (W, 1-0) en route to a 7-1 win over the Birmingham Barons (3-5) on Friday night. The Smokies exploded in the for four runs in the top of the
BIRMINGHAM, AL - The Tennessee Smokies (5-2) used RBIs from five different players and eight strikeouts from starter RHP Cory Abbott (W, 1-0) en route to a 7-1 win over the Birmingham Barons (3-5) on Friday night.
The Smokies exploded in the for four runs in the top of the third inning off LHP Bernardo Flores (L, 0-1). Charcer Burks reached on an error which brought in the first run. Two-batters later, Jared Young knocked in his 6th and 7th RBIs of the season, tying him for the Southern League lead. An Ian Rice double plated Young, handing Abbott a 4-0 cushion.
While Abbott dealt, the Smokies piled on two more runs in the seventh. Connor Myers tripled to drive in Christian Donahue, hit first hit and RBI of 2019. In his Double-A debut, Birmingham native Clayton Daniel added an RBI-single in the frame to extend the lead to 6-1. Daniel finished with three hits on the night.
LHP Wyatt Short handled the later frames, tossing 2.1 scoreless innings in relief. RHP Bailey Clark took care of the ninth for Tennessee.
Up two games to one, the Smokies look for the series victory on Saturday night at 7:30 PM ET. The Smokies starter is TBD, while the Barons trot out RHP Felix Paulino.