2019 Vermont Field Staff Announced
Nieckula returns for 5th season as Lake Monsters manager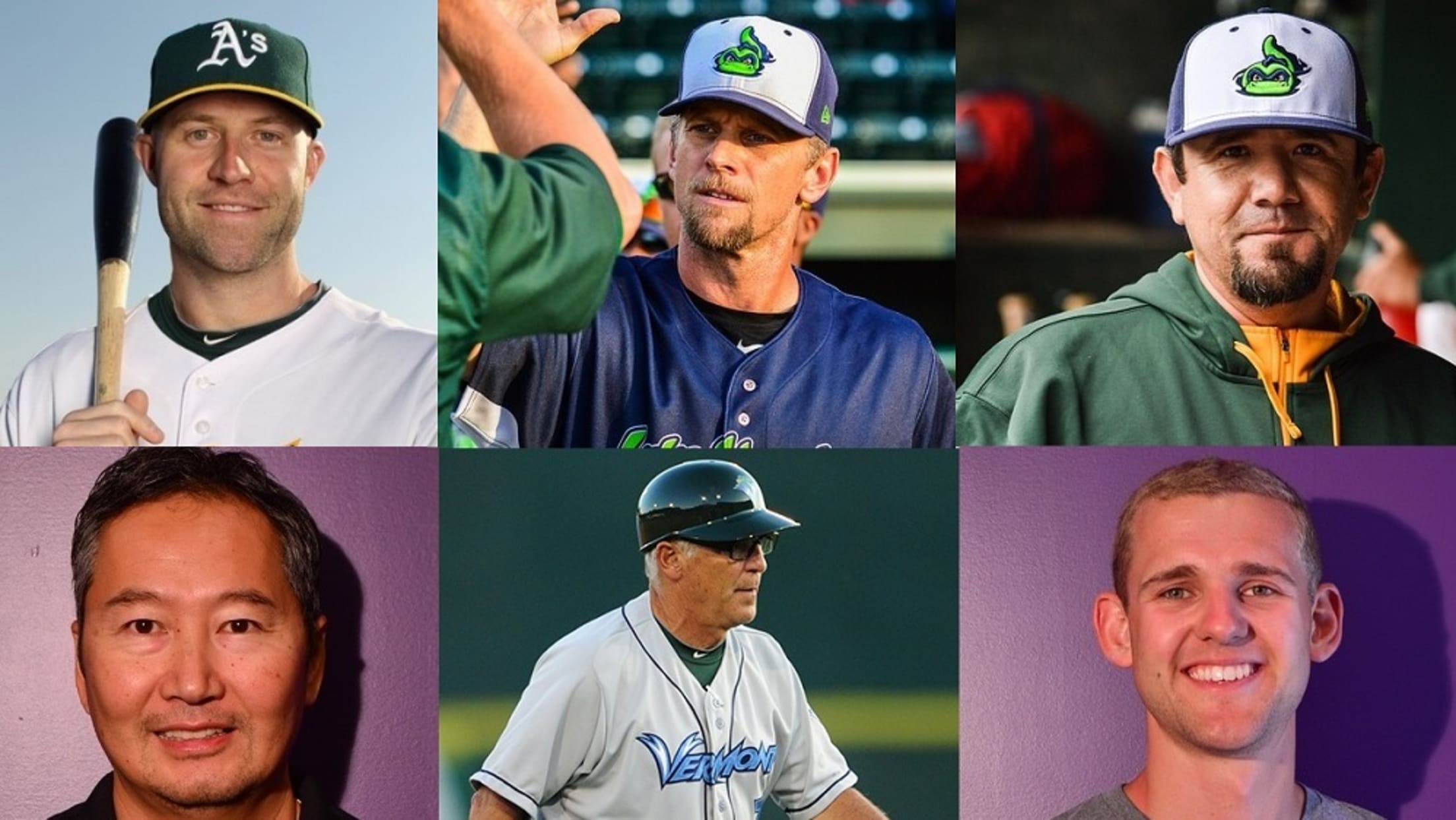 Pictured clockwise from top left: Kevin Kouzmanoff (hitting), Aaron Nieckula (manager), Carlos Chavez (pitching), Kevin Guild (strength), Rick Magnante (bench) and Toshi Nagahara (trainer)
BURLINGTON, VT --- The Vermont Lake Monsters are pleased to announce their field staff for the upcoming 2019 season, which includes Aaron Nieckula as manager for the fifth straight year and the return of 2011-13 skipper Rick Magnante as bench coach for the New York-Penn League affiliate of the Oakland
BURLINGTON, VT --- The Vermont Lake Monsters are pleased to announce their field staff for the upcoming 2019 season, which includes Aaron Nieckula as manager for the fifth straight year and the return of 2011-13 skipper Rick Magnante as bench coach for the New York-Penn League affiliate of the Oakland Athletics.
Rounding out the field staff is pitching coach Carlos Chavez, hitting coach Kevin Kouzmanoff, athletic trainer Toshi Nagahara and strength coach Kevin Guild.
The Lake Monsters manager since 2015, Nieckula led Vermont to its first back-to-back winning seasons since the mid 1990's with a 42-33 record and Stedler Division title in 2017 before going 39-37 this past year. Nieckula has skippered the Lake Monsters to a 142-160 record over his first four years and a 758-797 record over 13 seasons as a manager in the Oakland organization.
Magnante managed Vermont each of the first three seasons that the Lake Monsters were affiliated with Oakland, including a Stedler Division title in 2011 (Vermont's first division title since 1996). Magnante had a 105-121 overall record in his three years with Vermont before moving on to manage Single-A Beloit in 2014 and Advanced Single-A Stockton 2015-18.
In addition to their responsibilities as manager and bench coach, Nieckula begins his fifth year as Oakland's Minor League Field Coordinator and Magnante his first season as the Athletics new Supervisor of Player Development.
Chavez returns for his second straight year as Vermont's pitching coach and fourth overall, having previously served as Lake Monsters pitching coach in 2015 and 2016 (spent 2017 as Beloit's pitching coach). Kouzmanoff joins the Oakland organization as the Lake Monsters hitting coach after serving as a Metro State University of Denver assistant coach in 2018.
Kouzmanoff played seven Major League seasons between 2006 and 2014, finishing with a .257 average and 87 home runs in 685 career games (hit 32 homers over 189 games for Oakland in 2010-11). He is one of only four players all-time to hit a grand slam in his first MLB at bat.
Nagahara enters his seventh season as the Lake Monsters athletic trainer, while Essex native Guild returns for his second year as Vermont strength and conditioning coach.
2018 Lake Monsters hitting coach Lloyd Turner has been named 2019 manager for the Beloit Snappers. Hiram Boccachica, who spent last season on the Vermont coaching staff, will be the manager for one of Oakland's two squads in the Arizona League next season.
Athletics Announce Player Development Staff For 2019
Paul Stanfield is the Media Relations Director for the Vermont Lake Monsters.