Vermont Rallies For 6-5 Win Tuesday vs. Bees
Lake Monsters trailed 5-0 early before earning walkoff win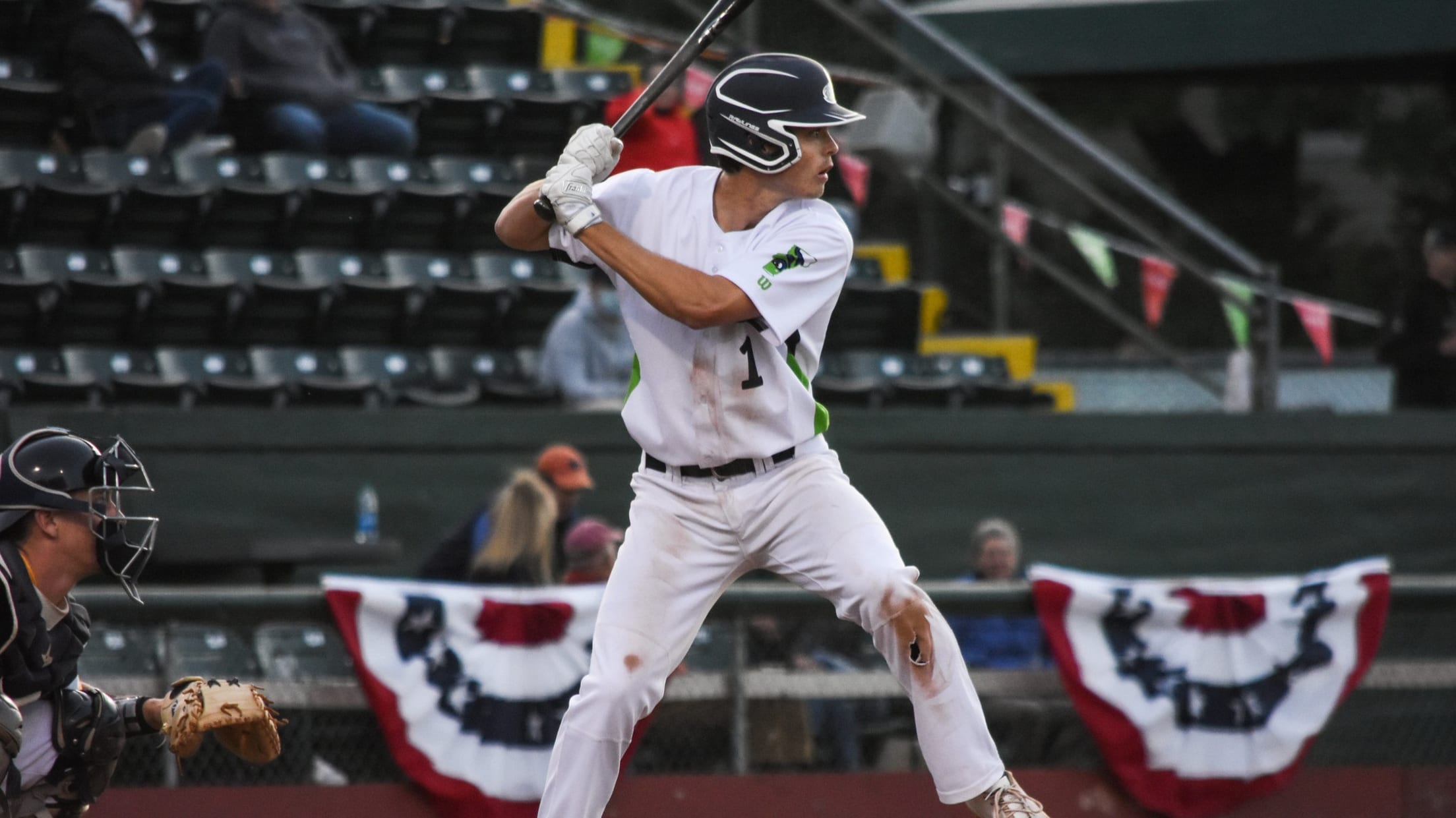 Andrew Bergeron snapped 3-3 tie with leadoff homer in top of seventh inning. (Greg Bessette, Lake Monsters)
BURLINGTON, VT --- The Lake Monsters rallied from an early 5-0 deficit as the bullpen threw 5 1/3 scoreless innings before Pat DeSalvo and Noah Granet's back-to-back RBI singles in the bottom of the ninth for a 6-5 Vermont walkoff victory over the New Britain Bees Tuesday night at historic
BURLINGTON, VT --- The Lake Monsters rallied from an early 5-0 deficit as the bullpen threw 5 1/3 scoreless innings before Pat DeSalvo and Noah Granet's back-to-back RBI singles in the bottom of the ninth for a 6-5 Vermont walkoff victory over the New Britain Bees Tuesday night at historic Centennial Field.
Vermont got the rally started in the fifth as Andrew Bergeron (Georgetown) tripled to rightcenter with one out for the Lake Monsters second hit of the game and scored on a Tom Vesosky (Southern Maine) grounder. Daniel Carinci (Kansas State), making his Vermont debut, drilled a three-run homer to left in the seventh cutting the Bees lead to 5-4.
Vesosky led off the bottom of the ninth with a single and advanced to second on a Carinci groundout. After Darren Hagan (Coppin State) walked, DeSalvo (Georgetown) lined a 1-2 pitch up the middle for an RBI single scoring Vesosky. Granet (Princeton) fouled off three straight 2-2 pitches before lining the game-winning RBI single just inside the rightfield foul line to plate Hagan.
Five Lake Monster relievers combined to toss the 5 1/3 scoreless innings, allowing just one hit with four walks and 12 strikeouts. That included Samuel Conte (Trinity University) striking out the side in the sixth in his Vermont debut, while M.T. Morrissey (Georgetown) and David Vial (Southern Miss) each with a walk and three strikeouts in one inning before Steven Miller (Georgetown) two strikeouts in the ninth innning for the win in his Monsters debut.
Middlebury College outfielder Alex Ritch went 2-for-4 with a run and RBI for New Britain (5-5), while starter Colin Blake allowed one run on two hits with one walk and 10 strikeouts over the first six innings. The Bees had taken the 5-0 lead with four runs on five hits in the fourth inning off Lake Monsters starter Francis Ferguson (East Nazarene).
Bergeron was 2-for-5 with two runs, a double and triple for Vermont (5-5), which has now won four straight games and will look to move over the .500 mark on Wednesday when the Lake Monsters host the Bees 7:05 pm at Centennial Field.