Lake Monsters Beat Nashua 6-5 Wednesday
Bergeron/Brown back-to-back homers, Anderson GW RBI single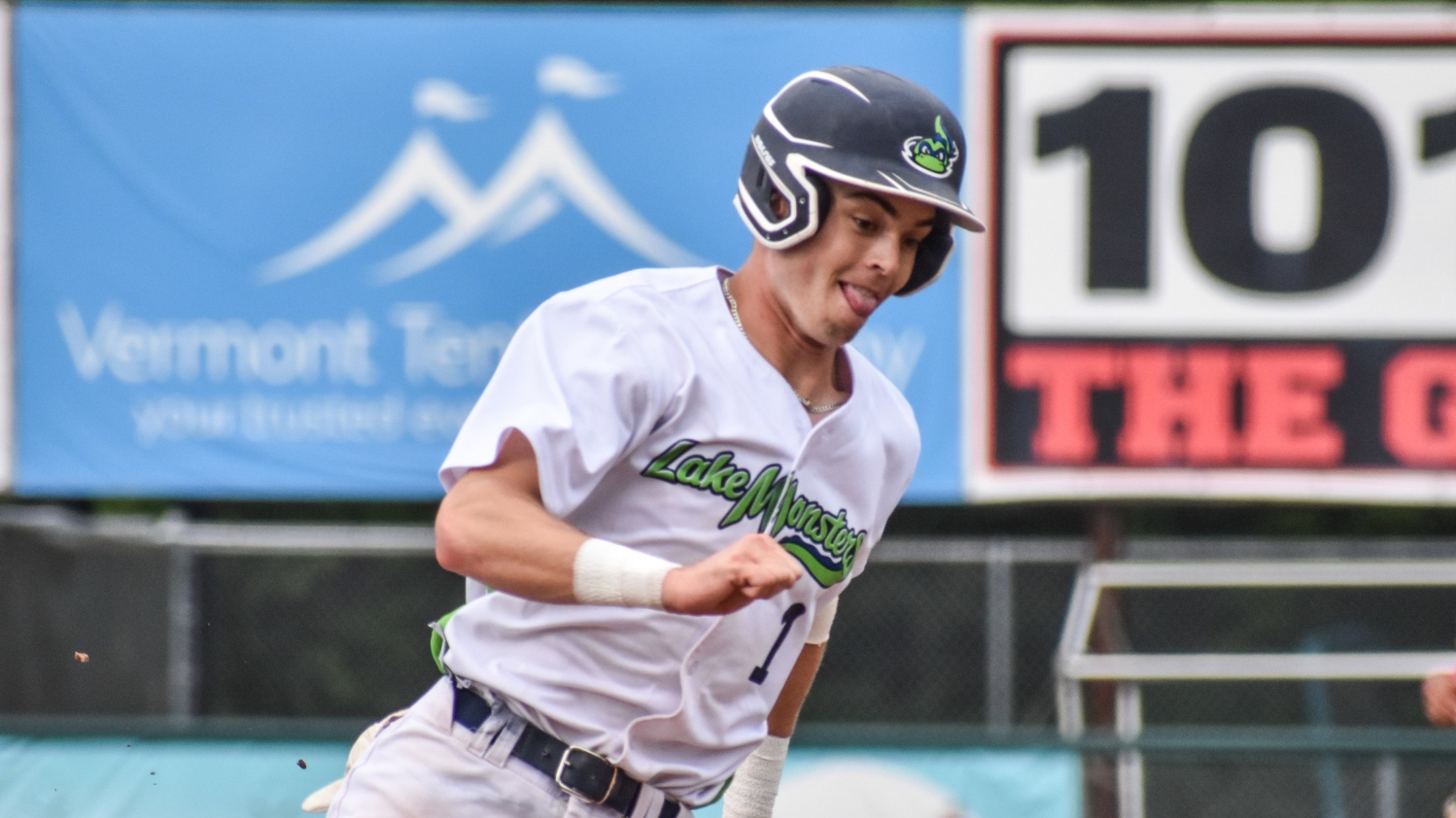 Andrew Bergeron was 2-for-4 with a solo homer in Vermont's 6-5 win over Nashua Wednesday. (Greg Bessette, Lake Monsters)
boxscore BURLINGTON, VT --- Andrew Bergeron and Chris Brown hit back-to-back homers in the second inning, while Ethan Anderson snapped a 5-5 tie with a two-out RBI single in the bottom of the seventh inning to led the Vermont Lake Monsters to a 4-3 Futures League victory over the Nashua
BURLINGTON, VT --- Andrew Bergeron and Chris Brown hit back-to-back homers in the second inning, while Ethan Anderson snapped a 5-5 tie with a two-out RBI single in the bottom of the seventh inning to led the Vermont Lake Monsters to a 4-3 Futures League victory over the Nashua Silver Knights Wednesday night at historic Centennial Field.
The Silver Knights jumped on top 3-0 in the first inning with a three-run double from starting pitcher Logan Ott, who gave up an RB single to M.J. Metz (Trinity) in the bottom of the first.
The Lake Monsters then tied the game in the second as Bergeron (Georgetown) hit a solo homer to rightfield for his fourth home run of the season and Brown (UConn) followed with a line drive shot to leftcenter for his second long ball of the season. Vermont almost made it three homers in a row as Tyler Favretto's (Crowder College) flyball was caught up against the rightfield fence.
Jimmy Evans (Tufts) gave the Lake Monsters a 5-3 lead in the third on a groundball two-run double down the rightfield line, but the Lake Monsters also were unable to score any more runs in the inning despite runners on second-n-third with no outs. That allowed Nashua to tie the game 5-5 with a pair of runs in the fifth, including a Brandon Fish RBI single
The Lake Monsters scored the go ahead run in the seventh after Favretto led off the inning with a walk and advanced to second on a one-out wild pitch before Anderson (Virginia) lined a 3-2 pitch thru the hole between first and second for the eventual game-winning hit.
Vermont used seven pitchers in the contest, starting with M.T. Morrissey (Georgetown) for three innings before six relievers combined to allow two runs (one earned) on three hits over the final six innings to secure the victory. Sammy Conte (Trinity) two strikeouts in a scoreless seventh and Wyatt Cameron (New England College) scoreless ninth for his second save.
With the victory, the Lake Monsters move back into first-place in the FCBL by one-half game over Brockton with Vermont (31-20) having won 19 of its last 21 games (all in July). The 19 wins in the month tie a franchise record for victories in July with the NYPL Vermont Expos back in 1995.
Vermont continues the homestand against the New Britain Bees with 7:05pm games Thursday and Friday. The first 500 fans through the gate on Thursday will receive a free Lake Monsters cap courtesy of Vermont Gas Systems.