Vermont Clinches Regular-Season Title Tuesday
Brown HR leads Lake Monsters To 6-4 win over Westfield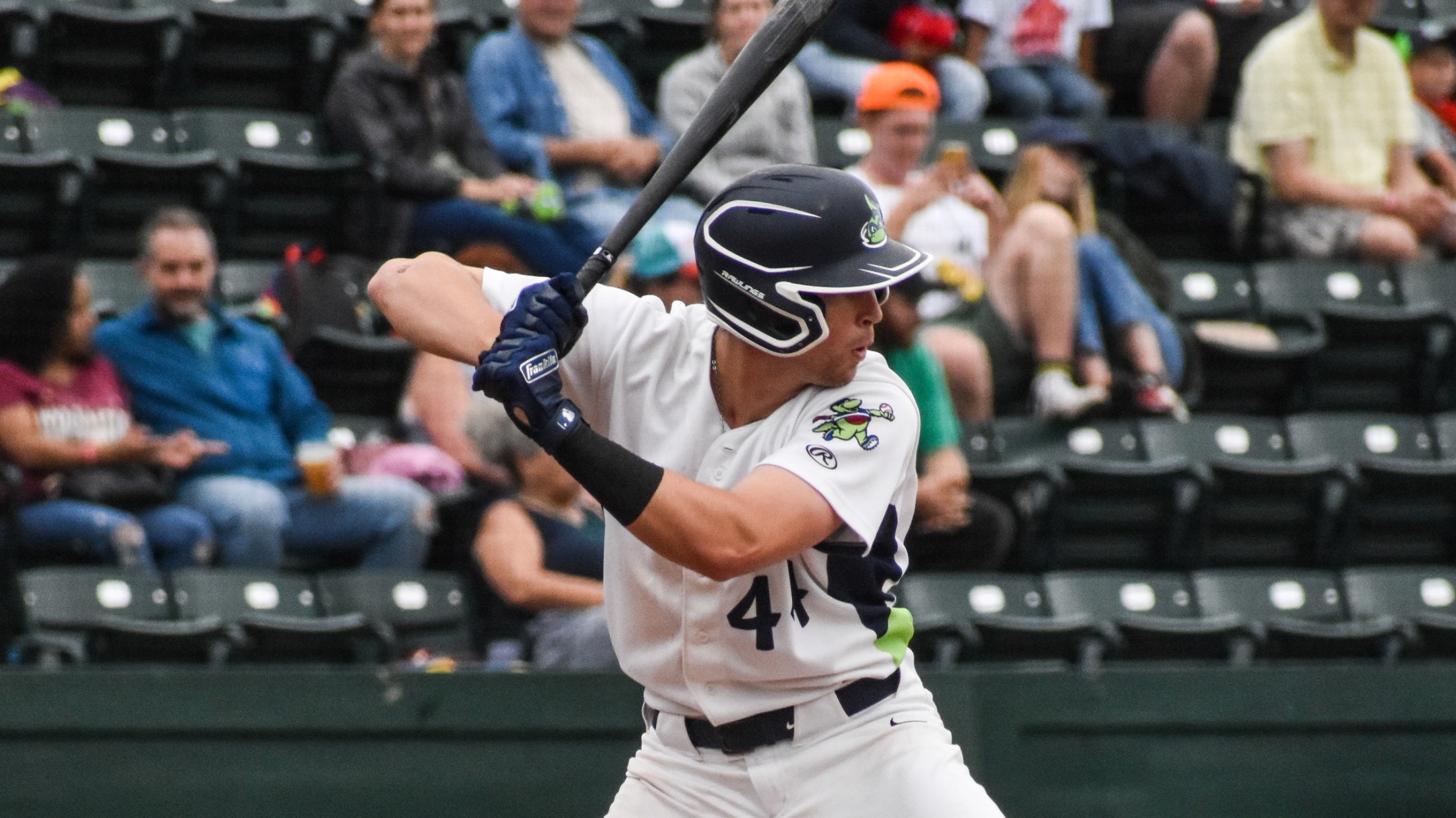 Chris Brown went 3-for-4 with a double, RBI triple and 2-run homer in Vermont's 6-4 win Tuesday. (Greg Bessette, Lake Monsters)
boxscore BURLINGTON, VT --- Chris Brown went 3-for-4 with a double, RBI triple and a two-run homer that snapped a 4-4 tie in the seventh inning as the Vermont Lake Monsters clinched the Futures League regular-season title with a 6-4 victory over the Westfield Starfires in front of 1,873 fans
BURLINGTON, VT --- Chris Brown went 3-for-4 with a double, RBI triple and a two-run homer that snapped a 4-4 tie in the seventh inning as the Vermont Lake Monsters clinched the Futures League regular-season title with a 6-4 victory over the Westfield Starfires in front of 1,873 fans at historic Centennial Field Tuesday night.
Vermont (41-22), which has now won 29 of its last 33 games, clinched the regular-season title just moments before the final out at Centennial when second-place Pittsfield lost 9-4 to Worcester. The Lake Monsters now lead the FCBL standings by 3 1/2 games over the Suns with just three games remaining for Vermont (two games for Pittsfield).
After Westfield scored a pair of runs in the third for a 2-0 advantage, Vermont came right back in the bottom of the inning with three runs including a Brian Schuab (Trinity) RBI single and Brown (UConn) RBI triple.
The Starfires plated another pair of runs in the fourth off Vermont starter Francis Ferguson (Eastern Nazarene) to retake the lead, but the Lake Monsters again tied the score bottom of the inning on a Nick Marola (UMass-Lowell) RBI single to right.
Game remained knotted 4-4 until the seventh when Schuab doubled to leftcenter with two outs and Brown followed by hitting the first pitch he saw over the leftfield fence for his fourth home run of the season (all coming in his last 15 games played).
Ferguson left with one out in the fourth inning after allowing four runs (three earned) nine hits, but the Lake Monsters bullpen once again dominated as five relievers combined to allow just four hits with one walk and 10 strikeouts over the final 5 2/3 innings of the game.
Silas Reed (Tufts) struckout six of the eight Starfires he faced in relief of Ferguson, while George Goldstein (Middlebury College) tossed a scoreless seventh to earn the win and Wyatt Cameron (Middlebury HS/New England College) struckout the final batter of the game with the tying runs on base to earn his fifth save.
The Lake Monsters have three regular-season games remaining Wednesday 7:05pm vs. Westfield and 7:05 pm Thursday/Friday vs. Pittsfield before Vermont opens up a best-of-three semifinal series vs. the fourth-place team Saturday at 6:05pm. Tickets for all four games (including Saturday's playoff game) are on sale now at www.vermontlakemonsters.com 24/7 or at the Centennial Ticket Office beginning at 12noon each day.