Diamondbacks, Rawhide Extend Player Development Contract
Affiliation Will Reach 14th Year in 2020, Second Longest in Franchise History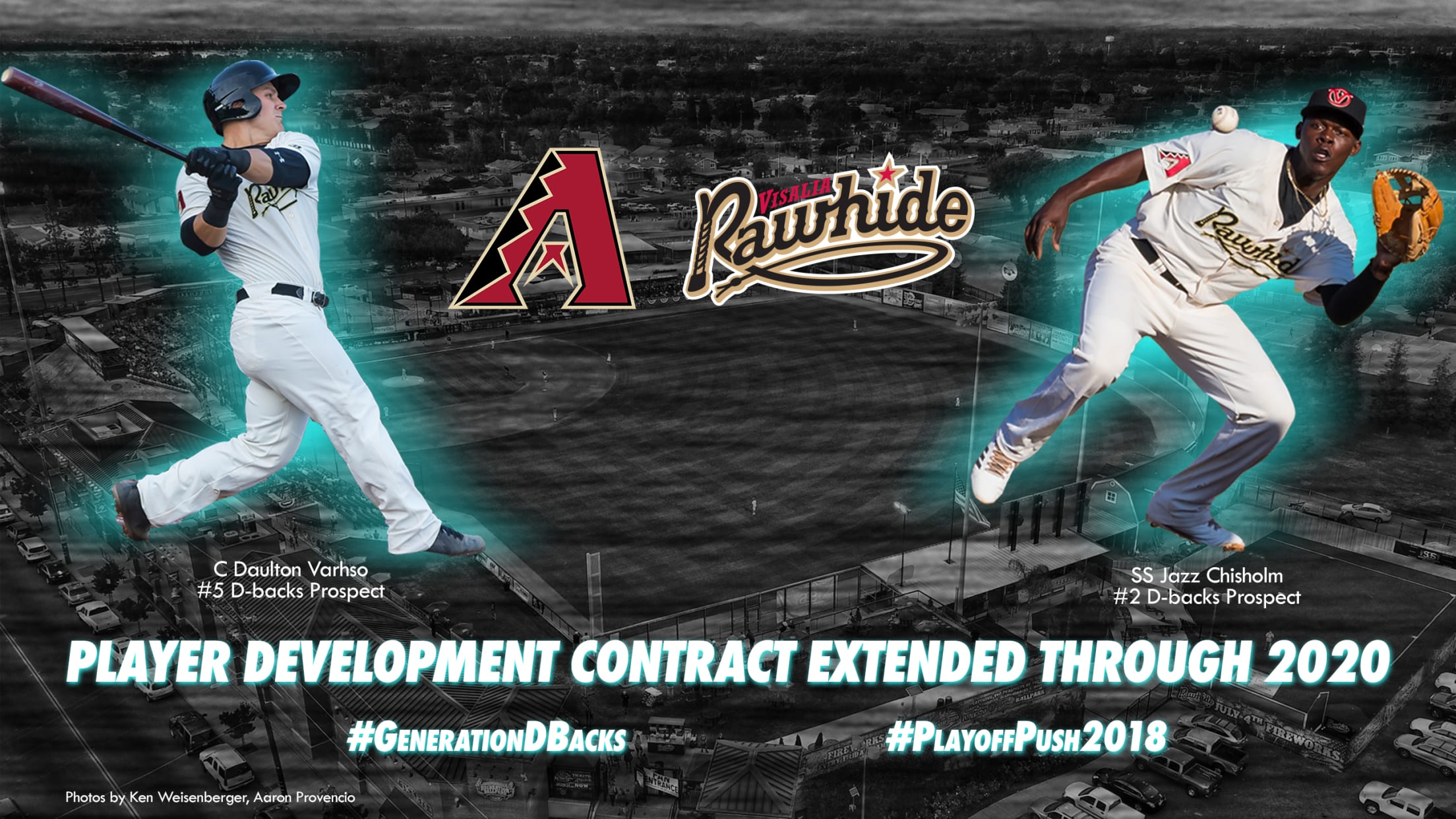 VISALIA, CA - The Visalia Rawhide and the Arizona Diamondbacks announced today that the teams have agreed on a two-year Player Development Contract extension, ensuring that the D-backs will remain in Visalia through 2020.  
VISALIA, CA - The Visalia Rawhide and the Arizona Diamondbacks announced today that the teams have agreed on a two-year Player Development Contract extension, ensuring that the D-backs will remain in Visalia through 2020.

"We are excited to announce that we have extended our partnership with the Visalia Rawhide for at least the next 2 years," said Mike Bell, Director of Player Development for the Arizona Diamondbacks. "Tom Seidler and Jennifer Reynolds have worked hard along with the city of Visalia to continue to improve the Recreation Park. Visalia is a terrific community, one that we are proud to be a part of."
Arizona has aggressively developed prospects in Visalia over the past 12 years. Rawhide alumni such as Max Scherzer, Archie Bradley, Trevor Bauer, Paul Goldschmidt, and Mitch Haniger have all gone on to make a substantial impact at the Major League level. The Rawhide reached the California League playoffs for four straight seasons between 2013 and 2016 and are in the midst of a playoff hunt this year.
The Diamondbacks are the second-longest tenured partner in Visalia professional baseball history, behind only the Minnesota Twins (1977-92), who sent future stars such as Kirby Puckett and Kent Hrbek to Visalia. The Arizona affiliation, which began in 2007, will reach its 14th season in 2020.
"We're fortunate to have great working relationships with our partners - the City of Visalia and the Arizona Diamondbacks," said Rawhide General Manager Jennifer Reynolds. "We are thankful for our partnership with the Diamondbacks that continues to send some of the top prospects in baseball through Visalia and are proud to have a facility with a charming personality for affordable family entertainment in the greater Visalia community."
The Visalia Rawhide are a professional baseball team in the Class A Advanced California League and are the only professional sports team in Tulare and Kings counties. The team has been an affiliate of the Arizona Diamondbacks since 2007 and is entering their 72nd year of play in 2018. The Rawhide renovated their home at Recreation Ballpark in 2009 and have since become the largest gathering of individuals in Tulare County, having set an attendance record for the seventh time in the past eight seasons in 2017. In 2018, the Rawhide look to continue their reputation for hosting competitive baseball while providing affordable family entertainment. To be a part of the 2018 Visalia Rawhide season, please contact the Visalia Rawhide Ticket Office at 559.732.4433, visit us online at rawhidebaseball.com, or follow us on Facebook (TheRawhide), Instagram (@VisaliaRawhide), and Twitter (@VisaliaRawhide).