Where Will They Be in 2020: Relief Pitchers
Our best guesses at where the 18 Power relief pitchers in 2019 will go in 2020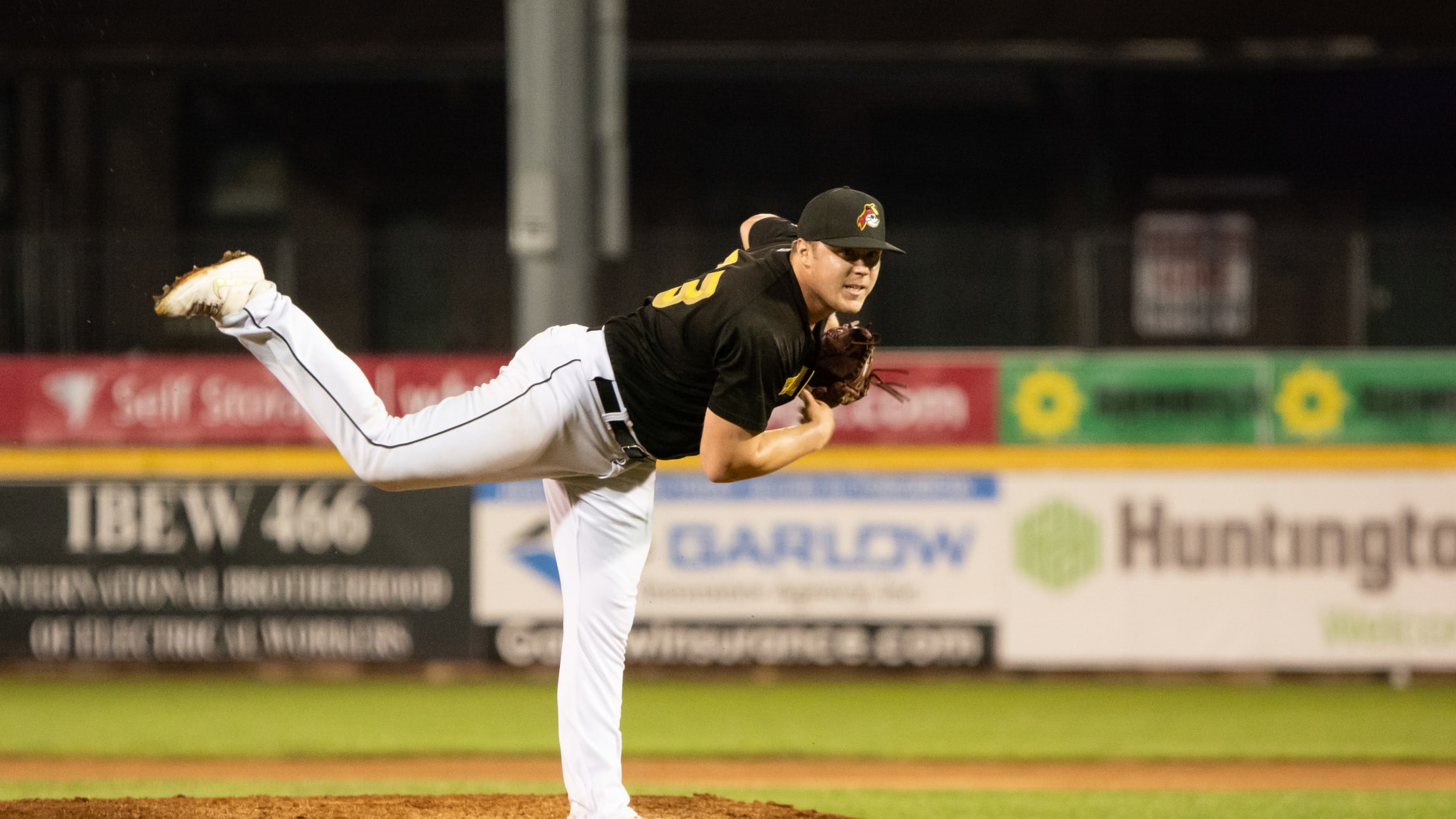 Bryan Pall was one of the Power's four Midseason All-Stars this season. (Joe Williams)
The 2019 Minor League season is more than three months behind us now, and with the Arizona Fall League wrapped up and Winter Leagues underway, fans, media, players and staff members are shifting gears to 2020. The pressing question on a lot of their minds: Who will be where in
The 2019 Minor League season is more than three months behind us now, and with the Arizona Fall League wrapped up and Winter Leagues underway, fans, media, players and staff members are shifting gears to 2020. The pressing question on a lot of their minds: Who will be where in 2020? Will players get an aggressive push to a new level? Will some be designated to repeat the station they were saddled with in 2019? The short answer is: We won't know for sure until April 2020, but that doesn't stop us from guessing.
Throughout the past few weeks, we've been making our best predictions as to where every player on the 2019 Power roster will end up. This series encompassed all 59 Power players who donned a jersey and appeared in at least one game (sorry, J.T. Salter….). First, we started with the catchers, then we moved on to the infielders before shifting to the outfielders and then off to the rubber with the starting pitchers. Now, we wrap things up with the men who wrap up the game, our relief pitchers.
The Power had 18 different men appear out of the bullpen in 2019 (Devin Sweet not included, as he became a starter in the second half): Elvis Alvarado, Dayeison Arias, Sal Biasi, Tyler Driver, David Ellingson, Elias Espino, Kyle Hill, Nolan Hoffman, Travis Kuhn, Reeves Martin, Brendan McGuigan, Reid Morgan, Benjamin Onyshko, Bryan Pall, Logan Rinehart, Jamal Wade, Matthew Willrodt and Robert Winslow.
From 2019 draft picks to some of the most dominant relievers in the South Atlantic League, the Power's 2019 relief corps had it all. However, this group will certainly not stay together in 2020. Let's dive in.
2020 Prediction: Extended Spring Training (then AZL Mariners)
Prediction Strength: MEDIUM
Alvarado made just one appearance for the Power and fared well, though his ERA is misleading as the one hit he gave up was a solo home run. His stuff still certainly needs refinement and he's still in the process of fully converting to the mound, which is why the Mariners will keep developing him post-March before they let him loose into the real action again.
2020 Prediction: Double-A Arkansas
Prediction Strength: MEDIUM
Besides Logan Gilbert, Jarred Kelenic and Julio Rodriguez, I think Arias would the next player from the 2019 Power to make the big leagues. He should be on the Mariners' prospect rankings in all outlets come 2020 after a banner year in Charleston and Modesto. The SAL Midseason All-Star compiled 13 saves in 14 tries, closed out the SAL All-Star Game, had the lowest ERA amongst all SAL relievers that appeared in 25 or more games (1.32) and still managed to be the team prankster (in cahoots with Bryan Pall).
Plain and simple, Arias is filthy good, and he has all the making of a back-end beast in a MLB bullpen. Watch out, he will rise quickly.
2020 Prediction: High-A Modesto
Prediction Strength: MEDIUM-STRONG
You have to feel a bit for Biasi, who has been traded twice in three professional seasons in the Minors. He spent all year with West Virginia following the April 14 trade that sent David Freitas to Milwaukee, but he never quite put together the dominant season he was hoping for. The Penn State product finished the year strong, ceding just four hits in his last six appearances, but walks were a huge issue (30 in 48.2 innings) that put him in some perilous situations.
However, Biasi is 24 years old, and at some point you have to test him. He has spent the last two seasons in Class A, so time to see what he can do in the pitcher-friendly confines of Modesto. Also, he and Sweet are going to open a barbershop together when their baseball careers end. Sweet is the barber, Biasi is the manager. Dynamic duo.
2020 Prediction: Extended Spring Training (then AZL Mariners)
Prediction Strength: STRONG
Driver has his name etched in the Power record books forever, as he is the first player born in 2001 to suit up for West Virginia. While his three-inning spot relief outing was fun to watch, he got roughed up as a starter in the AZL (5.67 ERA in 13 games), so Seattle will want to tighten the reigns on the 18-year-old's development and figure out where he fits best on a staff.
2020 Prediction: High-A Modesto (could jump quickly with a strong start)
Prediction Strength: STRONG
The man, the myth, the beard. Funny enough, Ellingson and his majestic facial hair (which he really doesn't groom that much, surprisingly), were never supposed to be in West Virginia. It was until an 11th-hour trade that sent Grant Anderson to the Texas Rangers went through that Ellingson found himself traveling cross-country to join the Power for Opening Day. He quickly proved that he deserved to be in Modesto, posting a 2.95 ERA in 21 games in the first half before going back to the Nuts.
Though he was quite serviceable in California in the second half, he should start there again as one of their key bullpen pieces before competing for an early promotion once Arkansas makes some transactions.
2020 Prediction: Released by the Mariners on September 13th
Prediction Strength: N/A
A tough pill to swallow for Espino, who really started to find his rhythm down the stretch for West Virginia, but Seattle elected to release him in mid-September. Hopefully he finds a home elsewhere, because the 22-year-old had some brilliant flashes in the season's final month, especially as a long reliever.
2020 Prediction: West Virginia
Prediction Strength: MEDIUM
It was a tale of two seasons for Hill, who didn't give a run in his final season as the Baylor Bears closer before being taken in the 10th round by Seattle in June. However, the Minor Leagues proved significantly rougher than the Big 12, as the Louisiana native got battered around to the tune of a 6.05 ERA. The strikeout numbers were there (21 in 19.1 innings), but 18 runs to go along with that isn't going to get the job done. Here's hoping a full off-season will give Hill a reset and allow him to regain some of that dominant mojo he felt with Baylor in his senior year.
2020 Prediction: West Virginia
Prediction Strength: STRONG
Gutted is the only way we can describe what happened to Hoffman in the 2019 season. The submarine specialist was simply on a roll to start the year, converting all four of his save attempts and baffling SAL sluggers with his arsenal of pitches and release points. However, he was struck with Tommy John in early May and had to get surgery, extending what would be a slew of blows to the Power bullpen.
Hoffman is off the injured list officially as of September 16, and the hope is he is healthy enough for Spring Training that he can return to West Virginia and pick up right where he left off in 2019. Only time will tell.
2020 Prediction: Extended Spring Training (then Short-Season Everett)
Prediction Strength: MEDIUM
Kuhn had a brief cup of coffee with West Virginia and had mixed results before he was relegated to Everett for the rest of the season. While the numbers weren't stellar there either, the 19th-round selection did manage to close out quite a few games for the AquaSox down the stretch, so maybe we see him turn into a full-time closer in 2020. Some extra work post-March could help refine Kuhn's role before he dives back into live-game action.
2020 Prediction: West Virginia
Prediction Strength: STRONG
One of the plethora of 2019 draft picks that found their way to West Virginia this year, Martin balanced himself out well in the SAL after getting roughed up with Everett to start his Minor League tenure. A solid reliever with a knuckle-curve to boot, Martin entered in just about every inning possible out of the bullpen for the Power, though his three blown saves tended to keep him out of the closer role for a majority of the season.
Though he put a strong foot forward in Charleston, expect Martin to see the Appalachian Power Park rubber a few more times before he jets off to the West Coast.
2020 Prediction: West Virginia
Prediction Strength: MEDIUM
McGuigan had an interesting tagline bestowed upon him during his short time in West Virginia this year, the bearer of bad defense. Despite allowing 10 runs in 11.1 innings, only two of them were earned, and batters hit just .191 against him. See what we mean?
A small sample size makes it hard to predict where McGuigan will start in 2020, but being 24 years old should boost him into full season at least, whether that's with the Power or Modesto.
2020 Prediction: West Virginia (starting rotation)
Prediction Strength: WEAK
Morgan is the first of two relievers we have this prediction for, and it's simply because that's where they excelled in college. Morgan had a solid senior year for the Gamecocks before being drafted, and then was put on an innings limit to try and avoid arm fatigue in his first professional season. That stress could have led to his inflated numbers in West Virginia, but he was downright dominant in Everett, so it's easy to see him starting the year with the Power. Whether he'll be a starter or reliever is up to Seattle, but one thing to note is his first inning was usually his best inning this past year.
2020 Prediction: High-A Modesto
Prediction Strength: STRONG
Onyshko was one of a few relievers that stayed with West Virginia the entire season, and he proved himself valuable in a myriad of ways, whether it was as a spot starter, long reliever, innings eater, etc. Onyshko did it all as basically the only consistent southpaw out of the bullpen, and he put up rather respectable numbers as well.
2020 Prediction: High-A Modesto
Prediction Strength: STRONG (Lock it in)
What a debut season for Pall! A Midseason All-Star nod, 29 appearances with minimal health issues after missing two years due to Tommy John surgery and remarkable numbers to show for it. Plus, the Michigan product is the nicest guy on the planet. It's hard not to root for this guy to make the big leagues, and with the performance he put on in 2019, he certainly set himself down the right path.
As much as we all want Pall to remain in West Virginia forever just so we can see him more, it won't happen. He's off to the West Coast for bigger and better things, but we certainly won't forget his time here (and if you want to learn more, listen to his podcast episode or read his feature story).
2020 Prediction: West Virginia (starting rotation)
Prediction Strength: MEDIUM
Remember Morgan's prediction? Rinehart is the other pitcher we were talking about. The reigning WAC Pitcher of the Year was drafted as a starter by Seattle, but was also placed on an innings restriction due to his workload for Cal Baptist in 2019. He was still stellar out of the bullpen, but Rinehart will be in the rotation come 2020, most likely in The Capital City.
2020 Prediction: West Virginia
Prediction Strength: STRONG
Tough tidings for Wade, he had a very solid debut with the Power where he fanned a career-high eight batters over three innings against Greenville before his arm gave out against Lexington. Wade also missed the rest of the year after undergoing Tommy John surgery, but, like Hoffman, he appears to be on the road to recovery and should be back for the 2020 season (and in West Virginia). Wade was a promising piece of the bullpen that never got to showcase what he could do last year, so hopefully the 2020 campaign is his time to shine.
2020 Prediction: Your Guess is as good as mine (but probably Modesto)
Prediction Strength: WEAK
Willrodt is the definition of a journeyman. Whenever your season involves 12 transactions, that's your label, and there is no getting around it. Though he only shuffled between three different levels, Willrodt probably could handle TSA Security lines in his sleep with all the traveling he did this year. He actually fared better in Modesto than he did in West Virginia, so that seems to be his prime spot. Really, he just needs to stay on solid ground for more than three weeks at a time and find a groove.
2020 Prediction: West Virginia
Prediction Strength: MEDIUM
First off, The Masters College became a breeding ground for future Power players in 2019 (see: David Sheaffer and others). Winslow, however, was the cream of the crop out of that California-based educational facility, as he posted a 1.00 ERA in 17 career appearances between the AZL and West Virginia in 2019. Unfortunately, he'll be remembered as the guy that gave up the no-hitter on the Power's final day of the regular season against Greensboro, but, besides that one blemish, his season was spectacular.
With a 6-5, 215-pound frame and numbers like that, put him in the back end of an already-bolstered Power bullpen and let him loose. He's going to be fun to watch.
The Power bullpen was a revolving door during the 2019 season, but it produced quite a few diamonds that will shine their way up to higher ranks in 2020 and beyond, as well as a few rough stones that still need some polishing.
That's going to wrap up our 2020 prediction series! We hope you enjoyed this look back (and look ahead) at the 2019 and 2020 Power rosters. For now, we bid you adieu until the new year. Have a wonderful holiday season!