Where Will They Be in 2020: The Catchers
Our best guesses at where the five Power catchers in 2019 will go in 2020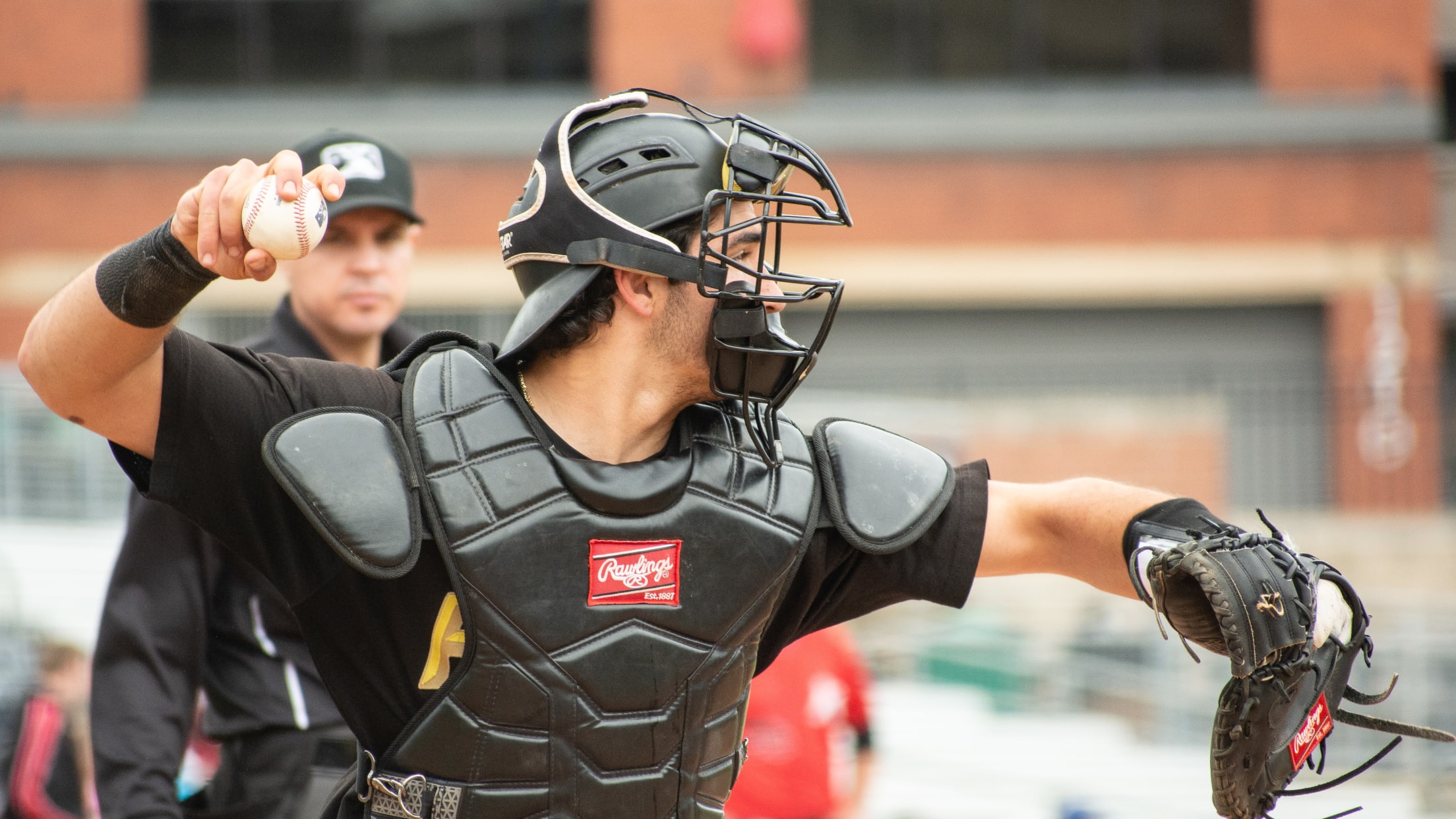 Jake Anchia was the Power's primary catcher in 2019, making 68 starts behind the plate. (Joe Williams)
The 2019 Minor League season is more than two months behind us now, and with the Arizona Fall League wrapped up and Winter Leagues on the horizon, fans, media, players and staff members are shifting gears to 2020. The pressing question on a lot of their minds: Who will be
The 2019 Minor League season is more than two months behind us now, and with the Arizona Fall League wrapped up and Winter Leagues on the horizon, fans, media, players and staff members are shifting gears to 2020. The pressing question on a lot of their minds: Who will be where in 2020? Will players get an aggressive push to a new level? Will some be designated to repeat the station they were saddled with in 2019? The short answer is: We won't know for sure until April 2020, but that doesn't stop us from guessing.
Throughout the next few weeks, we'll be making our best predictions as to where every player on the 2019 Power roster will end up. This series will encompass all 59 Power players who donned a jersey and appeared in at least one game (sorry, J.T. Salter ….). We'll go by position group, starting with catchers, then moving to infielders, outfielders and finally, the pitchers. Without further ado, here we go.
First off, a quick reminder of the five men who sat behind the plate for us this season: Jake Anchia, Anthony Lepre, Dean Nevarez, Manny Pazos and David Sheaffer.
2020 Prediction: High-A Modesto Nuts
Prediction Strength: STRONG
Anchia was a star in West Virginia, holding down both a veteran and young pitching staff at different points during the season, all while providing continuous success behind the plate, as he committed just nine errors in 68 games. Though his average (.213) and strikeout numbers (107) left something to be desired in West Virginia, Anchia's power (12 homers), Midseason SAL All-Star nod and strong relationship with his hurlers earned him a well-deserved promotion to Modesto in early August.
Though Anchia hit just .105 with the Nuts, it was in a rather small sample size (11 games), and with an off-season of preparation and a year's experience of the 140-game grind behind him, the Nova Southeastern product should find himself behind the plate in California a fair amount next season.
We will miss Anchia's clutch gene (who could forget his mammoth grand slam against Delmarva or his walk-off three-run homer vs. Kannapolis?), but he'll always be a fan-favorite in Charleston.
2020 Prediction: Extended Spring Training (Short-Season Everett in June)
Prediction Strength: MEDIUM
Lepre is a tough one to pinpoint. While he got a pretty full 42-game sample size after his 28th-round selection this past year from The Master's University (California), 36 of those contests were spent under the careful eye of Mariners' coordinators in the AZL. He flexed the propensity for power with five homers in his AZL tenure (including one in his final at-bat before learning of his promotion to West Virginia), but he appeared overmatched in his six games at the full-season level, going 1-for-16 with just one RBI and eight strikeouts.
The Mariners will most likely let Lepre get his legs under him after 2020 Minor League Spring Training concludes, and then dispatch him to Everett in June with a lot of his fellow 2019 draftmates. Depending on how he does there, Lepre could find himself back in Charleston at some point in 2020.
2020 Prediction: West Virginia Power (starting catcher)
Prediction Strength: MEDIUM-STRONG
Nevarez came up to West Virginia on April 19 after Manny Pazos earned his early-season bump to Modesto. Having only spent time in the AZL, the South Atlantic League seemed to be a giant leap for the former San Diego State Aztec, but Nevarez slipped right into the fold and made a name for himself early on in West Virginia, delivering the team's first walk-off homer of 2019.
That may have been his shining moment in 2019, and it was even more meaningful by the storybook ending it provided. Following a brief mid-season stint in Everett, Nevarez finished the year with West Virginia and took over the main catching duties when Anchia got the bump in August. He'll most likely be given the opportunity to show he can maintain himself and lead a staff for 140 games this year, and West Virginia fans should have a front row seat to his growth.
2020 Prediction: High-A Modesto Nuts
Prediction Strength: STRONG
Though Pazos hasn't played a full season since 2017 due to nagging injuries or a back log behind the plate in the forms of Anchia and Cal Raleigh, he's 24 years old and will be 25 by the time the season begins next April. Though the Power did have some 25-year-olds on their squad this year (Clay Chandler, and Steven Moyers, for example), the tendency for the older guys still in the system will be to start in High-A and see what they can provide.
Pazos showed a real knack dealing with runners on base in 2019, catching 35 percent of runners trying to steal against him with the Power. He also picked off quite a few runners at both first and second, a skill he was the only one to produce amongst West Virginia's catching core in 2019. He's got tools, and he has the utility background, spending time at every position on the field except shortstop (yes, even pitching) during some point in his Minor League career. Guys like that are great to have around for a multitude of reasons, but Pazos really just needs a primary chance to prove what he can do on a consistent basis. He could find that in Modesto next year.
2020 Prediction: High-A Modesto Nuts
Prediction Strength: STRONG
Now, I know what you're thinking. David Sheaffer isn't a catcher. Well, kind of. Much like Pazos, Sheaffer is a super-utility guy, but, he's caught more than any other position, so we have him in with the catchers.
Anyways, Sheaffer was a very solid boost to the Power's lineup during his one-month stint with the club. The righty averaged .314 in 22 games with 12 RBI and was useful all over the diamond. While lots of folks expect Sheaffer to stick in the outfield, his second-most primary position, he hasn't been too shabby as a catcher in his Minor League career, only allowing four passed balls and committing five errors in 35 career games behind the dish.
Regardless, Sheaffer came down to West Virginia to boost the offense and provide relief for a bevy of full-season first-timers as they went down the first-half stretch and into the second half, and once he did that, he was swept up to Modesto, where he finished the year. The 2013 Tampa Bay Rays selection has had a cup of coffee in both Double-A and Triple-A, but expect him to make a few more metaphorical "leaps" in California before he steadies himself in Arkansas or Tacoma, as the Mariners are jammed up at both catcher and outfielder, especially in the higher levels of the Minor Leagues.
Anchia, Pazos and Sheaffer have most likely seen their last days in West Virginia. They are either too good, too old, or both, for the South Atlantic League. Meanwhile, Nevarez should get his opportunity this season to prove himself as a viable piece of the Mariners' rebuilding puzzle in West Virginia, while Lepre will try and make a name for himself and work his way back up to the Power by season's end.
Stay tuned for our 2020 infielder predictions, which are set to come out next week!