NYSEG Stadium Guide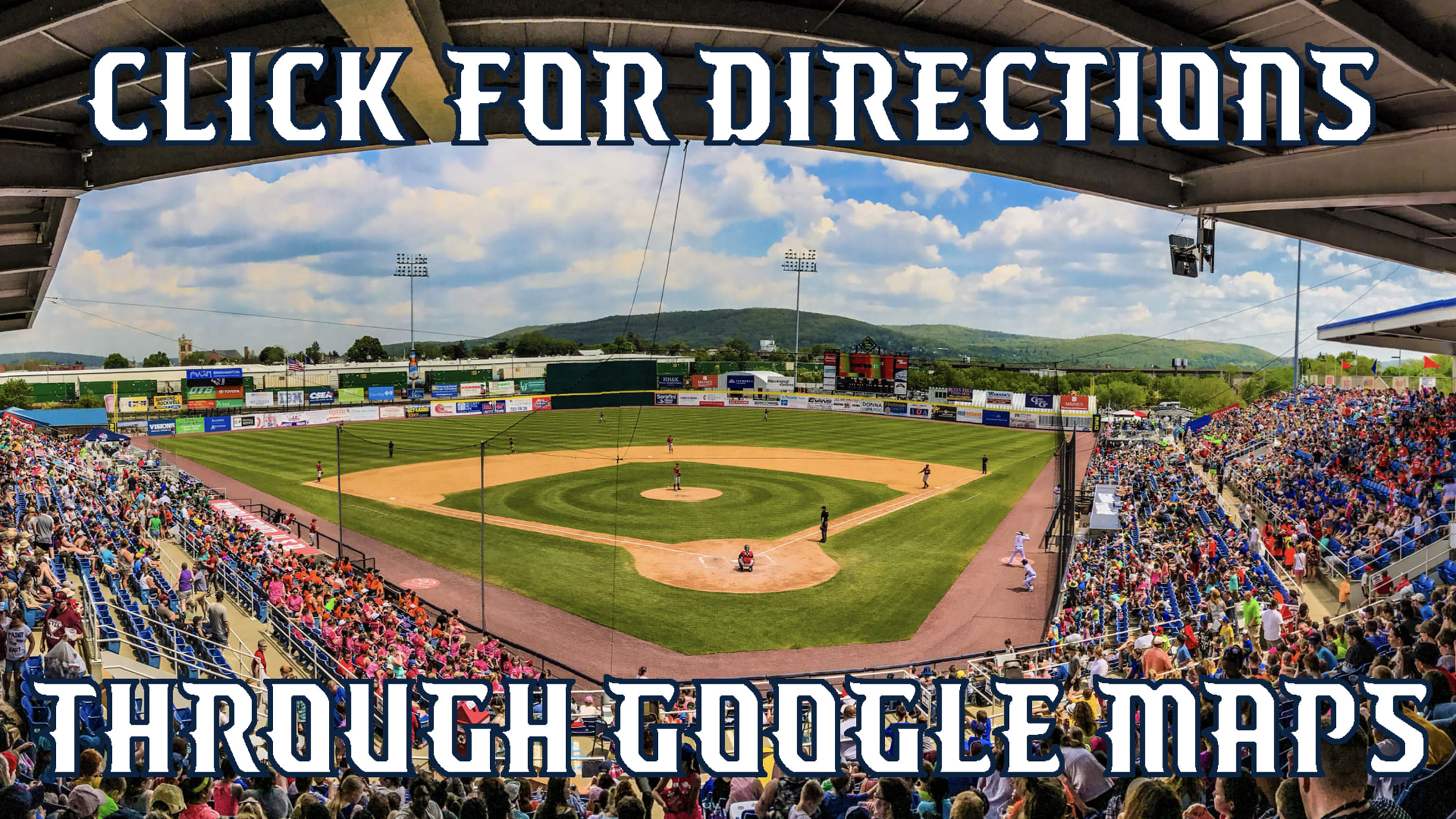 NYSEG STADIUM A-Z GUIDE
A
Alcohol Policy - NYSEG Stadium has multiple points of sale for alcohol including 4 portable carts, the Good Hops station, and Bully Hill Wine Cellar. A valid photo ID is required to purchase all alcoholic beverages. Outside alcohol beverages will not be allowed inside NYSEG Stadium. No alcoholic beverages will be allowed outside of the gates of the stadium. Starting in 2018, nightly alcohol sales will conclude in the ninth inning.

Affiliation - The Binghamton Rumble Ponies have been the proud Double-A Affiliate of the New York Mets since 1992. Other affiliates within the Mets minor league system include the Triple-A Syracuse Mets (International League), Advanced Class-A Port St. Lucie Mets (Florida State League), Class-A Columbia Fireflies (South Atlantic League), Short Season-A Brooklyn Cyclones (NY-Penn League) and Rookie-Level Kingsport Mets (Appalachian League) and GCL Mets (Gulf Coast League).

Animals - Animals are not allowed inside of NYSEG Stadium with the exception of properly documented service animals, as well as designated Bark in the Park Nights. 2019 Bark in the Park dates will be announced at a later date. 

Armory Team Store - See: Merchandise

ATM - The NBT Bank ATM is located off the concourse behind home plate, just inside the administrative offices. Service fees may apply depending on your financial institution.  

Autographs - Home and Visiting players may sign autographs at their discretion both before and after games. Fans are permitted to line up along the 1st base and 3rd base line in the front row prior to the start of the game. Autograph seekers may be asked to move should the seat holder wish to access their seat during the hour leading up to the game. Prior to all Monday home games, select Rumble Ponies players will be available for autographs in the UHS Sports Medicine Jumper Zone from 5:40 - 6:00 PM.
B
Bag Check - All bags including purses, totes, backpacks, and otherwise will be searched upon entry. No outside food and beverage is permitted inside of the ballpark. If food or beverage is found inside your bag upon entry it will be confiscated. Umbrellas are permitted to be brought inside the stadium in a bag. Blankets are permitted to be brought inside a bag. 

Ballpark Tours - Behind the scenes tours of NYSEG Stadium for groups are available by reservation only. Contact the Rumble Ponies Front Office at (607) 722-3866 to arrange your tour.  

Baseball Clinics - Each summer the Binghamton Rumble Ponies host a three-day clinic with the players in August. Please stay tuned for 2017 dates to be released soon. 

Batting Practice - Early entry to watch batting practice is restricted to credentialed media and 2019 Rumble Club Platinum Members. One-time use batting practice passes are also available with all 2019 Rumble Club Gold packages. For daily batting practice times and weather updates, please call (607) 722-3866.

Behavior and Conduct - Rumble Ponies Baseball is a family-oriented experience. We ask that the behavior of all spectators be in accordance with the environment. Any use of disruptive and vulgar language and/or gestures will be prohibited. Furthermore, fans will be asked to leave the ballpark without a refund if they are wearing any items that display obscene or derogatory imagery or messages. If your experience at NYSEG Stadium is being interrupted by the behavior of another fan please contact the nearest usher to resolve the matter.

Birthday Parties - See: Wegman's Birthday Bash 

Box Office - The NYSEG Stadium Box Office is located at the corner of Henry and Fayette Streets between Gates 2 and 3. Hours of operation are as follows: Monday-Friday 9:00 AM - 5:00 PM on all non-game days and 9:00 AM through the end of the game on game days. A second Box Office is located outside Gate 1 and opens 30 minutes prior to gates opening on game days only
Broadcasts - All 140 home and away Rumble Ponies broadcasts can be heard locally on WNBF 1290 AM or streaming via the TuneIn App. Weekday day games (home and away) will be broadcast on CBS Sports 1360 AM. Games can be viewed on Minor League Baseball's subscription streaming service MiLB.TV.
C
Cameras and Digital Recording Devices - Cameras and Digital Recording Devices are allowed inside of NYSEG Stadium for personal use only. No professional zoom lenses, tripods, and etc. are allowed unless permitted by the management. For press credentials please email Tim Heiman at tim [at] bingrp.com.

Checks - Any checks must be made payable to the Binghamton Rumble Ponies. Personal checks are only accepted for Group Ticket Purchases, Ticket Plans and Sponsorships.

Children's Ticket Prices - Children under the age of 3 do not require a ticket for entry, but must sit on a parent/guardian's lap for the entirety of the game. If you would like your child to occupy a seat, they will require a ticket. All children ages 3-12 are eligible for a $2.00 discount off regularly priced tickets.  

Concessions - 2019 Concessions Information Coming Soon 

Credit Cards - The Rumble Ponies accept Visa, Mastercard, American Express, and Discover at our Box Office, Armory Team Store and most Food and Beverage stands. 
D
Directions - Link to Google Maps

Donation Requests - All donation requests must be submitted via THIS LINK and are subject to review by the Rumble Ponies Community Relations department. Requests by phone or mail will not be honored.
E
Elevators - An elevator can be found on the concourse level behind home plate across from the Administrative Offices. The elevator is to be used by only by Moore's Tire Sales Luxury Suite patrons and members of the media. For wheelchair access to the seating area, a lift is located at the East end of the Southern Tier Brewing Party Deck. If special accommodation is required, please locate a Rumble Ponies staff member for assistance.  

Exchanges - All ticket sales are final at the point of purchase. For store merchandise exchanges items must be in the original condition as when they were purchased including but not limited to all tags being attached to clothes and not show any signs of use. Merchandise will be exchanged for items of equal or lesser value to the original purchase. 
F
Fan Services - Please see Moore's Tire Sales Fan Services.

Fan Mail - Letters and/or packages mailed to Rumble Ponies staff and players should be individually addressed to them and sent to 211 Henry Street, Binghamton, NY 13901. The Rumble Ponies are not responsible for any items sent to players as fan mail is answered at each individual player's discretion. Rumble Ponies staff is not permitted to fulfill any autograph requests.

Field - The Binghamton Rumble Ponies play on Kentucky bluegrass turf installed in 2015 by Clark Company. The dimensions of the field are as follows: Right Field - 330 feet, Center Field - 400 feet, and Left field - 330 feet.

First Aid - A first aid station can be found just inside the main gate behind home plate. A nightly staff of two to three EMTs provided by UHS or Lourdes on a rotating basis, are on hand to assist all fans in need of medical attention. In the event of an emergency, please seek out the nearest Rumble Ponies usher or staff member to contact First Aid.

FreshySites Terrace - Located next to Section 13 on the third base line, the FreshySites Terrace is a ticketed area featuring seventeen front row swivel chairs, five 8-Seat picnic tables and five 4-seat picnic tables. All Terrace tickets include in-seat wait service and each patron's choice of an entrée, side and bottled soda or water. Front row seats are available individually while all tables are a minimum purchase of four tickets through the NYSEG Stadium Box Office. Group reservations are also available by calling Group Sales at (607) 722-3866.

Fundraising - The Binghamton Rumble Ponies offer discounted fundraising ticket packages for non-profits and charitable organizations. For more information, Click THIS LINK
G
Gate Times - Gates will open an hour prior to the scheduled game time Saturday through Thursday unless otherwise noted, and 90 minutes before Friday night games.

General Admission Seating - The Rumble Ponies do not offer any form of general admission seating. Two types of tickets are offered - Reserved Grandstand and Box Seat. General standing areas are located along the first and third base lines beyond Section 18 and the FreshySites Terrace respectively. These areas are designated for overflow wheelchair seating if needed and those patrons will be given first priority.

Giveaways - The Binghamton Rumble Ponies will on occasion, hold giveaway nights during the 2019 season. All giveaways are one item per person in attendance and additional tickets may not be purchased to acquire additional giveaway items. Quantities and age restrictions may be imposed at the discretion of the Binghamton Rumble Ponies and any partnering sponsors.
H
Handicap Accessible Seating - Wheelchair accessible and handicapped seating is offered above Sections 1, 2, 11, 12 and 16. A limited amount of ADA (Americans with Disability Act) seating is available on a nightly basis. Folding chairs will be provided for customers and companion seating. For questions on accessibility, please call the NYSEG Stadium Box office at (607) 722-3866.

Hotels Near Ballpark - Rumble Ponies fans looking to stay near the ballpark are encouraged to visit the Holiday Inn Arena, located in downtown Binghamton, less than 1 mile from NYSEG Stadium.
I
Internships - Internships are available with the team from January through September in areas such as: Marketing, Sales, Ticket Sales, and Video Production. Positions are filled in the fall and winter. Open positions will be posted at https://www.teamworkonline.com/baseball-jobs/easternleague/binghamton-rumble-ponies
J
Job Opportunities - Open positions will be posted at https://www.teamworkonline.com/baseball-jobs/easternleague/binghamton-rumble-ponies
K
Kids Club - See: McDonald's Kids Club

Kids Zone - See: UHS Sports Medicine Jumper Zone
L
Lost and Found - If you have lost an item while at NYSEG Stadium you can stop by the Moore's Tire Sales Fan Services window throughout the game located on the concourse directly behind home plate. You may also call
(607) 722-3866 during business hours (M-F 9:00 AM - 5:00 PM) to see if the item has been turned in.
M
Mascot Appearances - To request an appearance at your next event by Rowdy the Rumble Pony, please email [email protected]
 
McDonald's Kids Club - 2019 details TBA.
Merchandise - Merchandise is sold throughout all home games in the Armory team store located behind home plate near Sections 103 and 105. Fans are also welcome to stop by the store during regular business hours (M-F 9:00 AM - 5:00 PM) when the team is on the road.
 
Moore's Tire Sales Fan Services - Located between the Rumble Ponies administrative offices and the Armory Team Store on the home plate concourse, Fan Services is available to answer any questions you have about the Rumble Ponies or NYSEG Stadium.

Moore's Tire Sales Luxury Suite Rentals - NYSEG Stadium features six Luxury Suites located directly behind home plate above Sections 100-102. All Suites feature an exclusive catering menu, full wait service, climate control, fully stocked refrigerators, private restrooms and cable TV. Moore's Tire Sales Luxury Suites are available for single game rentals as well as partial and full season leases. For pricing and availability, please contact the Sales Department at (607) 722-3866.  
N
 
O
Official Game - Eastern League games are official after five (5) full innings or 4 1/2 innings if the home team is ahead. If a game is called after this point in time, no makeup or continuations will be scheduled unless the game is tied. Rain checks are not issued once a game becomes official. If a game is called before it becomes official, a makeup or continuation will be scheduled by the Eastern League and rain checks may be distributed at the discretion of the Rumble Ponies management.
Online Ticket Sales - Game tickets and Flex Books may be purchased online via the Rumble Ponies ticketing provider TicketReturn.com. Service and processing fees apply.
 Outside Food and Beverage - Per official Eastern League rules, outside food and beverage are NOT allowed inside of NYSEG Stadium. If you have a special dietary request, please contact the Front Office at (607) 722-3866.
P
Parking - Parking is $5 per car and $15 per bus (Cash only) in the Henry Street lot directly behind the right field outfield wall. On fireworks nights, the West half of the lot is closed off for the Toyota Fireworks show. We ask you to please be courteous to our Gearcor Parking Lot staff as they ensure the safety of all of our fans. Other privately owned, paid parking lots are located in the neighborhood surrounding NYSEG Stadium and the Binghamton Rumble Ponies are not responsible for pricing, policies or availability of parking in these locations.  
 Party Deck - Brand new to NYSEG Stadium in 2017 is our Party Deck located along the first base line of the ballpark. To ask how you can book your groups next event on the deck call or Sales Department at (607) 722-3866.
 Picnic Pavilion - Located in left field, pre-game and in-game picnic rentals are available nightly for groups of 30+ (shared space) and 150+ (exclusive). Includes a game ticket and 90-minute all you can eat buffet. For details and to reserve your picnic, contact group sales at (607) 722-3866.
Playoffs - Eastern League Divisional Playoffs are held the weeks following the conclusion of the regular season with the top two teams in each division meeting in best-of-five series. The winning teams will meet in the Eastern League Championship series the following week.  

Programs - 2019 Souvenir Program details TBD
 Public Address Announcements - Have your birthday, anniversary or special welcome announced via the NYSEG Stadium video board. 2019 details TBA.
Q
R
Rain Check Policy - If the game is postponed due to inclement weather with less than 4 1/2 innings completed, the tickets can be used as rain checks for tickets of equal or lesser value to any remaining 2019 regular season home game, excluding July 4. Seating subject to availability.

Re-Entry - There is no re-entry into the ballpark, aside from the designated smoking gate. 2019 details TBA.

Refunds - All ticket and concession sales are final. For rainouts, please see the rain check policy above. 

Restrooms - A Men's and Women's restroom can be found on both the first and third base concourse. In addition, the UHS First Aid office directly behind home plate has a private restroom should you need it in the case of an emergency. Each bathroom is equipped with handicap accessible stalls. 
S
Soliciting - Solicitation of any product, services, and/or money at NYSEG Stadium or around NYSEG Stadium is strictly prohibited. Violators will be escorted off of the property.

Smoking - NYSEG Stadium is complete smoke and tobacco free facility. Smoking is permitted in the Vapor Kings smoking area. 2019 details TBA.

Sponsorships - If your business is interested in becoming a sponsor with the Binghamton Rumble Ponies, contact Corporate Sales at (607) 722-3866 or email steve [at] bingrp.com. 

Suite Rentals - See: Moore's Tire Sales Luxury Suite Rentals
T
Ticket Disclaimer - The holder of this ticket assumes all risk and danger arising from the action of players on the field or from other stadium events, whether occurring prior to, during, or after the game. Management reserves the right to revoke license granted by this ticket by refunding price paid for ticket. Eastern League rules prohibit bottles, cans, food, containers, and alcoholic beverages from being brought in the stadium. This ticket may not be resold or offered for resale in a manner or at a price in violation of any federal, state, or local law or regulation. Rain check policy: In the event that 4 1/2 innings are not played on this date, this ticket may be exchanged for a ticket of equal or lesser value for any other non-restricted regular season game in 2019, excluding July d. Seating based on availability. There are no refunds for postponed games. A complimentary ticket is neither refundable nor exchangeable. 
U
UHS Sports Medicine Jumper Zone: The UHS Sports Medicine Jumper Zone is located down the first base line at NYSEG Stadium just inside Gate 1. Children ages 3-12 have a wide array of options including our giant obstacle course slide, bounce dance party, speed pitch, and other special attractions. Unlimited wristbands can be purchased for $5 that will allow unlimited access from when gates open through the seventh inning. Please Note: In the case of inclement weather, some or all of the Jumper Zone attractions may not be available.
 
Umbrellas - Umbrellas are allowed inside of NYSEG Stadium, but please be respectful to your fellow fans as to not block their line of sight.

Ushers - Ushers are on staff nightly to help show you to your seats and answer any questions you may have. 
V
W
Water Fountains - Two water fountains can be found at NYSEG Stadium. One on the 3rd base side by Section 109 and an additional one on the 1st base side by Section 108.

Weapons - For the safety of all or patrons, pocket knives and weapons of any sort are not permitted inside of NYSEG Stadium. The only exception to this is law enforcement personnel in the performance of their official duties. In this case, it is the responsibility of the officer to disclose they are carrying a weapon for official duties to the security personnel upon arrival at the stadium. Fans failing to comply with the above conditions will be denied admittance or may be ejected. No refunds or exchanges will be allowed in such an event.

Wegman's Birthday Bash - Host your child's next birthday party at NYSEG Stadium with the Wegman's Birthday Bash. Packages start at $160.00 and all parties include a Wegman's birthday cake, t-shirt for the guest of honor, in-game recognition, food package, Jumper Zone wristbands and box seat tickets. For more information contact Group Sales at (607) 722-3866. 

Will Call - All tickets purchased in advance may be picked up at the Will Call tent located next to the NYSEG Stadium Box Office at the corner of Henry and Fayette streets. Ticket processing is through Ticket Return. 
X
Y
Z
For any other questions about Binghamton Rumble Ponies baseball please email [email protected] or call (607) 722-3866.