Barons Blast Past Biscuits 8-2
Mendick, Call homer as Birmingham wins again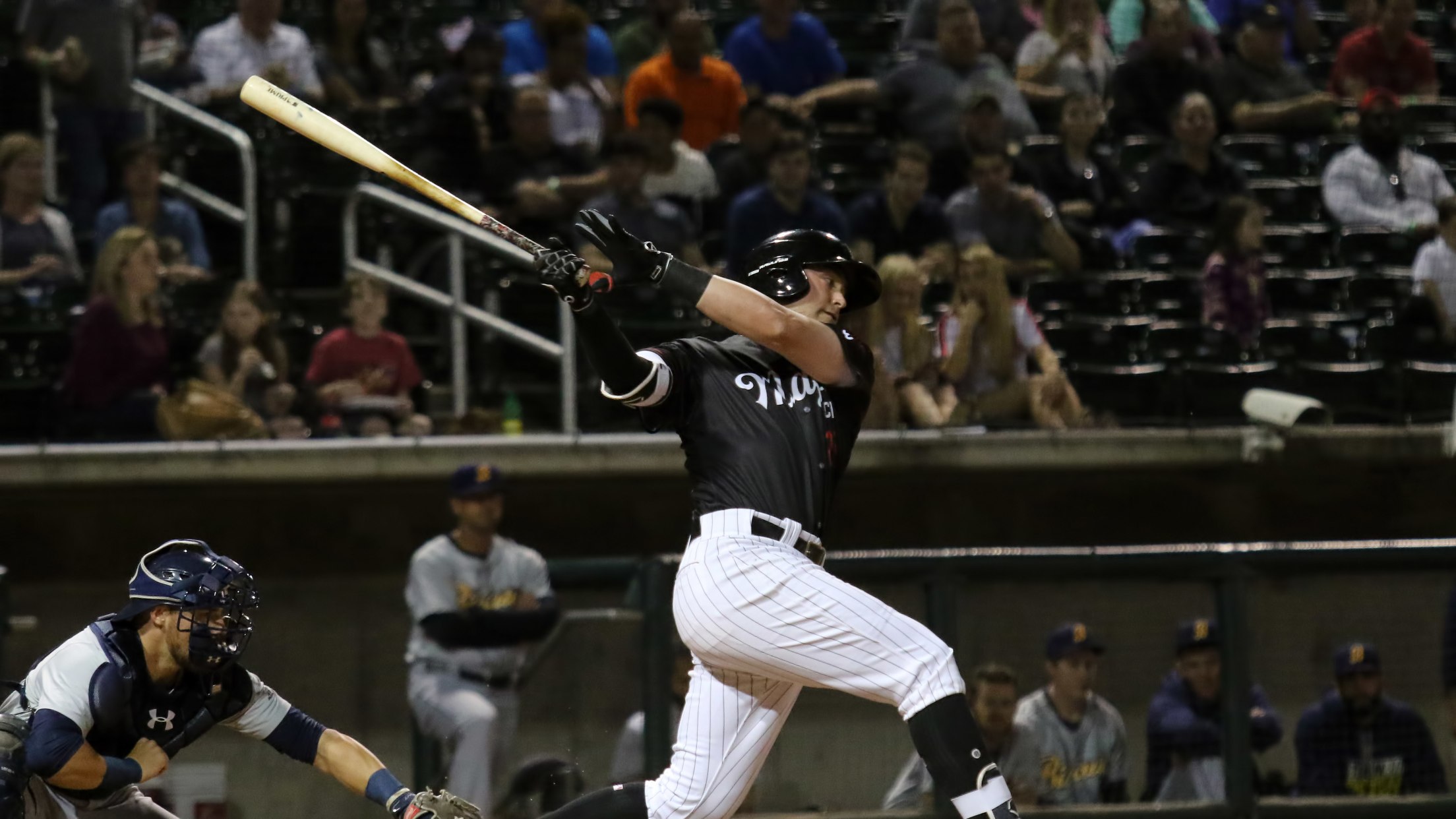 Trey Michalczewski drove in three runs in Birmingham's win on Friday night. (Michael Wade)
The Birmingham Barons (34-36) jumped out to an early lead and never looked back to beat the Montgomery Biscuits (37-35) 8-2 on Friday night at Montgomery Riverwalk Stadium. The win improves the Barons to 2-0 to start the second half of the season.   Facts And Figures: Friday's game began in identical
The Birmingham Barons (34-36) jumped out to an early lead and never looked back to beat the Montgomery Biscuits (37-35) 8-2 on Friday night at Montgomery Riverwalk Stadium. The win improves the Barons to 2-0 to start the second half of the season.

Facts And Figures: Friday's game began in identical fashion to Thursday's as Barons outfielder Joel Booker led off with a double and came around to score, this time on a single from Zack Collins. The Barons added another early run when Trey Michalczewski's sacrifice fly scored Luis Basabe to give the visitors a 2-0 after their first turn at bat. It proved to be another strong night for Booker, who finished 3-for-4 with two runs and a walk to improve to 7-for-9 over his first two Double-A games.
Turning Point: After the Biscuits cut into the lead in the second, Birmingham was quick to respond in the third as All-Star shortstop Danny Mendick crushed a two-run homer to right-center, his ninth of the season, to give the Barons a 4-1 lead against Montgomery All-Star Zach Lee.
Moments That Mattered: The Barons broke the game open in the 8th as Alex Call launched his first Double-A home run, a solo blast to right-center off Montgomery reliever Matt Krook. The reliever then got two outs before walking the bases loaded. Michalczewski made him pay by lining a single to center to plate two more runs, capping the scoring with Birmingham in front 8-2.
By The Numbers: On the mound, Alec Hansen gave up two runs on three hits over 4.0 innings with six strikeouts and four walks. In his first relief appearance of the year, Jordan Guerrero (W, 3-6) was victorious after throwing 3.0 scoreless innings. Matt Foster and Zach Thompson each tossed a scoreless inning in his Double-A debut to finish the win. Offensively, Michalczewski was 2-for-3 with a walk and three RBI to lead the way while Collins and Call also recorded two hits in the win.
Up Next: The Barons and Biscuits continue their series with a 6:05 p.m. matchup on Saturday Right-hander Dane Dunning (5-2, 2.78) will get the start for the Barons while J.D. Martin (4-8, 5.35) will get the nod for the Biscuits. Curt Bloom will have the call on 960 WERC News Radio and the iHeart Radio app.