Big Innings Sink Barons In Mobile, 11-5
Basto scores three times as Barons drop series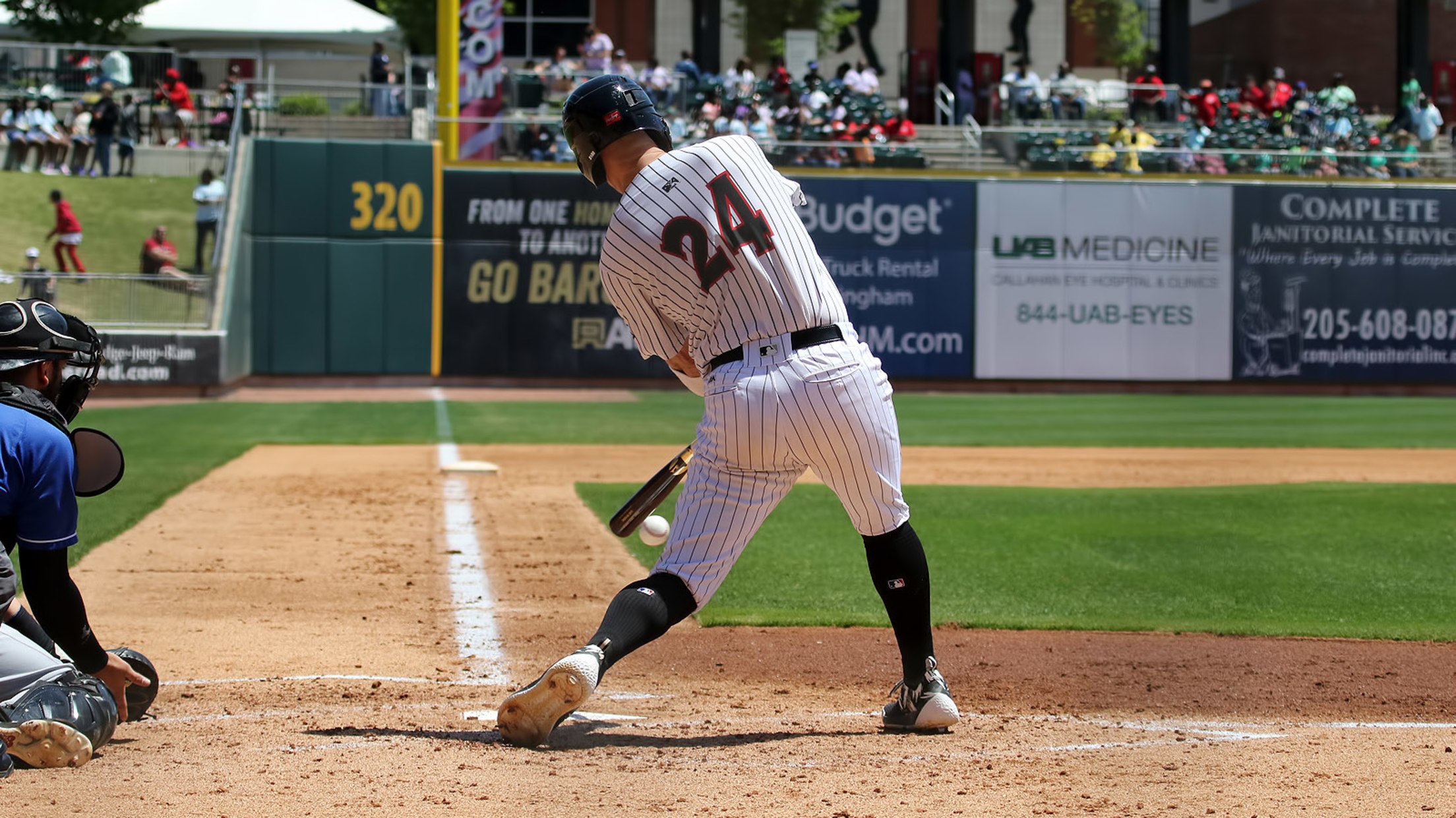 Zack Collins drove in three runs in Sunday's win. (Michael Wade)
BIRMINGHAM, Ala. - The Birmingham Barons (18-21) suffered their third straight loss, 11-5 to the Mobile BayBears (19-19) on Tuesday night at Hank Aaron Stadium. With the win, the BayBears clinched a series victory over the Barons in their first matchup of the season.  Facts and Figures: A rough fourth inning for
BIRMINGHAM, Ala. - The Birmingham Barons (18-21) suffered their third straight loss, 11-5 to the Mobile BayBears (19-19) on Tuesday night at Hank Aaron Stadium. With the win, the BayBears clinched a series victory over the Barons in their first matchup of the season.

Facts and Figures: A rough fourth inning for the Barons turned a one-run game to an insurmountable deficit. The BayBears converted five hits and an error into five runs and a 6-0 lead against Birmingham starter Jordan Guerrero (L, 1-4). Birmingham catcher Zack Collins caught Brennon Lund stealing second base to put an end to the rally, but the damage was more than enough for Mobile.
Moments That Mattered: Looking to get back in the game, the Barons quickly loaded the bases in the fifth as Eloy Jiménez strode to the plate. The Barons' slugger drew a walk to plate Nick Basto, but Mobile was able to limit the damage and hold a 6-2 lead at the end of the inning.
Turning Point: In the seventh, a similar scene unfolded as the Barons plated a run on a Ryan Brett groundout before Collins walked to load the bases for Jimenez with two outs. Reliever Matt Custred (W, 1-2) came in for the BayBears and walked Jimenez to score another run. But he followed with a strikeout of Seby Zavala to end the inning with the tying runs on base.
By the Numbers: Guerrero battled through 6.0 innings on the mound, giving up seven runs, five earned, and striking out three without walking a batter as he suffered his fourth loss. Jake Johansen came in from the bullpen and gave up four runs in the seventh, effectively ending Birmingham's hopes of a comeback. Offensively, Basto scored three runs while Jimenez went 1-for-3 with two RBIs.
Up Next: Birmingham and Mobile conclude their series with a Wednesday matinee at Hank Aaron Stadium. Southpaw Ian Clarkin (3-4, 6.45) will start for Birmingham against Jesus Castillo (4-2, 3.06). First pitch is set for 11:05 a.m. Curt Bloom will have the call on 960 WERC News Radio and the iHeart Radio app.