Back-and-Forth Game Ends in Bólidos Loss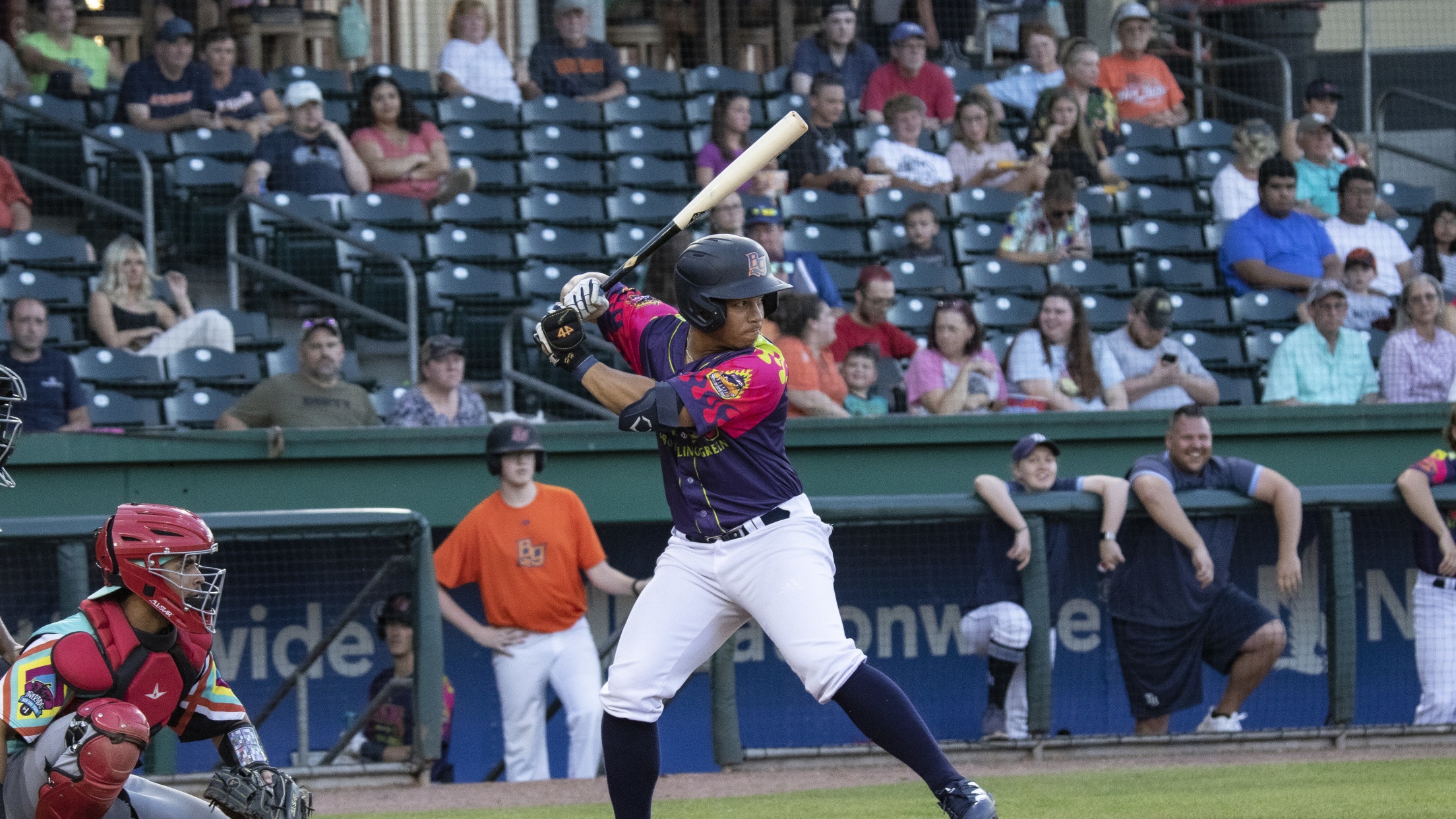 Bowling Green, Kentucky– Heriberto Hernandez goes yard for the second-straight night, this time with an inside-the-park home run, but it wasn't enough as los Bólidos de Bowling Green (19-12, 60-36), drop an 8-7 contest to the Greensboro Grasshoppers (16-15, 43-53) at Bowling Green Ballpark on Wednesday. The Hot Rods and
Bowling Green, Kentucky– Heriberto Hernandez goes yard for the second-straight night, this time with an inside-the-park home run, but it wasn't enough as los Bólidos de Bowling Green (19-12, 60-36), drop an 8-7 contest to the Greensboro Grasshoppers (16-15, 43-53) at Bowling Green Ballpark on Wednesday. The Hot Rods and Grasshoppers will continue their six-game series on Thursday with a 6:35 PM CT first pitch.
Greensboro scored a run in each of the first two innings to take a 2-0 lead. But the Hot Rods struck back in the bottom of the second. With one out in the inning, Abiezel Ramirez and Michael Berglund reached with back-to-back singles before Gionti Turner tied the game on a bases-clearing triple-off of Hoppers starter Adrian Florencio. He scored two batters later, when Alexander Ovalles hit a single to center to give BG a 3-2 lead. The Grasshoppers tied it up in the third, but Bowling Green took the lead back quickly in the bottom half thanks to an RBI single from Ovalles that made it 4-3.
The see-saw continued into the fourth, as Dariel Lopez's two-run homer gave Greensboro the lead back at 5-4. Bowling Green got the run back with two homers of their own, coming in back-to-back fashion in the sixth. Kyle Manzardo went yard to tie the game at five. The very next pitch was hit to centerfield by Hernandez, and the carom off the wall allowed him to score on an inside-the-park home run that gave BG a 6-5 lead. Greensboro scored a run in each of the next two frames to take the lead back at 7-6 heading into the ninth.
Endy Rodriguez led off with a home run for the Grasshoppers in the ninth to make it 8-6. Matthew Dyer sent his second homer of the season to left that brought the Bólidos within one in the ninth, but BG couldn't tie it up and ultimately fell to Greensboro 8-7.
Ben Brecht went 4.0 innings and allowed five runs on seven hits with a walk and four strikeouts in a no-decision. Cameron Leonard threw 2.0 scoreless frames with two walks and two strikeouts. Conor Dryer (4-1) took the loss in 2.0 innings of work, allowing two runs on four hits with a strikeout. Kyle Whitten finished off the game for BG, pitching 1.0 inning with one run allowed on two hits.
Notes: Brecht has struck out a combined 19 hitters over his last three starts… BG has hit back-to-back home runs four times this season… Hernandez's inside-the-park home run was the first for BG since Jordan Qsar did it in September of last season… Manzardo extended his hitting streak to seven games with his home run tonight… Ramirez has hit safely in each of the past six games… Ovalles recorded a hit in his sixth-straight game… Turner had his second multi-RBI game of the season for BG… His triple was the 24th of the season for Bowling Green… BG is third in the SAL in triples this season… Bowling Green and Greensboro will continue their series on Thursday at Bowling Green Ballpark, with first pitch set for 6:35 PM CT… Hot Rods RH Anthony Molina (10-1, 3.52) gets the start against Grasshoppers RH Jared Jones (5-4, 4.81)… The game is available to watch on MiLB.tv… Fans can listen to the game on Talk 104.1 FM and 930 AM WKCT and listen via the MiLB First Pitch app on Android and IOS, or go to the Hot Rods website at www.bghotrods.com... Fans can get their tickets for upcoming Hot Rods home games by calling 270-901-2121, visiting the Bowling Green Ballpark box office, or visiting www.bghotrods.com.
###
Hot Rods Baseball