Astros Foundation Share2Care 50/50 Raffle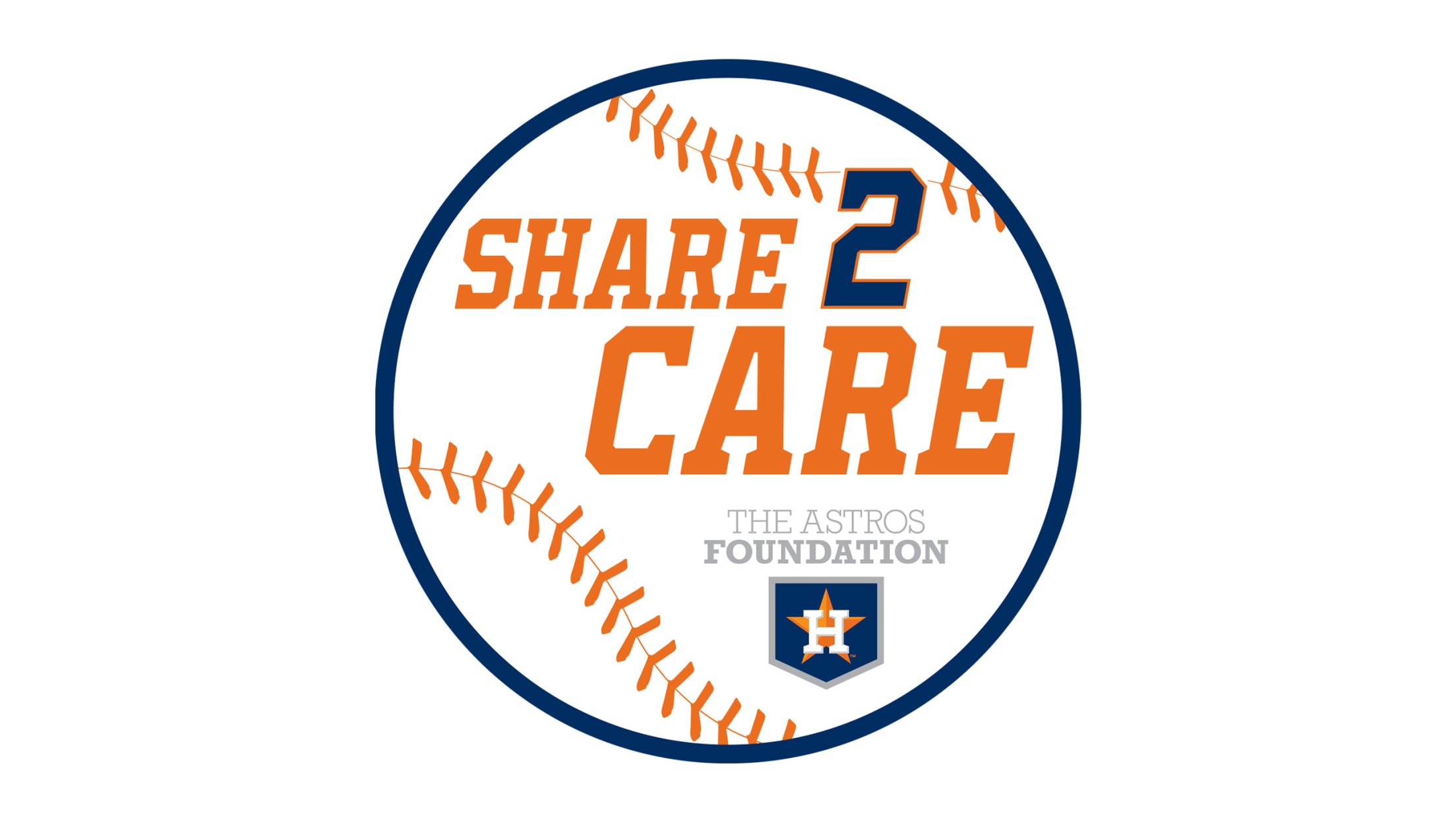 The Hooks are proud to partner with the Houston Astros on the Astros Foundation and the Share2Care 50/50 Raffle. Purchase tickets at Whataburger Field during each Hooks game for a chance to win big!
A single winning ticket will be selected each game, with the winner receiving half of that game's net raffle proceeds and the Astros Foundation receiving the other half! The Astros Foundation seeks to harness the passion of baseball fans to support youth sports and education programs, the recognition/honor of our nation's military, childhood cancer and domestic violence awareness and efforts to reduce homelessness. Visit here for more information about the Foundation.
Prize claims may be made during the game at Guest Services behind Section 119 by presenting the winning ticket or by bringing it to the Whataburger Field Front Office during normal business hours. Winners must claim their prize within 30 calendar days after the drawing date. Additional terms and conditions apply. Please scroll down to Official Raffle Rules and click "See Rules" at the bottom of the page to review all applicable rules, terms, and conditions of the Hooks Share2Care Raffle.
| Game | Winning Ticket | Winning Amount | Prize Claimed? | Total Raised | Winner | Charity |
| --- | --- | --- | --- | --- | --- | --- |
| September 12 vs. Midland | A-2130177 | $486 | TBD | $972 | TBD | CC Police & Fire Associations |
| September 11 vs. Midland | A-1061550 | $1,652 | TBD | $3,304 | TBD | CC Police & Fire Associations |
| September 10 vs. Midland | A-2253820 | $1,568 | TBD | $3,136 | TBD | CC Police & Fire Associations |
| September 9 vs. Midland | A-1977068 | $886 | TBD | $1,772 | TBD | CC Police & Fire Associations |
| September 8 vs. Midland | A-2960531 | $876 | Yes | $1,752 | Greg Smith | CC Police & Fire Associations |
| August 22 vs. San Antonio | A-1160537 | $999 | Yes | $198 | Diana G. Zavala | Goodwill Industries of South Texas |
| August 21 vs. San Antonio | A-1822050 | $1,202 | Yes | $2,404 | John Lowell Lemons | Goodwill Industries of South Texas |
| August 20 vs. San Antonio | A-1865995 | $1,278 | Yes | $2,556 | Randall L. Betancourt | Goodwill Industries of South Texas |
| August 19 vs. San Antonio | A-2474560 | $1,176 | Yes | $2,352 | James A. Daniel | Goodwill Industries of South Texas |
| August 18 vs. San Antonio | A-1989899 | $824 | Yes | $1,648 | Gricelda Garza | Goodwill Industries of South Texas |
| August 17 vs. San Antonio | A-2822783 | $338 | Yes | $676 | Lorretta Marie Hooper | Goodwill Industries of South Texas |
| August 1 vs. Friso | A-1902225 | $628 | Yes | $1,256 | Jack Anthony Callies, Jr. | Goodwill Industries of South Texas |
| July 31 vs. Frisco | A-2592830 | $1,154 | Yes | $2,308 | Juan R Ortiz, Jr. | Je'Sani Smith Foundation |
| July 30 vs. Frisco | A-2795999 | $1,935 | Yes | $3,870 | Kiwana N. Denson | Je'Sani Smith Foundation |
| July 29 vs. Frisco | A-2824482 | $1,134 | Yes | $2,268 | Anthony Lee Mixon | Je'Sani Smith Foundation |
| July 28 vs. Frisco | A-1648557 | $1,130 | Yes | $1,130 | Stephanie Gunderson | Je'Sani Smith Foundation |
| July 27 vs. Frisco | A-2489982 | $988 | Yes | $1,976 | Anonymous | Je'Sani Smith Foundation |
| July 18 vs. San Antonio | A-1785248 | $990 | Yes | $1,980 | Ruben Andrew Cortez | Je'Sani Smith Foundation |
| July 17 vs. San Antonio | A-1120350 | $1,598 | Yes | $3,196 | Gilbert M. Reyes | Je'Sani Smith Foundation |
| July 16 vs. San Antonio | A-1703569 | $1,971 | Yes | $3,942 | Joel Gonzalez | Je'Sani Smith Foundation |
| July 15 vs. San Antonio | A-2102193 | $882 | Yes | $1,764 | Ronald L. Westhorek, Jr. | Je'Sani Smith Foundation |
| July 14 vs. San Antonio | A-2338152 | $1,020 | No | $2,040 | TBD | Je'Sani Smith Foundation |
| July 13 vs. San Antonio | A-1986780 | $1,030 | Yes | $2,060 | Dustin Cameron | Je'Sani Smith Foundation |
| July 11 vs. Midland | A-1533086 | $936 | Yes | $1,872 | Daniel Lara | Je'Sani Smith Foundation |
| July 10 vs. Midland | A-1045425 | $2,174 | Yes | $4,348 | Oscar Benavides | Je'Sani Smith Foundation |
| July 9 vs. Midland | A-1902111 | $1,194 | No | $2,388 | TBD | Je'Sani Smith Foundation |
| July 8 vs. Midland | A-1200929 | $978 | Yes | $1,956 | Nathan Patrick Johnson | Je'Sani Smith Foundation |
| July 6 vs. Midland | A-1862812 | $714 | Yes | $1,428 | Eric Murua | Je'Sani Smith Foundation |
| June 27 vs. Amarillo | A-1687256 | $1,096 | Yes | $2,192 | Jason Lerma | Amos Rehabilitation Keep |
| June 26 vs. Amarillo | A-1543678 | $1,210 | Yes | $2,420 | Zachary Coleman | Amos Rehabilitation Keep |
| June 25 vs. Amarillo | A-2990219 | $1,254 | Yes | $2,508 | Eric Barricelli | Amos Rehabilitation Keep |
| June 24 vs. Amarillo | A-2930946 | $916 | Yes | $1,832 | Heather Koskie | Mosaic Project of South Texas |
| June 23 vs. Amarillo | A-1506472 | $832 | Yes | $1,664 | Robert Hernandez | Amos Rehabilitation Keep |
| June 22 vs. Amarillo | A-2797338 | $830 | Yes | $1,660 | Guadalupe Chapa | Amos Rehabilitation Keep |
| June 20 vs. Frisco | A-2559347 | $1,044 | Yes | $2,088 | Tammy Faye Willett | Amos Rehabilitation Keep |
| June 19 vs. Frisco | A-2545714 | $1,024 | Yes | $2,048 | Jessica Juanita Hill | Amos Rehabilitation Keep |
| June 18 vs. Frisco | A-1448270 | $1,404 | Yes | $2,808 | Maribel Munoz | Amos Rehabilitation Keep |
| June 17 vs. Frisco | A-2197556 | $832 | Yes | $1,664 | Rowdy Tate Wilkinson | Amos Rehabilitation Keep |
| June 16 vs. Frisco | A-2693257 | $840 | Yes | $1,680 | Michael Crump | Amos Rehabilitation Keep |
| June 15 vs. Frisco | A-1427513 | $657 | Yes | $1,314 | Julie Travis Rogers | Amos Rehabilitation Keep |
| May 30 vs. Amarillo | A-2904779 | $1,366 | Yes | $2,732 | Edwin Gilbreath | USO South Texas |
| May 29 vs. Amarillo | A-2858002 | $2,254 | Yes | $4,509 | Jesus Salas | USO South Texas |
| May 28 vs. Amarillo | A-2070599 | $546 | Yes | $1,092 | Rodney Johnson | USO South Texas |
| May 27 vs. Amarillo | A-2155678 | $873 | No | $1,746 | Astros Foundation | USO South Texas |
| May 26 vs. Amarillo | A-2872335 | $682 | Yes | $1,363 | Geraldine Dieringer | USO South Texas |
| May 25 vs. Amarillo | A-2948707 | $834 | Yes | $1,669 | Oscar Villarreal | USO South Texas |
| May 23 vs. Arkansas | A-2014505 | $626 | Yes | $1,251 | Alma Alonzo | USO South Texas |
| May 22 vs. Arkansas | A-2861029 | $1,238 | Yes | $2,475 | Noe V. Garcia | USO South Texas |
| May 21 vs. Arkansas | A-1616952 | $891 | Yes | $1,782 | Llisha Kathleen Sigman | USO South Texas |
| May 20 vs. Arkansas | A-2005945 | $840 | Yes | $1,679 | Stephen Straub | USO South Texas |
| May 18 vs. Arkansas | A-2276985 | $540 | Yes | $1,080 | Matthew Garza | USO South Texas |
| May 9 vs. San Antonio | A-1684702 | $574 | Yes | $1,148 | Timothy Baylor | USO South Texas |
| May 8 vs. San Antonio | A-1970415 | $1,233 | No | $2,466 | Astros Foundation | USO South Texas |
| May 7 vs. San Antonio | A-1119434 | $1,114 | Yes | $2,228 | Robert Dismukes | USO South Texas |
| May 6 vs. San Antonio | A-2479341 | $567 | No | $1,134 | Astros Foundation | USO South Texas |
| May 5 vs. San Antonio | A-2479341 | $410 | Yes | $820 | Stephanie Franco | USO South Texas |
| May 4 vs. San Antonio | A-2010451 | $576 | No | $1,152 | Astros Foundation | USO South Texas |
Official Raffle Rules